Posted on
Tue, Jan 29, 2013 : 1:08 p.m.
Police: Julia Niswender's death ruled a homicide; details not being released
By Kyle Feldscher
Ypsilanti police said investigators have received the final autopsy report for Eastern Michigan University student Julia Niswender, who was found dead in her apartment in December, and they have ruled her death was a homicide.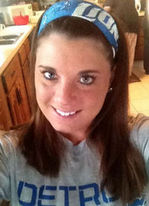 However, Lt. Deric Gress said police would not release more information about how Niswender died or who might have killed her.
"To release more information could jeopardize the integrity of the case," Gress said. "We talked it over with detectives. We can't do that right now, so we're not going to do that right now. It could jeopardize how we go forward from here. We understand the public's concerns, but we owe it to the family and to Julia to do it the right way."
Niswender was found dead in her Peninsular Place apartment off campus at 9:30 p.m. Dec. 11. To this point, police have not released any more information about the circumstances of her death, other than to officially rule it a homicide Tuesday.
Soon after Niswender was discovered dead, police called her death an apparent homicide. Police confirmed that initial ruling on Tuesday.
According to a statement from Ypsilanti police, the final toxicology report on Niswender's body by the Washtenaw County Medical Examiner's Office was inconclusive.
Niswender, a Monroe High School graduate, was 23 when she died. Initial reports from an autopsy indicated there were no signs of trauma on her body.
The news comes just days after the Niswender family celebrated the birthday of Julia and her twin sister Jennifer Niswender. Family spokesman Jacob McLaughlin said between 70 and 80 family members and friends remembered Julia's life while celebrating her twin sister's 24th birthday Friday.
McLaughlin said the event honored the Niswenders' traditions of celebrating birthdays and other special events, even though this year's birthday celebration was somber without Julia. He said the family visited her gravesite and reflected before holding a party at a local hall.
"They just had a good time. There was a lot of photographs and sharing memories," he said. "It would be something Julia would want for her twin sister."
The Niswender family did have a conversation with detectives Tuesday before the statement was released to the media, but McLaughlin said he wasn't privy to the details of that talk.
Gress said police have not identified a specific suspect or person involved in Niswender's death. Investigators continue to interview people in the course of their investigation, but Gress said police were "not going to release what we've obtained."
"If it was my family member, I would want the police to do everything to catch the person," he said. "But, you still have to prove it and you don't want to make it easier for them to get away."
Eastern Michigan University conducted a safety forum and put on additional patrols after Niswender's death. The university had no further comment Tuesday. "This is an Ypsilanti police investigation and we are referring all requests for comment on this case to them," spokesman Geoff Larcom said.
McLaughlin said the family is trying not to lose heart as more time passes with no new details of Niswender's death being released publicly.
"It's still a difficult time," he said. "The family is still continuing to pray and search for answers. Every time we turn around, there's not much more information. It keeps the family scared in a way (about) when, if ever, the detectives will find out anything."
Anyone with information or tips in the case is asked to call Sgt.Tom Eberts with the Ypsilanti Police Department at 734-482-9878 or Crime Stoppers at 1-800-SPEAKUP (773-2587).
Kyle Feldscher covers cops and courts for AnnArbor.com. He can be reached at kylefeldscher@annarbor.com or you can follow him on Twitter.