Posted on
Thu, Dec 13, 2012 : 4:05 p.m.
Police: Autopsy reveals no signs of trauma, but 'foul play' possible in EMU student's death; campus beefs up security
By John Counts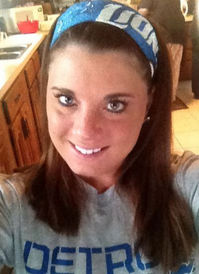 Photo from Facebook
Editor's note: This article has been updated with comments from EMU Police Chief Bob Heighes.
A preliminary autopsy report released to police Thursday afternoon didn't provide investigators many more clues in the death of 23-year-old Julia Niswender.
The autopsy report from the Washtenaw County Medical Examiner lists the cause of death as "pending," according to a release from Ypsilanti police. A toxicology report, which will take two to three weeks to complete, may reveal more information as to how the Eastern Michigan University student died, the release said.
"There were no outward signs of trauma to the body; however, there are indicators of possible foul play," the release said.
Officials could not be immediately reached to determine what those indicators were. Police continue to investigate Niswender's death as a homicide, however. No more information was expected to be released on the case Thursday evening.
Police are following a number of leads and conducting interviews with family, friends and co-workers of Niswender.
Ypsilanti police are being assisted by the Michigan State Police and EMU Department of Public Safety.
EMU Police Chief Bob Heighes said his department received a couple of tips Thursday it passed along to the Ypsilanti Police Department.
"We've had a few people give us information," he said.
Heighes added students, who are also busy with finals, expressed safety concerns at a meeting held Wednesday night. As a result, EMU police and other campus security organizations have stepped up patrols.
"We made some adjustments in staffing," Heighes said.
Not only are there more officers on patrol, there will also be more of the school's Student Eyes and Ears for University Safety (SEEUS) escorts available later into the night.
EMU spokesman Walter Kraft said in an email to the campus community late Thursday afternoon that the university has "moved quickly to expand" its campus safety and security efforts after the forum
Here is a list of specific actions:
The university has extended the SEEUS walking/mobile escort service to 7 a.m. (previously ended at 3 a.m.);
Added additional SEEUS escort staff;
Designated Halle Library as a station for SEEUS walking and mobile escorts between 3 a.m. and 7 a.m.;
Added four additional campus security personnel in the overnight hours;
Added two additional officers to patrol from 7 p.m. to 7 a.m. in addition to the normal shift coverage.
Adjusted lighting sensors to brighten exterior security lighting in the areas adjacent to Halle Library and the College of Business;
Adjusted the automatic timing patterns of the exterior lighting in the areas adjacent to Halle Library and the College of Business to have them turn on earlier (4:30 p.m. - 30 minutes before sunset) and to stay on later (8:30 a.m. - 30 minutes after sunrise)
Kraft also said the university has been informed by Peninsular Place apartments that it has expanded its private security presence to 24 hours daily.
Meanwhile, Niswender's twin sister, Jennifer, an EMU graduate, thanked her friends and family members on Facebook Thursday for the outpouring of support. Accompanying the post is a picture of Julia, with a caption that says "Justice for Julia." Close to 300 Facebook friends shared the picture and message with others.
"No one will ever understand what I am going through right now... but words can't describe how I feel," Jennifer wrote. "Julia was my twin, other half, and best friend. No one will ever understand the bond we shared. I love her so much and just don't know how I can go on. My beautiful sister didn't deserve this. Justice will be served even if it is the last thing I do! The rest of my life I will be living for her."
Anyone with tips regarding this case is asked to contact Ypsilanti police Sgt. Tom Eberts at (734) 482-9878 or Crime Stoppers at 1-800-SPEAKUP (773-2587).
John Counts covers cops and courts for AnnArbor.com. He can be reached at johncounts@annarbor.com or you can follow him on Twitter.