Posted on
Mon, May 27, 2013 : 5:55 a.m.
Ypsilanti schools to post chief financial officer position due to Dedrick Martin leaving
By Danielle Arndt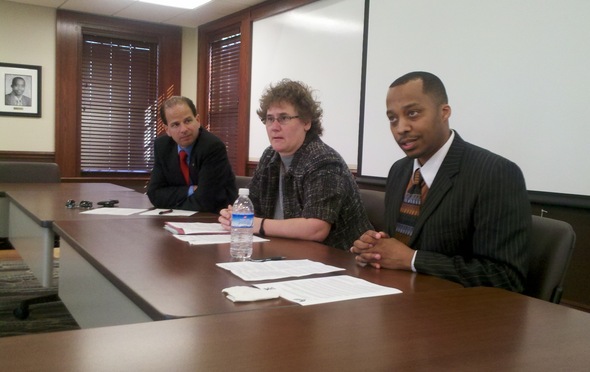 Danielle Arndt | AnnArbor.com file photo
Ypsilanti Community Schools
will not hire another associate superintendent to help lead the consolidated district after receiving news of
Dedrick Martin
's departure. However, officials will be posting an opening for a chief financial officer.
Ypsilanti Community Schools superintendent Scott Menzel is working to finalize a plan for how he will structure the consolidated district's central office come July 1, the official launch date of YCS.
He was thrown a slight curve ball when current Ypsilanti Public Schools superintendent Martin decided to take a job leading St. Johns Public Schools.
Martin was offered a spot in the new district alongside Willow Run Superintendent Laura Lisiscki as an associate superintendent, working under Menzel, who also is the superintendent of the Washtenaw Intermediate School District.
Menzel was contracted to provide leadership services to the new district during the "transition period." His contract will expire on June 30, 2015.
Under Menzel's organizational structure, Martin was going to oversee the non-instructional and business office aspects of the new district: finances, technology, facilities and maintenance, human resources, food service and transportation. Lisiscki will head up curriculum and instruction for YCS, including providing oversight of building principals, adult education, alternative education, co-curricular activities, early childhood education and state and federal grants.
The new district would have been financially responsible for honoring the current contracts of Martin and Lisiscki whether or not they were rehired by the YCS district — a fact that made retaining both superintendents controversial.
The contracts had to be upheld because — unlike teachers and other employee groups, the administrators were not affiliated with a collective bargaining unit — and there were no clauses in the contracts stating the employment arrangements could be severed due to economic conditions.
Martin's contract was set to expire in June 2016. However, Menzel said because Martin is taking a new job, it's a voluntary separation and releases the unified district of its obligation to compensate him through the remainder of his contract.
Lisiscki's current contract with Willow Run has an end date of June 30, 2014. Menzel said officials are in negotiations with Lisiscki regarding new contract language. The expectation is she will keep her current salary of $120,000 for the 2013-14 school year, Menzel said. He added this is in line with the promise made to teachers and other employees that they will be able to maintain their existing salary for the upcoming year.
Menzel also said the $120,000 is about what an assistant superintendent in the Ypsilanti Public Schools district earns right now.
Rather than hiring a second associate superintendent to fulfill the responsibilities Martin would have had in the unified Ypsilanti-Willow Run district, a chief financial officer position will be posted. If the district cannot find a high quality candidate, it may explore the possibility of having a retired school administrator fill the position on an interim or temporary basis, Menzel said.
A salary has not been determined yet for the CFO position. Menzel said he expects it would be less than an associate superintendent position but more than a building principal position.
In addition to a CFO and Associate Superintendent Lisiscki, YCS' central office likely will be comprised of:
A tech director
Facilities/maintenance director
Human resources/benefits specialist
"We would like to have a communications specialist, but we are not posting the position yet given current budget constraints," Menzel said.
There is a request for proposals out for a food service provider, he added. Willow Run most recently contracted with a private company, while, as of last fall, Ypsilanti contracted with Saline Area Schools for food service. The transportation arrangement through the WISD consortium will remain in place, Menzel said.
"Individuals who are currently employed by YPS or WRCS who have an interest in posted positions are encouraged to apply for any position for which they are qualified and have an interest," Menzel said in an email. "We have small teams conducting interviews (with questions that are designed to ensure the individuals who are hired embrace the mission, vision and guiding principles adopted by the YCS board).
We have posted the office professional positions (numbers are still being finalized) but, as with everything else, we are streamlining as much as possible in order to ensure that the new district is able to meet its financial obligations, including beginning to pay down the accumulated operating deficit from the former districts."
Combined, Ypsilanti and Willow Run have a deficit of about $12 million. It is still not known how long the unified district will have to pay off this debt or what the new district's operating budget for 2013-14 will be.
Menzel said a number of the central office positions are still subject to change based on available resources and qualified applicants.
Danielle Arndt covers K-12 education for AnnArbor.com. Follow her on Twitter @DanielleArndt or email her at daniellearndt@annarbor.com.