Posted on
Tue, Oct 2, 2012 : 5:57 a.m.
Ypsilanti officials: Fire department's future depends upon possible $1.3M SAFER grant
By Katrease Stafford
The Ypsilanti Fire Department will know within 30 days whether it will receive a grant from the U.S. Department of Homeland Security that, if received, would stave off layoffs.
City officials have said the grant will be necessary in order for the fire department to maintain its staff levels.
The grant would come from the U.S. Department of Homeland Security's Assistance to Firefighters Grant Program, Staffing for Adequate Fire and Emergency Response.
Federal Emergency Management Agency Representative Millie Rosa said Ypsilanti's SAFER grant application is under review.The fire department applied for the grant in February. Rosa said when the decision is made, the fire department will be notified directly.
"This grant is still in the process," Rosa said. "All of the announcements haven't been made yet."
Fire Chief Jon Ichesco said the grant will decide the future of the fire department. Ichesco said he requested $1.3 million for the grant that would allow him to retain his staff and possibly hire up to seven more employees.
"They will be coming in younger and at a much lower wage rate and lower benefits package," he said. "It will make the fire department that much more valuable."
At peak, the fire department had 35 firefighters in the 1980s, Ichesco said. Now, it has 18.
"It was projected that I was going to lose six firefighters currently employed and one did retire," Ichesco said. "After that, we will have an additional two people that will retire. The (city) council agreed to hold off on the layoffs pending the grants but we're still not out of the woods."
Ichesco said the grant is crucial for the department, which has several veteran employees.
"People with 16 or 17 years of service could be laid off and that's the driving force for the SAFER grant," he said.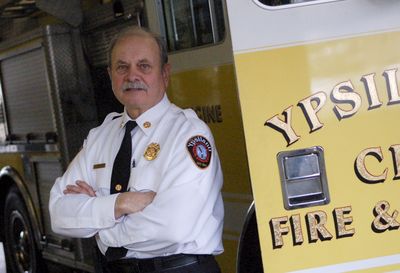 Tom Perkins | For AnnArbor.com
In 1981, the department had one chief, one inspector and one secretary that comprised its administration staff.
Ichesco now works between 50 and 60 hours per week in order to fill the roles of what once were three separate jobs. He described the reduction in staff as a "dramatic dropoff."
"We're trying to make do with what we have," Ichesco said. "It's just myself now doing all of the fire investigations, inspections, all of the clerical work and I'm an administrator. It's been that way for five years."
In June, the Ypsilanti City Council unanimously approved city budgets through fiscal year 2015 that will prevent staff layoffs, but Ichesco said things can change.
"It's really a temporary fix," Ichecso said, referring to the budgets. "We have a lot of problems to deal with. It's really much more serious than our citizens have an understanding of."
Instead of layoffs, the fire department will reduce its force by three in 2013 by attrition, with the elimination of a vacant position and two retirements toward the end of 2012.
However, council noted that unless the SAFER grant is received, the department may be reduced by an additional four positions in 2014.
City Manager Ralph Lange told council that in order to ensure the city is on financially solid footing, tough choices could be made in the coming months that could result in job loss.
"Everyone in the state of Michigan has been downsizing," Lange said. "When you (ask) how many people will be cut, we need to do some more homework on that. It's not crystal clear. ... I do not forecast any layoffs between now and 60 days."
However, Lange said the future of the fire department could be dependent upon the grant.
"We've neither been approved or rejected," Lange said. "That could make a very large contribution to the general fund relative to the next couple of years. That's a major factor."
The fire budget, which is just under $2.5 million, is part of the general fund. Across all funds, the city budget shows $31.8 million in revenue and $31.6 million in expenditures for fiscal year 2012-13, including $13.7 million in general fund spending.
For fiscal year 2013-14, revenue will show a slight decrease to $30.7 million and expenditures will amount to $30.6 million. The city is expected to spend about $13.4 million of the general fund.
"That fund is under a lot of pressure due to debt," Lange said. "What we're trying to do now is what we're doing for the rest of the budget: evaluate the numbers."
With a stressed general fund, Lange said he isn't sure of the affect it may have on the fire department.
"How that will affect the fire department is undetermined," Lange said. "Is the picture rosy? Do we have all sorts of money going forward? No. Are we in trouble today? No. We're trying to look into the future in terms of this large (Water Street) debt repayment that keeps increasing."
Ypsilanti must pay $30 million on its Water Street bond debt and continue to make payments through 2031. Its annual payments will grow to $1.7 million annually by 2015, and the city currently has $2.6 million set aside to pay down the debt.
Early projections show the city is facing a possible $4 million deficit for fiscal year 2016 and $4.6 million in 2017.
"We're kind of fighting for survival," said Firefighter Union President Ken Hobbs.
Fire officials said if the grant isn't received and layoffs occur, the city's fire services will be impacted.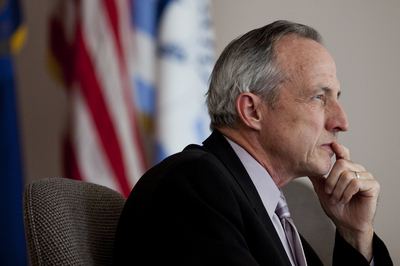 Occupational Safety and Health Administration regulations require that interior structural firefighting procedures provide for at least two firefighters inside the structure and two firefighters outside of the structure.
Hobbs, who has been with the department for 26 years, said he's worried about the number of firefighters per shift decreasing from five to four, which would put the department right at the OSHA requirements.
"I don't think people are totally aware of that," Hobbs said. "You're probably going to see a reduction in services and we're saying that's not OK. We have to find a way to maintain five."
Ichesco said the department would have to figure out how to manage its services if its staff numbers further decreased.
"We will have to figure out how to staff our vehicles and the aeriel platform, the big truck, requires three people operating and I probably won't be able to run that on a daily basis," he said. "We'll go down to either two engines or one engine depending on the number of staff I have for the day. Our response time will be the same, I just won't have the same number of people."
Ichescho said he is optimistic that the department will receive good news regarding the grant because of all of the support received from various officials.
Eastern Michigan University submitted a letter of support with the application along with Congressman John Dingell, Representative David Rutledge and State Sen. Rebekah Warren.
"We have all of this support, as well as citizen support and really that's what it takes," he said.
Katrease Stafford covers Ypsilanti for AnnArbor.com.Reach her at katreasestafford@annarbor.com or 734-623-2548 and follow her on twitter.