Posted on
Mon, Dec 27, 2010 : 6:03 a.m.
Ypsilanti Mobile Village owner files for bankruptcy as conditions in trailer park worsen
By Tom Perkins
A company that owns the now abandoned Ypsilanti Mobile Village filed for bankruptcy in Detroit, just hours before company owner Dominic D'Mello was to appear in Washtenaw County Circuit Court for an emergency show cause hearing.
Ypsilanti Township officials filed a motion to have the East Michigan Avenue trailer park secured, demolished and cleaned up. They say it has become a haven for criminal activity and now resembles a "Wild West ghost town."
Because attorneys for D'Mello's company, Cormello LLC, filed for bankruptcy, a stay has been placed on any other legal action. Township officials hoped that after the emergency show cause hearing, the judge would declare the site a public nuisance and order D'Mello to demolish the remaining trailers and clean up the property.
D'Mello did not respond to calls from AnnArbor.com.
Township attorney Doug Winters said his firm will now file for a hearing in Detroit to have the stay lifted. He said the park won't remain in its current condition.
"His attorneys, in my opinion, have abused the bankruptcy code and filed bankruptcy in the 12th hour," Winters said. "When someone holds you accountable, you really show a lot of courage by running and hiding behind the skirts of the bankruptcy court."
In its motion, the township outlined the park's conditions. The last resident left on Nov. 15, but the trailers still remain, despite a prior court order directing D'Mello to remove them.
Among the issues in the park, according to township and police officials:
Raw sewage continues to leak from several residences.
A woman reported being dragged into an abandoned trailer and raped in October.
Water lines are broken, causing contaminated water to flow back into the system.
The township has spent thousands of dollars securing the abandoned mobile homes, which scrappers have broken open and stripped of anything of value, including the trailers' siding.
Squatters have taken up residence in at least one unit.
Natural gas leaks from broken gas lines.
Prostitution activity has increased, prompting the Washtenaw County Sheriff's Department and Ypsilanti Police Department to conduct special joint operations in the area.
Colonies of feral cats and wild dogs now roam the park. The dogs have chased sheriff's deputies on foot patrol through the park.
The Sheriff's Department had to set up a foot patrol in the park, and the area continues to require significant police resources.
Former residents' belongings and trash are strewn throughout the park.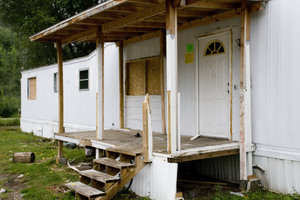 Tom Perkins | For AnnArbor.com
The township asked the court to order D'Mello to clear what is left of the trailers, which were described in the motion as "shells of wooden frames and insulation." The township also asked that D'Mello remove the three permanent structures on the property, all the park's infrastructure and smaller items such as satellite dishes and landscape edging.
The motion also asked that D'Mello be ordered to fill in gullies created from utility crocks and erosion, clean contaminated soil and clear garbage and debris off the grounds.
The legal problems at the park date back several years. Per a 2008 consent judgment, D'Mello is obligated to either bring the mobile homes up to code or have them removed. He neglected to do so throughout the last year, and officials say conditions there spiraled.
Last summer, the township contacted the Michigan Department of Energy, Labor and Economic Growth, which handles licensing for the trailer parks. Winters said he's frustrated by inaction and would like to know whether there is a bond file on the property. Many licensing agencies hold bonds to dissuade people from walking away from their properties and leaving municipalities with the bill and cleanup effort.
"You have the State of Michigan standing by doing absolutely nothing and allowing people to operate this way," he said. "What good does a license do if when you violate the terms of the license, nothing happens? Apparently with mobile home licenses you don't have to worry about ever being held accountable."
State officials previously told AnnArbor.com they have no policy for expediting more urgent complaints to their office, and the process for revoking a license can take months.
Tom Perkins is a freelance writer for AnnArbor.com. Reach the news desk at news@annarbor.com or 734-623-2530.