Posted on
Fri, Jan 25, 2013 : 5:58 a.m.
Ypsilanti police chief supports hybrid model, says city must restructure
By Katrease Stafford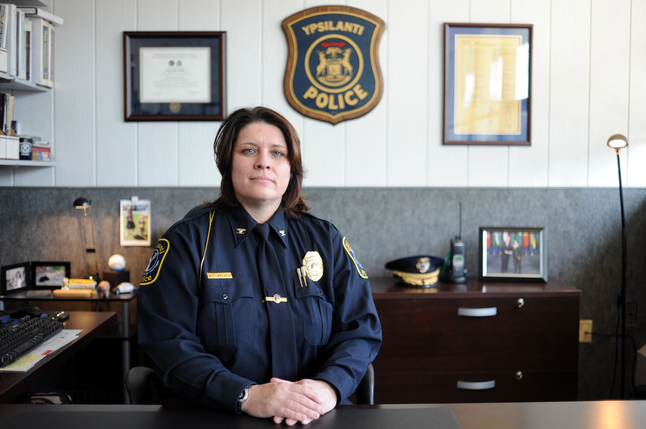 Melanie Maxwell | AnnArbor.com
Editor's note: This story has been updated to include information from City Manager Ralph Lange about the leadership component of the model.
As Ypsilanti moves toward a hybrid model for its police and fire departments to reduce expenses, police Chief Amy Walker said she supports the effort.
"With the budget constraints Mr. (Ralph) Lange looked at, I think earnestly he's just trying to find a solution," Walker said. "So public safety is the avenue we're looking at. ... At the end of the day, we have to do something."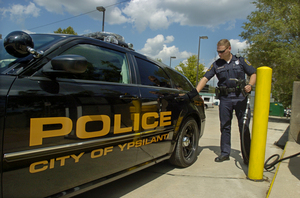 File photo
Lange, the city manager, told
AnnArbor.com
the city is looking at Walker as a likely candidate to be director of public safety and police chief.
"Clearly she knows a lot about public safety," he previously said.
The hybrid model in Ypsilanti would have separate police and fire departments with an "adequate" number of firefighters to respond to daily service demands. Under the direction of a new public safety director, who will also serve as police chief, there will be a deputy police chief and a fire chief.
"We are intending to keep the position of Fire Chief because we will continue to maintain a part of the public safety division that is dedicated to maintaining a center of excellence for fire and EMT services and related skill sets," Lange said.
Ypsilanti has hired Anthony DeGiusti of the Wayne Police Department as the city's new deputy police chief. DeGiusti will be paid $77,500 annually and he'll start at the department on Feb. 18.
Walker said she hasn't received any specific resistance to the model.
"Have I seen or heard any major rally cry? No, I haven't," Walker said. "I don't think he's seen a huge backlash. I think the public safety model has worked in some cases. If that's the direction the city manager goes, I support it."
The model would be coupled with a larger police department that would have a certain number of cross-trained officers that have been trained and equipped to respond to major fire incidents whenever the fire department is busy or on another run.
Some members of the fire department have openly criticized the idea of going to a public safety-type model.
"What is wrong with saying let's take a look at a half model when there's no money at the end of the day," Walker said. "What are the other options? Let's just do something. With three people on a shift, it's not a good situation. We have burnout and overtime."
Retired Ypsilanti fire Chief Jon Ichesco has said the city should put its efforts toward regionalization.
Lange recently confirmed that the city has declined to move in the direction of regionalization with Ypsilanti Township.
"Mr. Lange has certainly been trying to work with the unions," Walker said. "When you're burning everyone out, you have to look at a different option. Is anything set in stone? No."
Walker said with this model, all of the firefighters would keep their jobs.
"The idea is they're going to keep the firefighters," she said. "The big change is going to be for the police officers that are being trained. That takes time."
With Ichesco retiring Dec. 31, Walker said it was the "perfect storm." Capt. Max Anthouard was named interim chief Dec. 20.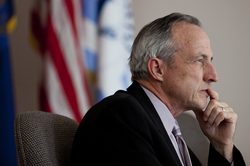 "With the fire chief leaving, now is really the time to explore merging the two departments," she said.
Walker said the model will help further the city's efforts to maintain services, while reducing costs.
"We hear that we're falling over the cliff," Walker said. "Mr. Lange came in and said we're not going to fall over the cliff in two years. He's bringing hope to the employees. It's certainly not an easy transition and these things take time. They certainly need community input as this develops."
Walker said one of her concerns with the model is she wants to make sure the amount of officers per shift is at an adequate level.
The department is currently staffed by 25 sworn officers and four civilians. This represents a decrease from two years ago when the force was made up of 40 sworn officers and nine civilian employees.
A SEMCOG report shows the reduction in staffing was necessary due to declining tax revenue, but the reduction has had a major impact on service delivery, department morale and overtime expenses. The police department accounts for about $5 million of the city's general fund.
The latest SEMCOG data from 2011 show that with a population of 19,435 people, Ypsilanti has 12.8 officers per 10,000 residents, which is well below the benchmark of 16. Two years ago, the department had 20.5 officers per 10,000 residents.
The benchmark number of dispatched calls per officer also has been affected. The department handles about 20,000 calls per year, with 800 being handled by each officer. SEMCOG said this is far above the average of 570.
"We cannot continue to have three officers per shift," Walker said. "We need to make sure we can say we can do that successfully. How many on the shift, that's an equation that we're trying to figure out."
Total fire and medical training expenses per officer may cost $33,174, according to SEMCOG.
"There may not be a cost savings initially, but agencies overall see a 20 percent reduction when it's up and running," Walker said.
Walker said the city has applied for a grant that would possibly alleviate the costs associated with this model.
"There are grants out there and we want to try to recoup some of that," Walker said. "This is the type of consolidation the government is looking at."
The model is something that the city council will have to approve down the line. Walker said if this model is something that the city will move toward, she believes both departments would try to make it work.
"I'm confident in our fire and police departments that we can do it," Walker said. "What that model looks like is to be determined. I've always had a good relationship with the fire department. This is just a good time to explore the option for the sustainiblity of the city."
Katrease Stafford covers Ypsilanti for AnnArbor.com.Reach her at katreasestafford@annarbor.com or 734-623-2548 and follow her on twitter.