Posted on
Tue, Feb 19, 2013 : 5:58 a.m.
Ypsilanti-Willow Run school board to explore multi-person superintendent model
By Danielle Arndt
Previous coverage:
A special meeting set for Tuesday to select the first superintendent of the new Ypsilanti-Willow Run school district was canceled to allow the board more time to weigh its options — which could include hiring more than one person to fill the leadership role.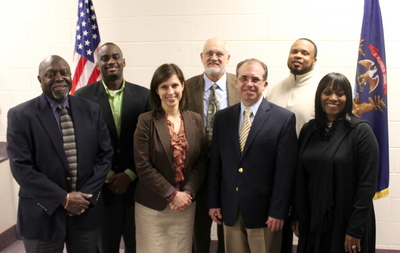 After discussing the merits of all three internal candidates and identifying important qualities in each individual, the board expressed a desire to investigate what options might exist for employing two or more people to serve as superintendent.
Ypsilanti Superintendent Dedrick Martin, Willow Run Superintendent Laura Lisiscki and Ypsilanti Executive Director of Human Resources Sharon Irvine all threw their hats in the ring to lead the new school district.
At the direction of the unified Board of Education, Michael Wilmot, president and chief executive officer of the Michigan Leadership Institute, will begin brainstorming and researching other superintendent models. The board hired the leadership institute, which is a privately-held consulting firm comprised almost entirely of former Michigan school superintendents, to assist its members in determining the first leader of the new Ypsilanti Community Schools district.
Wilmot said in Michigan, the law requires every school district to have a superintendent, but there is some flexibility in how that gets accomplished.
"It can take a lot of different forms and that's part of what needs to be explored," he said. "We'll need the advice of the district's legal counsel and to talk to the candidates. There are a number of complications that need to be resolved in order to look at how we might be able to do this."
One of the complications could be any existing clauses in the employees' current contracts, Wilmot said. Additionally, he said there are no other districts in the state for Ypsilanti Community Schools to use as a model because this really hasn't been done before.
"I don't have a pre-planned structure in mind. I have some ideas … but how or what that structure could end up, I'm not sure," Wilmot said. "There's not another district (in Michigan) that has ever consolidated this way either … so it's not a surprise that there's not a model to follow. So the district has the chance to build a model."
President David Bates called it searching for out-of-the-box solutions and creative possibilities. But he said regardless who ultimately is chosen or which model is employed, "nobody can be successful without the support of the board and the community."
"It doesn't matter how good they are," he said.
Bates added: "This obviously is not only a board decision. There are three other lives that have set their careers and their reputations on the line … so, just out of respect for them, we need to have some kind of solution."
He suggested involving Martin, Lisiscki and Irvine in the model discussions. Wilmot will be working with the board's ad hoc superintendent search committee throughout the next two weeks to try to come up with some possible structures to bring back before the full board. Trustees Don Garrett, Anthony VanDerworp and Celeste Hawkins serve on that committee for the board, along with a handful of community members.
Wilmot said there would have to be the willingness or some interest on the part of the candidates in order for this idea to move forward.
During the superintendent discussion, the board went down the line — from Irvine to Lisiscki to Martin — and listed the qualities they saw in each of the candidates. Of Irvine, the board emphasized her problem solving abilities, her legal degree, her ability to articulate and how she has earned the trust of the teachers and staff in the Ypsilanti school district.
Representatives of both the Ypsilanti Education Association and the Ypsilanti Principals and Administrators Association attended Monday's meeting and voiced their support for Irvine on behalf of the unions.
YEA President Krista Boyer said Irvine is the very definition of personal and professional ethics.
"Her honesty, integrity and work ethic are the very essence of what is needed to make the new district a success," Boyer said. "She was the only candidate who made reference of going into the other district to begin to build relationships with staff and parents. She spoke of teamwork, collaboration, parent involvement and community input. All practices she not only speaks of, but also puts into action."
Boyer added that at Martin's own admission, his relationship with staff is not where he would like it to be.
"While he claims he has a 'healthy amount' of support, there is a noticeable lack of support for his candidacy by the teachers and staff he currently oversees. In the last three years, we have lost staff, students and the feeling of being a team," she said.
Trustee Maria Sheler-Edwards noted she particularly liked how often Irvine talked about surveying parents and her own employees in her various positions throughout her career to collect feedback and to hold herself accountable.
The board's remarks of Lisiscki and Martin were similar in nature. Both of the two superintendents were described as collaborative leaders.
Some advantages the board listed of the superintendents were both came into their positions at their districts during challenging times, have "worked in the trenches" and "shown a great deal of resiliency," didn't give up and were "battle-tested."
Of Lisiscki, Bates said: "I never heard her look back or make any excuses other than we are going to move forward together because that's what's best for children. And I have a great deal of respect for that kind of attitude."
Other board members noted how Lisiscki was very focused on aligning the vision and goals of the new district with her leadership.
"I also think she has the potential to be here a long time," said Trustee Gregory Myers. "She has spent her whole career in one district, and that sticks out to me. She's committed to this community."
During public comment at Monday's meeting, several residents spoke in support of Lisiscki as well. Mark Wilde said from what he has observed, it appears those in the Ypsilanti district want a change in leadership, while in Willow Run residents would like to keep Lisiscki.
"It seems to me that keeping Laura would satisfy both sides," Wilde said.
The board acknowledged that after the interviews on Feb. 14, Martin received the toughest questions and the most amount of criticism from the community. However, the board also stated it admired his ability and willingness to talk about his actions and to answer those questions, no matter how tough.
Garrett said he sees this as dedication. He also said Martin is a visionary, seeing beyond the district's financial woes and realizing that those struggles actually can allow the district the opportunity to improve education for its children through consolidation.
"I want you there whatever decision we make," Garrett said to Martin about the superintendent selection.
Sheler-Edwards said she most liked how transparent Martin is. She said many in the district did not know how bad Ypsilanti's financial situation was until Martin became superintendent and "opened up the books."
Bates emphasized Martin's implementation of zero-based budgeting, his ability to cut millions from the budget and how he created an all-inclusive operations manual for the district that was recognized by the state.
Danielle Arndt covers K-12 education for AnnArbor.com. Follow her on Twitter @DanielleArndt or email her at daniellearndt@annarbor.com.