Posted on
Mon, Jan 23, 2012 : 5:39 a.m.
HSHV partners with PetSmart Charities to provide reduced-rate spay procedures for cats
By Lorrie Shaw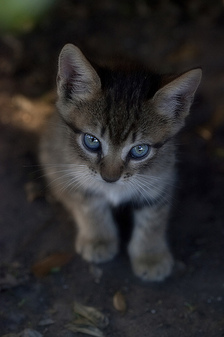 flickr photo by Laurence in Houston
Pet overpopulation is an issue that's been addressed on the pets section previously, and with one species, it's especially prevalent: cats, and many are homeless.
Felines can have up to three litters per year, and can breed as young as 4 months of age — a pretty shocking statistic for some people. What's more incredible is how many kittens can be produced each year from each fertile cat.
It's important to understand that, from a biological standpoint, it's a battle with pets, as Julie Levy, DVM, director of Maddie's Shelter Medicine Program at the University of Florida's College of Veterinary Medicine points out.
"Reproductive success drives evolution, so reproductive forces are the strongest biological factors [in] any species. That's why no one has figured this out yet — it's hard."
If one blockade is put into place to curb reproduction, biology takes over and simply walks around it and compensates.
The ASPCA addressed the overpopulation problem with a policy decision that made waves in 1972. From then on, every animal adopted from their shelters had to be spayed or neutered — a real shift in forward thinking.
Now, it's standard practice for shelters and rescues across the nation, and the procedures, with their superb success rate, are usually offered at a reduced rate to adoptive families.
For those who welcome a pet into their family due to other circumstances, discounted spay and neuter services are offered at organizations across the nation. Southeast Michigan boasts many programs, and there's one special program that will be ongoing throughout the month of February at the Humane Society of Huron Valley: "Beat the Heat."
The promotion, sponsored by PetSmart Charities, will take place during the entire month of February, and HSHV will spay female cats for a special rate of only $20.
(A rabies vaccination is free and included with the $20 spay surgery but cat owners will need to pay $25 additional for the other required shots if their cat is not up to date on vaccinations. Proof is required before surgery. )
Aside from making an impact on the pet population, there are health benefits to spaying early — even as young as 8-10 weeks — like a reduction in the likelihood of reproductive infections and cancers.
Mammary cancer in fact, is cut significantly by spaying before the first heat cycle.
"It's our goal to bring female cats in before they go into heat and become pregnant. Our 'Beat the Heat' promotion is a fun way to educate the community and prevent unwanted litters," says Jenny Paillon, HSHV director of operations.
Cat owners who wish to take advantage of this offer must mention the "Beat the Heat" promotion when scheduling their appointments.
This special rate is less than the organization's usual low cost and is available to all residents of Washtenaw County.
The promotion, however, is based on availability, and residents are encouraged to call now to schedule for February. Visit HSHV's website or call 1-888-474-8349 for additional information or to schedule your appointment.
Lorrie Shaw is lead pets blogger on AnnArbor.com and owner of Professional Pet Sitting. Follow her pet adventures on Twitter.