Posted on
Thu, Sep 27, 2012 : 6 a.m.
Is the fun trend of dog shaming a stark illustration of their inadequate lives?
By Lorrie Shaw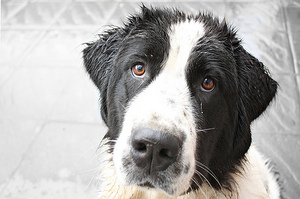 flickr photo by followtheseinstructions
It's likely that you've seen the images of pets who have engaged in naughty behavior float across online articles and Facebook posts, coined "
pet shaming
". Admittedly, as someone who shares life with
pets
, I find the situations relatable and even funny. Let's face it, pets are going to get into trouble now and then and there are no perfect pets. We've all got stories.
But the images in some cases illustrate a telling picture: Pets that live an inadequate life.
Am I taking this tongue-in-cheek display of naughtiness a little too seriously? Perhaps not.
The truth is there are some animals that don't get enough time, attention and training. There are a lot of them.
My mantra has always been, "Spend half as much money and twice as much time."
Sure there are a lot of great toys and tools on the market geared toward pets, whether they are dogs, cats, birds or other species. But, they cannot be a substitute for the human factor.
We have made these animals participants in our world: A lifestyle of long work hours, busy schedules, along with unsuitable routines — and let's not forget expectations that are too high on our end — pets often get to stare at four walls with little in the way of outlets. Some of the outcomes that we see when we view the images with captions on sites like Pet Shaming and Shame Your Pet are just part of life when you live with a pet, others are simply the result of living with a young pet, but those kinds of things are not my beef, and I will admit that they are funny. But, over and over, troubling messages — almost always involving adult canines — are a clear result of the shortcomings of the human or a serious behavioral issue.
"I eat trash, repeatedly." says one dog's caption.
"When I'm left home alone, I destroy the house." (This is a common one.)
"This dog eats chairs."
"I bark at everything."
These are distressing, to say the least.
Beyond being unwanted behaviors, most of these activities are dangerous and need to be addressed, not laughed off. They are indicative of lack of things in a pet's life, usually supervision or enrichment — maybe both. Even a medical condition can cause pets to behave badly, so it's wise to make an appointment with your veterinarian to rule out any illnesses or hidden injuries.
Sadly, behavioral problems are cited one of the leading causes of relinquishment, re-homing and even euthanasia of a companion animal.
The good news is that sort of thing doesn't have to happen. With the right enrichment, positive reinforcement training and a routine that suits the pet's needs, behaviors can be avoided altogether, or corrected.
Employing the use of a crate to manage unwanted behaviors, and keeping things that are off-limits — like the garbage can — out of reach are easy ways to help have more good days.
In an age when it's tempting to look to television shows to learn how to most effectively address a dog's unwanted behavior, here's some advice: just don't. There are wonderful canine professionals in your own area that can help get things on the right track.
Not sure how to choose a behaviorist or dog trainer? Click here to learn how to become more empowered on how to do so.
Lorrie Shaw leads the pets section for AnnArbor.com and is a professional pet sitter.Connect with her on Google + or e-mail her directly.