Posted on
Thu, Oct 27, 2011 : 8:49 p.m.
Jim Delany shoots down any Big Ten expansion ideas and more notes
By Nick Baumgardner
ROSEMONT, Ill. -- Jim Delany doesn't want to hear it. He doesn't want to talk about it. And he couldn't care less if anyone cares about it.
The Big Ten Conference commissioner was adamant Thursday that the league has no, and wants no part of the current college conference expansion movement.
"Everyone else in the country is in the conversation, but we're not," Delany said Thursday during the Big Ten basketball media day at the Crowne Plaza Chicago O'Hare hotel. "And you can't make us be in the conversation if we're not in the conversation."
Delany and the Big Ten got the entire expansion wave rolling nearly two years ago by adding Nebraska from the Big 12.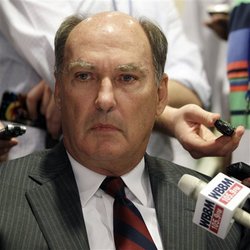 AP file photo
From there, things have been chaotic to say the least.
With the most recent movement threatening the livelihood of the Big East, a conference currently housing all of Notre Dame's non-football sports, speculation has risen on where the Fighting Irish may land.
It won't be the Big Ten, according to Delany on Thursday.
Delany went as far as saying he spoke with Notre Dame athletic director Jack Swarbrick months ago —Â but that discussion was centered around hockey and scheduling.
He explained how 12 members is a number the league is happy with at moment, and adding any further would create an issue. "We want to play ourselves," he said.
He also refused to answer any hypothetical questions or what-ifs regarding Notre Dame, or anyone else, saying it's something he's never done and doesn't intend to start.
"You can't make me respond to hypotheticals," he said. "And if someone calls from a school in Puerto Rico, or California, or Alaska, I'm not answering those questions."
Delany also explained how expansion shouldn't be looked at as a quest to conquer the college landscape, but rather an idea to strengthen one's individual league in all facets.
BIG TEN MEDIA DAY
AnnArbor.com sports reporter Nick Baumgardner attended the Big Ten basketball media day in Rosemont, Ill., on Thursday. Listed below is a compilation of his coverage.
"This is not Monopoly and this is not a game board where people are collecting markets and territories and schools," he said. "Our goal from the beginning has been to have competition for teams and student-athletes.
"It's not about how many schools or how many states or how many markets. … For us, it's always been about 'do you have the best set of competitive opportunities, do you have some people in agreement about how to approach college sports and a great deal of enthusiasm about being part of that process."
Never say never, but for now, read his lips.
No interest in expanding.
"What's happening out East or out West, or in the South, interests me as a college sports fan," he said. "But as a conference commissioner, not as much."
Delany offered his opinion on various other topics surround the college athletic landscape:
Will there ever be a BCS playoff?

"I don't know about ever, but I don't see that kind of thing in the near future."
How is preparation going for the first-ever Big Ten football championship game?
"We're making progress. ... I'm not in a lot of those meetings, but all the reports are that it's going really well. We sold 20,000 tickets in two hours. We've got our team tickets and we've got a few other tickets. But I think the demand is going to be great, I know that Fox has been promoting it heavily during the World Series as well as during the NFL schedule. It should be great."
If a school ever did approach you about expansion, would it have to be all sports or none?
"I would just say that membership in the Big Ten has an academic element, an athletic element and it's an all-sports conference. … Generally speaking, everybody's all-in. That's never been an issue for us."
On the recent proposal to add $2,000 of spending money to scholarship offers
"We ought to consider a scholarship that could go up to the cost of education. That often gets mischaracterized as pay-for-play, but I don't think scholarship is play for play. It's a merit or talent award and right now it's room, board, fees and tuition. It used to be room, board, fees, tuition and $15. Now they're considering room, board, fees, tuition and additional aid for the cost of education up to $2,000. I personally support it, but I don't give scholarships. … There are a couple (schools) that may see it as an issue because they think it's an expense that they can't bear. But most of them will support it and I think it will pass but I think it'll be an option, not a requirement."
Nick Baumgardner covers Michigan basketball for AnnArbor.com. He can be reached at 734-623-2514, by email at nickbaumgardner@annarbor.com and followed on Twitter @nickbaumgardner.