Posted on
Tue, Jan 10, 2012 : 6:52 p.m.
A more energetic Jordan Morgan becoming a bigger threat for the Michigan basketball team
By Nick Baumgardner
Jordan Morgan is starting to figure it out.
The smarter he plays, the better he gets. The longer he plays, the better he gets.
And the harder he plays, the better the Michigan basketball team gets.
The 6-foot-9, 250-pound sophomore forward has had his ups and downs this season, but over his past three games, he's trended more toward the former. And the reasons why are pretty simple.
"He's realized that one of the ways he can really help us is being a high-energy player," said Michigan coach John Beilein, whose team will host Northwestern on Wednesday (6:30 p.m., BTN). "That's his way for us to be successful and that's the way, actually, for him to be successful if he wants to play professionally at some level.
"If he plays with high energy out there and a high IQ, he is really an asset for us."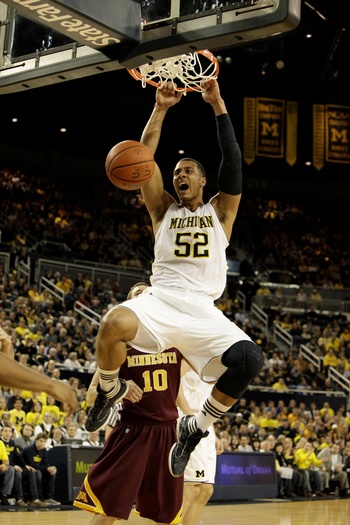 Chris Asadian | AnnArbor.com
In his last three outings -- games against Minnesota, Indiana and Wisconsin -- Morgan has been able to give everything Beilein and the Wolverines ask of him inside.
He's been a presence on the glass, he kept himself out of foul trouble and he's provided consistent energy at both ends of the court when he's on the floor.
In Morgan's previous 13 games, he'd averaged just 4.5 rebounds per night, 2.5 on the offensive glass. But in his last three, Morgan is averaging 10.7 boards, 4.3 on the offensive end.
"That's my job on the team, to get us extra possessions," Morgan says. "I just keep crashing the boards and trying to get extra possessions.
"It's just about staying aggressive all game long, and assuming every shot's a miss."
Foul trouble was an issue that plagued Morgan throughout his redshirt freshman season a year ago, and continued throughout the early portions of Michigan's non-league schedule.
However, against Minnesota, Morgan kept himself in the game by only committing two fouls and logging a season-high 32 minutes as a result.
Four days later at Indiana, matching up against super freshman Cody Zeller, it was more of the same from Morgan. He was able to play clean against Zeller, picking up just two fouls while contributing 12 points and nine rebounds in a career-high 34 minutes.
Against Wisconsin, Morgan picked up two first-half fouls, but no more. He fought through the early foul woes, finishing with 11 rebounds (five offensive) in 19 minutes.
For a team as thin up front as Michigan, Morgan's ability to remain on the floor during Big Ten games is crucial. And, with sophomore forward Jon Horford on the shelf with a foot injury, his foul counts become even more important.
"Last year with foul trouble, mentally, he'd take himself out of the game," Michigan senior guard Stu Douglass said. "(Against Wisconsin) he really just treated the second half as a whole new game, came out and gave us a lot of energy.
"He's making stuff happen when he has opportunities."
Currently, Morgan leads the Big Ten in field goal percentage at 67.1 percent from the floor. In addition, his scoring numbers (7.4) and rebounding averages (5.7) are beginning to trend back up to where Michigan expects them to be.
"It's (about) improvement in some areas," Morgan said. "I'm (starting) to see a lot of the opportunities I missed last year and trying to capitalize on those."
Morgan's role with the Wolverines is relatively simple.
Play smart. Rebound. Compete defensively.
And do all of that with high energy.
It's easier said than done, but if Morgan can stay motivated, Beilein says he'll continue to impress.
"There's probably a lot of naysayers that never thought he could play here," Beilein said. "And if that is motivational for him, we'll play that all the way.
"Whatever motivates him to play high-energy, (we'll use)."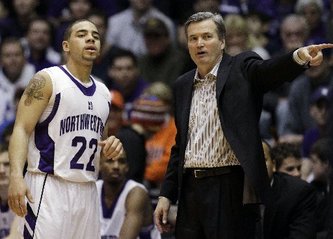 AP Photo
Refilling the 'juice'
For the first time in four years, Michigan won't have to scheme against ex-Northwestern point guard Michael 'Juice' Thompson.
It's something Beilein isn't exactly angry about, as the speedy Thompson averaged better than 16 points, four assists and 37 minutes as a senior last season.
However, Thompson's replacement -- freshman Dave Sobolewski -- isn't exactly a slouch.
In 34.3 minutes per game, Sobolewski is averaging 8.3 points and 3.8 assists.
More impressively, he's turned the ball over just 14 times in 15 games this season. His assist-to-turnover ratio of 4.1 is currently tied for third-best in the country.
"This young Sobolewski, has done a really great job of fitting in before he tries to stand out," Beilein said. "Last year, Thompson was so good and you had to guard him forever, he was so talented.
"(Sobolewski) is just trying to get the other guys the ball where they want it. He's done a wonderful job."

Film study galore

Beilein said Michigan is spending more intense time in the film room currently than it is on the practice floor.
The Wolverines will have had just two days off before tipping against Northwestern on Wednesday, and will then prepare for a road trip to Iowa on Saturday.
"There's a lot of walking and talking (at practice Tuesday)," Beilein said. "We (get) 107 minutes, but we'll be in the film room for 40 minutes. We'll come back (Tuesday) night and be in the film room again, and use our full four hours (of weekly practice time Tuesday).
"We've got three games in one week, Sunday, Wednesday and Saturday. ... You don't want them out on their feet going over and over, but mentally, hopefully they can see it and visualize it."
Nick Baumgardner covers Michigan basketball for AnnArbor.com. He can be reached at 734-623-2514, by email at nickbaumgardner@annarbor.com and followed on Twitter @nickbaumgardner.
Want to stay connected to Wolverine basketball in your Facebook newsfeed? "Like" AnnArbor.com's Michigan Basketball News & Views.