Posted on
Sun, Feb 19, 2012 : 12:46 p.m.
Once dormant Crisler Center now a serious home-court advantage for Michigan basketball team
By Nick Baumgardner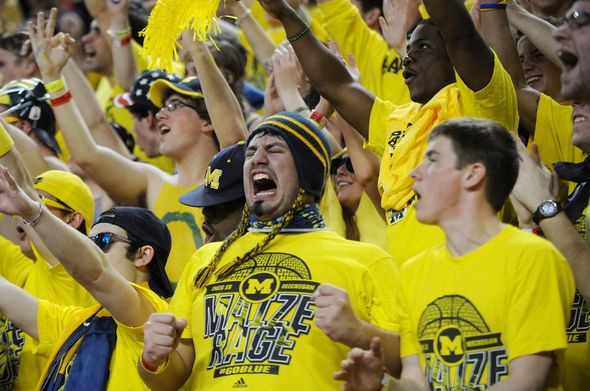 Melanie Maxwell | AnnArbor.com
This stuff didn't happen four years ago.
When Michigan basketball co-captains Stu Douglass and Zack Novak entered the program prior to the 2008-09 season, the biggest advantage derived from playing home games came from the ability to sleep in your own bed the night before.
But hosting teams in front of a raucous home crowd?
"What home crowd?" Douglass asked rhetorically Saturday.
So, forgive Novak or Douglass if they had to take a moment to believe exactly what they were seeing prior to Michigan's 56-51 win over Ohio State on Saturday.
Some 10 minutes before tip, before the national anthem, before anyone ran through a tunnel, Crisler Center was more lathered up than it had been all season. Than it had been in years.
Not one seat was empty, yet no one was sitting.
Ever wonder what 12,721 red-faced, pompom-waving, maize-covered fans sounds like? Well, it's less of a sound, and more of a vibrating rumble.
"You've got to pinch me," Novak said afterward. "This is unreal."
Four years ago, Michigan was coming off a 10-22 campaign and hadn't seen an NCAA Tournament in more than a decade.
Playing in an outdated arena, the 2008-09 Wolverines -- who would eventually snap the school's tournament drought -- played their first game of the season in front of 6,328 people, less than half the capacity of Crisler Arena before its renovation.
There were no lines wrapping around the building, no pompoms and no star quarterbacks leading cheers from the student section.
"Nothing against our fans, because our fans are great and there have been some loyal fans," Douglass said. "But nobody wants to root for a bad team with a losing record, which they had before (Novak and I) had got here."
Fast forward to Saturday.
The same Michigan basketball team that couldn't give tickets away four years ago hosted a day-long, nationally-televised commercial by ESPN before welcoming in the two-time defending Big Ten champions in front of the program's seventh sellout crowd of the season.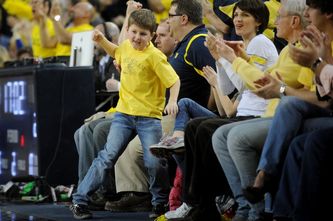 Melanie Maxwell I AnnArbor.com
Only this team isn't the same, because when the rafters of the Crisler Center began to shake from the noise moments before tip off, the team on the floor didn't just hope to beat one of the nation's top clubs.
They expected to.
"Crisler wasn't rocking like this ever, not that I can remember," Novak said afterward. "And rightfully so, the program had been struggling.
"It took a lot of hard work, but I think it's getting back to where it needs to be."
No opponent has survived Crisler Center this season. Not one.
Wisconsin got blasted by 18 points. Michigan State made a valiant charge, but ended up falling by a point. And now, Thad Matta and his bevy of prep All-Americans can officially add their name to the list.
Michigan is 15-0 in Ann Arbor this season, and sits one win away from grabbing an unbeaten home record for the first time since 1976-77.
Add in the fact that the Wolverines also entered Sunday just a half game out of first place in the Big Ten, a league they haven't won in 26 years, and Michigan basketball coach John Beilein and company have plenty of reasons to smile.
"When I (got to the arena) at 6 a.m. this morning, I said 'is there going to be 40 or 50 people here?'" Beilein said. "Sure enough, the line wrapped all the way around the football stadium.
"We're getting this thing going in the right direction."
With four games left to play, the Wolverines have a shot at a Big Ten title, a raucous home atmosphere to lean on, a lofty national ranking and a shot at a deep run in March.
Four years ago?
Well, that stuff just didn't happen.
Nick Baumgardner covers Michigan basketball for AnnArbor.com. He can be reached at 734-623-2514, by email at nickbaumgardner@annarbor.com and followed on Twitter @nickbaumgardner.
Want to stay connected to Wolverine basketball in your Facebook newsfeed? "Like" AnnArbor.com's Michigan Basketball News & Views.