Posted on
Sat, Mar 17, 2012 : 12:02 a.m.
Michigan basketball team squanders its chances down the stretch
By Kyle Meinke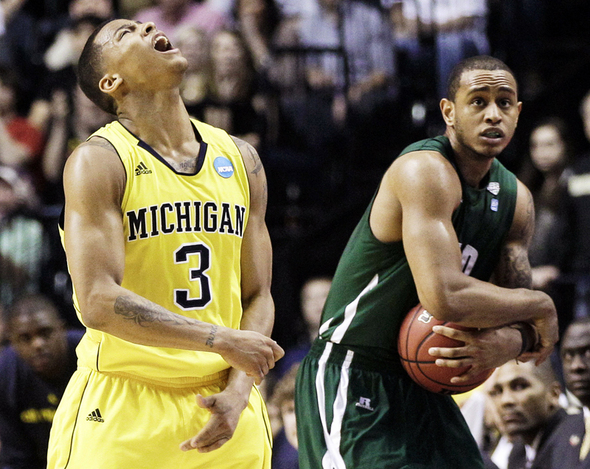 Associated Press
NASHVILLE, Tenn. — They fought.
And fought.
And fought.
But by the time the No. 4-seed Michigan basketball team climbed back within three points of No. 13 Ohio, it didn't have much fight left.
Basketball works like that sometimes. Getting back into the game isn't the hardest part. Getting over the top is. On this night, it cost the Wolverines their tournament.
They went down 65-60 to the upstart Bobcats in their opening game of the NCAA Tournament. It's the lowest-seeded team to ever beat Michigan in the Big Dance.
Senior guard Stu Douglass said the Wolverines came out "flat," and the ensuing comeback took a lot out of the team.
"It's tough, being down like that all game," he said in the locker room, draped in a Michigan jersey for the final time. "We were very anxious to make up points. We were trying to shoot a 3 when we're down three, hoping it's a four-point play to regain the lead. We were just a little quick.
"I'm in shock. Still just can't believe what happened. In my mind, when I played it out in my mind over and over in my head, it wasn't supposed to happen like this. It's going to be a hard thing to face for a few days."
After tying up the game 20-20 with 8 minutes, 49 seconds left in the first half, Michigan trailed the rest of the way. It fell behind by as many as 13.
But it pecked away at the Bobcats, and eventually pulled within three points with 4:12 left thanks to 12 consecutive points from freshman point guard Trey Burke.
Michigan had six chances to pull within one, or tie up the game.
"We were really emphasizing, this doesn't have to be a 3-point (shooting) game right now," Michigan coach John Beilein said. "We can get 2s, and Trey was in isolation. You've seen him make that. He's really our highest-percentage 3-point shooter in that."
Instead, the Wolverines fell apart, missing five shots and turning over the ball once.
Burke had been the hot hand who got them back in the game, and he was the Wolverines' best clutch shooter this year. But this time, he missed all three of his shots in that final 4 minutes — each a 3-pointer.
"They felt good," Burke said. "The one, man, I thought it was down. They weren't doing anything to me, I just missed. They felt good, and I just missed."
Sophomore forward Evan Smotrycz, the Wolverines' best player on this night, had made each of his six shots against Ohio -- until breaking for the basket and missing a contested layup with less than 3 minutes left.
Even senior guard Zack Novak, who so many times in his career has hit the big 3-pointer, missed one.
"I've made that shot, at that time, probably 25 times in my career," Novak said. "Just did it last week (against Minnesota). The guys joked, 'You can shoot 35 percent in the first 36 minutes of a game, then all of the sudden, you're 70 in the last 4.'
"But, you can't hit 'em all. I know I'll think about that shot for a long time. That's just the way I'm wired, and I'm pretty pissed off."
The final blow to the Wolverines' chances came when Smotrycz, facing a double-team in front of his own bench, lost control of the ball and turned it over with 7 seconds left.
"Just lost the ball," he said. "That's it."
Michigan had trailed by only three points for 4 minutes, 6 seconds. It felt like an eternity, the Bobcats giving the Big Ten champions every opportunity to seize a game in which it was heavily favored.
It went 0-for-6.
They Wolverines had a puncher's chance, but couldn't deliver the final blow. And down they went.