Posted on
Fri, Mar 16, 2012 : 9:33 p.m.
Scratched: Bobcats boot Michigan basketball team from NCAA Tournament, 65-60
By Nick Baumgardner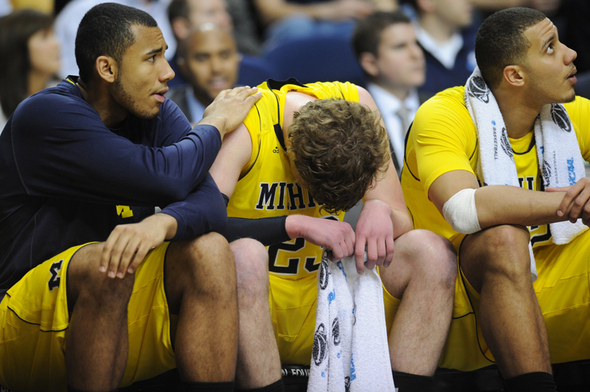 Melanie Maxwell | AnnArbor.com
This story has been updated.
NASHVILLE, Tenn. — Whether it's the real Ohio, the true Ohio or the original Ohio doesn't much matter now.
The Michigan basketball team's season is now over.
No matter how you say it.
The 13th-seeded Ohio Bobcats got 21 points and five assists from point guard D.J. Cooper and crashed fourth-seeded Michigan's NCAA Tournament party with a 65-60 win in the second round of Midwest Regional play.
"I haven't cried over a basketball game since we got knocked out in high school," said Michigan senior co-captain Stu Douglass, moments after his final game in a Michigan uniform. "I'm smiling (right now) because I don't really know how to deal with this.
"I can't really put it into words."
The loss was Michigan's first opening-round NCAA Tournament defeat of the John Beilein era, and also extends the Wolverines drought of not advancing past the tournament's first weekend to 18 years.
Additionally, the defeat brings about a premature end to an otherwise banner season for Michigan (24-10), as the Wolverines earned a share of their first Big Ten title in 26 years and earned their highest NCAA Tournament seed since 1994.
None of that mattered Friday, though, as the Bobcats — who, earlier this season, took umbrage to Michigan's references to Ohio State as "Ohio" — sizzled offensively for most of the night, leaving Michigan with few answers in return.
"You have to give Ohio credit; they played a hell of a game today," Michigan senior co-captain Zack Novak said. "And we didn't have it."
Michigan freshman point guard Trey Burke paced the Wolverines with 16 points on 5-of-15 shooting, while Tim Hardaway Jr. added 14. Evan Smotrycz finished with 15 points on 6-of-7 shooting.
Following the game, both Hardaway and Burke said they'll return next season, saying they'll be ready to take on varying roles of leadership left behind by Novak and Douglass.
As for the two Michigan senior captains, Douglass, who became Michigan's all-time leader in games played, finished with five points on 2-for-7 shooting.
Novak, who finished third all-time in the same category, went 1-for-6 with two points.
"It sucks," Hardaway said. "What else can I say? (Novak and Douglass) have been leaders ever since their sophomore year here.
"It's not going to be the same without them."
Playing without a care in the world early, the Bobcats pounced on the higher-seeded Wolverines midway through the first half.
Nick Kellogg buried two triples, Cooper hit three free throws on a fouled long ball and Walter Offutt did damage inside as Ohio rattled off a 15-2 run to go up by as many as 13 with 2:45 to go in the half.
During Ohio's run, the Wolverines went 1-for-7 from the floor with five turnovers.
Michigan rallied just before the half, though, getting a breakout dunk from Burke, a long 3 from Hardaway and a tip-in from Smotrycz to close on a 7-0 run and trail the Bobcats 35-29 at halftime.
The Wolverines continued to surge in the second, drawing within two after a Smotrycz triple 5 minutes in made it 42-40.
But after each Michigan make, Ohio seemed to answer with a score of its own. And when the Bobcats missed, more often than not, the Wolverines countered with a missed layup or a botched hoop at or near the basket, and after D.J. Hall knocked down a triple from the top of the key with 11:10 to play, Ohio was back in control at 53-45.
"Every time we kind of got it close, they hit a big shot or got a big layup," Michigan sophomore forward Jordan Morgan said. "It was tough."
Michigan made one final charge behind Burke, as the freshman point guard rattled off 12 straight Wolverine points, pulling Michigan within one possession at 63-60 with just 4:12 to go.
The Wolverines then had four chances to tie in the game's final minute. Novak missed a triple, Burke missed two straight and then, with 6.8 seconds to play, Smotrycz turned the ball over in front of the Michigan bench.
The play sent the Ohio sideline into a frenzy, the Michigan sideline into a dejected haze and the Bobcat faithful into a chant of "we are Ohio."
Offut followed with two free throws to ice the upset.
"It was — it was a tough loss for our guys," Beilein said. "It's a difficult way to end the season, but we did not lose to a team that wasn't worthy of this win today; they're a good team."
Offutt finished with 11 points, while Ivo Baltic and Reggie Keely added 10 apiece for the Bobcats, who shot 51.2 percent for the game.
Michigan, meanwhile, went 22-for-54 from the floor and 7-for-23 from 3-point range.
The loss ends a somewhat surprising season for the Wolverines, who were expected to go through some growing pains by many after the early departure of former point guard Darius Morris.
But there was no solace to be had in the Michigan locker room following this one.
There will be time to look back fondly at memories later. For now, the moment was simply crushing.
"I'm trying to censor how I'm feeling," Novak said. "I don't know.
"I don't even know how to describe it."
Nick Baumgardner covers Michigan basketball for AnnArbor.com. He can be reached at 734-623-2514, by email at nickbaumgardner@annarbor.com and followed on Twitter @nickbaumgardner.
Want to stay connected to Wolverine basketball in your Facebook newsfeed? "Like" AnnArbor.com's Michigan Basketball News & Views.