Posted on
Sat, Nov 26, 2011 : 9:16 p.m.
Michigan 40, Ohio State 34: Your comprehensive guide to our coverage
By Rich Rezler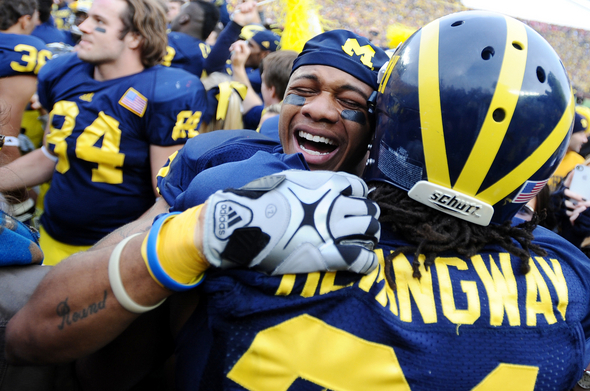 Melanie Maxwell I AnnArbor.com
The Game had become The Streak.
The Michigan football team's seven straight losses to Ohio State was the most in this storied rivalry since the Wolverines won nine straight in 1901-09.
Where were you when that string was snapped?
If you were looking in on Michigan Stadium on Saturday, you witnessed more than the end of a excruciating streak for the Wolverines and their fans. You witnessed U-M history being made (two 1,000-yard rushers), a little fun being had (a new post-game celebration) and legacies being salvaged (the Michigan seniors had never beaten OSU or MSU).
You may also have witnessed Luke Fickell's only Michigan-Ohio State game as head coach and the Wolverines wrapping up a BCS bid for the first time since 2006.
We have all of those angles -- and a number of others -- covered for you. Here's a compilation of the stories you can find our site:

Post-Game Coverage

• Boxscore | Big Ten scoreboard
• Kyle Meinke column: Michigan's senior class needed streak-ending win over Ohio State.
• Game story: Fans celebrate as Michigan holds off Ohio State, 40-34.
• Questioned all season, Michigan quarterback Denard Robinson saves his best for last.
• Notebook: After quick turn of events, Michigan defense shuts the door on Ohio State in final seconds.
• Denard Robinson and Fitz Toussaint hurdle defenders, obstacles en route to 1,000-yard rushing seasons.
• After practicing all season, Michigan unveils special celebration following Ohio State win.
• Was this Luke Fickell's only Michigan-Ohio State game as head coach?.
• Video: Fans flood the field, Brady Hoke and players discuss win over Ohio State.
• Photo gallery: The best images from staff photographers Melanie Maxwell, Joe Tobianski and Jeff Sainlar.
• Grade the Wolverines: Your chance to rate Michigan's performance on offense, defense, special teams, coaching and overall.
• Game balls:They go to Denard Robinson, Michigan's defense and others.
• Associated Press: Through all the turmoil, Ohio State still had its streak against Michigan ... until now.
• ESPN.com: Video highlights of Michigan football team's 40-34 victory against Ohio State
• MLive.com: Wolverines' recovery complete as Brady Hoke basks in victory against rival Ohio State.

In-Game Coverage
• We strung together live updates throughout the game. Check them out here.
• Our live chat was quite lively and merry -- with a couple brief stretches of hysterical panic. That transcript can be found here.

More Scores

Michigan State 31, Northwestern 17: Spartans head to inaugural Big Ten title game in Indianapolis on a winning note. (MSU coverage)