Posted on
Thu, Jul 28, 2011 : 6:23 p.m.
Michigan coach Brady Hoke ready to start fall camp and find a featured running back
By Kyle Meinke
CHICAGO — New Michigan football coach Brady Hoke is just like a lot of people.
Fall camp can't get here soon enough for him.
Hoke's brief tenure with the Wolverines has been marked by near-universal praise within the Michigan community, as well as a torrid run on the recruiting trail that has net him a projected top-five class before he's coached a down of football in Ann Arbor.
But, boy, is he ready to coach a down of football in Ann Arbor.
"It's my funnest time of year because I don't have to see all of you (journalists), I get to see my 105 guys," Hoke said Thursday during his address to reporters at the Big Ten media days in Chicago. "We're a long way from where we need to be right now.
BIG TEN MEDIA DAYS
AnnArbor.com's Kyle Meinke is covering the Big Ten media days in Chicago. See a compilation of his stories below and follow him on Twitter
@kmeinke
.
"When you're new to a staff, like our players are, how you go though fall camp and the attitude every day and the toughness you have to have, and discipline and accountability, will say a lot about how we end up."
Fall camp opens Aug. 8.
For Hoke, whose team is implementing new offensive and defensive schemes, camp will begin to answer some of the questions that are percolating around his team.
One of them is how much will dual-threat junior quarterback Denard Robinson be allowed to work from the shot-gun formation in the new pro-style sets of offensive coordinator Al Borges?
"That all depends on how we do in these next six weeks," Hoke said.
Robinson ran for 1,702 yards last year, an NCAA record for a quarterback. He also was 182-for-291 passing for 2,570 yards and 18 touchdowns and was named the Big Ten's Offensive Player of the Year.
Now he's learning the pro-style offense, and a whole new set of mechanics, which could impede hopes of bettering his sixth-place finish in last year's Heisman Trophy voting.
But so far, Hoke likes what he sees.
"(Robinson) ran the same offense in high school, which is a plus," Hoke said of the junior from Deerfield Beach, Fla. "One of the big differences is the mechanics of taking the snap from center the footwork, the run game, the foot patterns, the play-action game.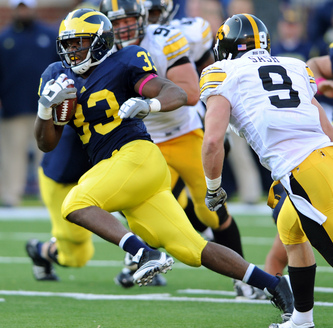 AnnArbor.com file photo
"He was ahead of the curve a little bit (in the spring). I think Al Borges has done a tremendous job with him."
With Robinson getting fewer carries, Hoke hopes to employ a featured back, which former coach Rich Rodriguez did not use in his spread-option attack.
The running game is expected to be more of a power look, with bigger lineman, one or two tight-end sets and an I-formation.
Hoke said he's looking for a back who will be durable enough to carry the ball 20 times per game.
That guy would seem to be either sophomore Stephen Hopkins or senior Michael Shaw, because of their size. True freshman Thomas Rawls could also vie for the spot.
When will Michigan have its first true featured back since 2007?
"I think in the first two or three weeks of fall, I'm hoping we'll have found him," Hoke said.
While the offense will remain an unknown until it takes the field for its opener Sept. 3 against Western Michigan, Hoke said it already has had one immediate payoff.
"There are two sides of the ball in the game of football," Hoke said. "I'm a defensive coach. When your defense plays against a pro-style offense all spring long, and they play against a pro-style offense all fall camp, it builds toughness and an edge.
"(The Big Ten) is a physical football league — physical offenses and people who run the football. We think we can play better defense by the fact of how we do things on the offensive side of the ball, because they feed off each other."
Kyle Meinke covers Michigan football for AnnArbor.com. He can be reached at 734-623-2588, by email at kylemeinke@annarbor.com and followed on Twitter @kmeinke.