Posted on
Fri, Apr 27, 2012 : 10:31 p.m.
Michigan defensive tackle Mike Martin selected by Titans in 3rd round of NFL Draft
By Kyle Meinke
This story was updated at 11:52 p.m.
As a freshman, Mike Martin played on the worst team in the 132-year history of Michigan football. Two seasons later, he started on the worst defense in program history.
Then he won 11 games as a senior, leaving school a Sugar Bowl champion.
And on Friday night, during a small party at an Ann Arbor bar with close friends and family, he officially entered the NFL ranks after the Tennessee Titans selected him with the 19th pick of the third round (82nd overall).
His emotions came to the fore as he embraced his mother, Theresa O'Hara, who raised Martin as a single parent in nearby Redford.
"I hugged her, and I started crying," Martin said by phone about 30 minutes after his selection. "I didn't think I would, but I started crying and I just didn't stop.
"After all the shit I've been through, there was a time when I thought this wouldn't happen. But here we are. I just cried, and I told her, 'We did it, Ma. We did it.'"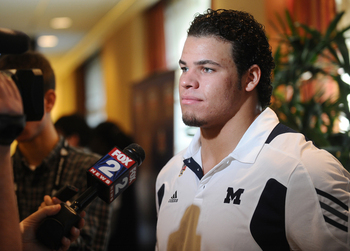 Melanie Maxwell | AnnArbor.com
MIKE MARTIN AT A GLANCE

Size:
6-foot-1, 306 pounds
Hometown:
Redford, Mich.
High School:
Detroit Catholic Central
Position:
Defensive tackle
Team:
Tennessee Titans
Selection:
19th pick of third round (82nd overall)
What they're saying
ESPN's Mel Kiper Jr.: "I like Mike Martin. All the kid did was go out and make plays. He knew he was going to be double-teamed, he knew he had to battle through that. ... Love this kid. He was on a bad defense, and he was the best player. When the defense got better, he was still out there producing. I like Mike Martin, and I think this is a nice third round pick for the Tennessee Titans."
ESPN's Todd McShay: "I call him 'Grunt.' He's one of the all-time grunts. Just shows up every single day to work, does a great job fighting through double teams. I think he's going to be a good player for the Titans."
Recent stories

Martin was the first Michigan player selected in the draft, with three or possibly four more expected to be taken during the final four rounds Saturday. Those will be aired at noon on ESPN and NFL Network.
This marks the third time since 2002 the Wolverines did not have a first- or second-round pick, and the third time in four years they didn't have a first-rounder. That hadn't happened since Jim Harbaugh was the lone first-rounder from 1987-90.
Overall, Martin is the ninth Michigan defensive lineman selected in the first three rounds in the common draft era, which began in 1967. Two of those players -- LaMarr Woodley of the Pittsburgh Steelers and Alan Branch of the Seattle Seahawks -- were starters last year.
Draft analysts projected Martin to land in the second or third rounds. He was ranked ninth or 10th among defensive tackles according to most of the major analysts.
He beat those expectations by a hair, as the eighth tackle off the board. But even then, the wait was misery.
Martin said he was checking his cell phone every 30 seconds, and looking up at the big-screen TV at Conor O'Neills, an Ann Arbor bar, every 25 seconds. As players rolled off the board, and the second round gave way to the third, anticipation built.
He was rubbing his Sugar Bowl ring -- which he designed with fellow captains David Molk and Kevin Koger -- for good luck.
"I was just so anxious, so much anxiety was building up," Martin said. "My friends kept saying, 'Do you want a beer, man?' and I was like 'I don't want no beer, I want this to be over.'
"Then finally, I was sitting there on the couch when I got a call from a Tennessee area code. I went through these big double-doors into a side room (so I could hear), but there were windows, and everyone was looking in. And I just gave them the thumbs up. I was a Titan."
A half hour later, he already had about 45 missed calls and 140 texts congratulating him on his selection.
Tennessee hosted Martin for a two-day visit in early April, where he became acquainted with the coaching staff. They watched film and talked defense, and Martin said he became "very comfortable" with their defensive approach and philosophy.
Martin said the Titans told him on the visit "if they were able to pick me, they would," and that he could make a "big impact" as a rookie. As a realist, though, he also harbored some doubt.
But it has come to pass.
"He is what you want in a nose tackle," Titans general manager Ruston Webster told The Tennessean. "He is tough as nails, a grinder. He doesn't mind doing the dirty work and he brings the kind of mentality we want in our defense."
Martin was the best player on a historically bad Michigan defense, then became an even better player last year. He helped lead the Wolverines to a top-20 finish in overall defense, and again was the unit's best player.
Now, Martin will try to do the same for a Titans team in need of improved line play. Their pass rush managed only 28 sacks in 2011, and their rush defense ranked 24th in the league.
But first, Martin, a Michigan boy who became a Michigan Man, has to figure out a thing or two about becoming a Tennessean.
"I'm a real guy, and I'm not going to (fool) you: I don't know a thing about Tennessee," Martin said. "It's time to Google the shit out of it and figure out what kind of soil they got."
Kyle Meinke covers Michigan football for AnnArbor.com. He can be reached at 734-623-2588, by email at kylemeinke@annarbor.com and followed on Twitter @kmeinke.