Posted on
Sat, Sep 18, 2010 : 6:30 p.m.
Michigan football team escapes with 42-37 win over UMass
By Pete Bigelow
Angela J. Cesere | AnnArbor.com
Editor's note: Updated at 6:30 p.m.
Craig Roh walked out of the locker room and shook his head in frustration. "I'm disappointed," the sophomore linebacker said, before correcting himself. "More angry. Just a lot of bad feelings." Cornerback James Rogers sighed. "I'm sorry that we just have to learn the hard way," he said. Coach Rich Rodriguez was more blunt following the Michigan football team's 42-37 victory over pesky FCS opponent UMass in Ann Arbor. "We didn't play well at all defensively," he said. "Special teams were awful, and on offense we made a few mistakes that killed us." That about summed it up.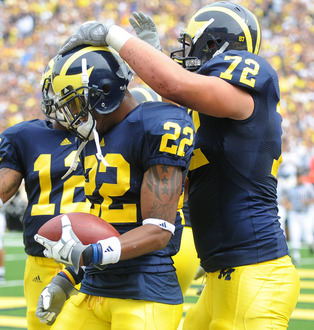 Angela J. Cesere | AnnArbor.com
The Minutemen stepped onto the same Michigan Stadium field as Appalachian State did more than three years ago and, with echoes of that historic upset reverberating all day, outplayed No. 20 Michigan for three quarters. "I just remember seeing the Sports Illustrated cover of the Appalachian State game," said Roh, a junior in high school at the time. "I remember thinking, just, 'that would be horrendous if that happened.'" It just might have again Saturday, if not for a one-quarter window in which the Wolverines (3-0) scored touchdowns on four consecutive possessions. The Wolverines scored 28 unanswered points between the late second quarter and middle of the third that swung a 10-point deficit into a 35-17 lead. Darryl Stonum led the recovery. On the first offensive play after Massachusetts (2-1) went ahead 17-7, Stonum hauled in a 66-yard touchdown pass down the left sideline and outraced two defenders for the score with 1:17 left in the second quarter. "All I saw was the safety in front of me," Stonum said. "I didn't know someone was behind me. We make a lot of cuts in practice, and Coach Rod just says, 'Trust your speed.' "In the back of my head, I just heard Coach Rod yelling, 'Trust your speed.'" He trusted his speed, and Michigan trusted him. After Jordan Kovacs forced and recovered a UMass fumble, the Wolverines turned to Stonum again 61 seconds later, and he caught a 9-yard touchdown pass just before halftime that put Michigan in the lead, 21-17. If one positive emerged Saturday for Michigan, it was the fact sophomore quarterback Denard Robinson developed a supporting cast. Roy Roundtree was the Wolverines' go-to receiver against Notre Dame, catching eight passes for 164 yards. Saturday, it was Stonum's turn. He finished with three catches for 121 yards and two touchdowns. "Me and Roy were jumping around on the sideline," Stonum said. "He was the guy last week. I got the nod this week. We'll see who gets it next week." On the ground, Michael Shaw carries 12 times for a team-high 126 yards and three touchdowns. He had a 34-yard touchdown run on Michigan's first possession of the second half that seemed to give the Wolverines some breathing room. Stonum and Shaw complemented another stellar performance from Robinson, who rushed 17 times for 104 yards and a touchdown and completed 10 of 14 passes for 241 yards and two touchdowns. "We know Denard takes a beating week in and week out, so we try to help him out," Stonum said. "He don't have to carry the whole load." Robinson's 345 yards of total offense were his lowest output of the season, but the performance was nonetheless the 10th-highest single-game total in Michigan history. (By contrast, his 502-yard outing against Notre Dame last week and a 383-yard debut versus UConn are the highest and second-highest totals in team history). It was barely enough to carry Michigan. UMass raced back from an 18-point deficit with 20 fourth-quarter points. But the Minutemen's chance at an upset ended when Michigan recovered an onsides kick with 2:05 left. Damage done along the way made Michigan look awfully vulnerable. On special teams, Michigan surrendered a blocked punt and fumbled away another. Kicker Seth Broekhuizen, a replacement for ineffective Brendan Gibbons, missed a 38-yard field-goal attempt. On defense, the Wolverines gave up 439 yards, allowing UMass quarterback Kyle Havens to march his offense up the field with ease on multiple occasions. "That simply wasn't acceptable or the way we're supposed to play defense here at Michigan," said Rodriguez, who marched himself into the visiting locker room after the game to compliment Havens and the juggernaut Minutemen. "You can't be upset with a win, but you can be upset with the way you played, and we did not play well. … It will be about as quiet of a winning locker room as you will ever see."
Box score | Slideshow | Notebook
Pete Bigelow can be reached at (734) 623-2556 or emailed at petebigelow@annarbor.com. Follow him on Twitter @PeterCBigelow.