Posted on
Tue, May 15, 2012 : 4:42 p.m.
Michigan-Michigan State after dark? No trepidation from MSU AD Mark Hollis
By Kyle Meinke
CHICAGO -- Michigan athletic director Dave Brandon has said he's reluctant to host a night football game against Michigan State because of the threat of rowdy fans.
But his counterpart in East Lansing, Mark Hollis, seems to be more in favor of one.
"I love night games," the Spartans' athletic director said Tuesday at the Big Ten spring meeting. When asked if he had any apprehension about playing the Wolverines at night, he said, "No, I don't."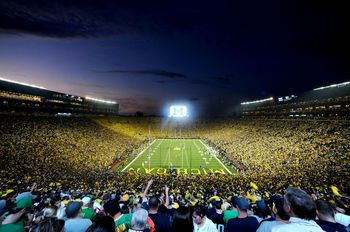 Melanie Maxwell | AnnArbor.com
Hollis, though, said game times typically are out of the athletic directors' control.
"That's a decision that's made by the networks, and they approach us and ask," he said. "To my knowledge, we were not asked about that being a night game."
Michigan has lost four in a row to its in-state rival, including a spirited matchup last year that included quarterback Denard Robinson getting knocked from the game and offensive lineman Taylor Lewan taking a punch from the Spartans' William Gholston.
It was the Wolverines' first loss of the season.
Michigan State coach Mark Dantonio further fueled the rivalry in the offseason, telling ESPN.com, "We're laying in the weeds. We've beat Michigan the last four years. So where's the threat?"
He also had
an interesting confrontation with Michigan receivers coach Jeff Hecklinski
on the recruiting trail.
The series will be rekindled Oct. 20 in Ann Arbor. A game time hasn't been announced, but it won't be at night -- just the way Brandon likes it.
"I don't even know if I want to do that at home," Brandon told the Detroit News last year. "I think the passion and the excitement of the crowd, to energize that with a night game, may be more than either one of us can handle.
"I think we'd have to be very careful about that. But we'll see. You never know what the future holds."
Michigan won each of its night games last year, beating Notre Dame, Northwestern and Virginia Tech.
The Wolverines will have at least two night games next season, on the road against Notre Dame and Nebraska. It also is expected to play Alabama at night in the season opener on Sept. 1.
Kyle Meinke covers Michigan football for AnnArbor.com. He can be reached at 734-623-2588, by email at kylemeinke@annarbor.com and followed on Twitter @kmeinke.