Posted on
Fri, Mar 16, 2012 : 9:52 a.m.
Spring preview: Michigan searching for kick returner, starting punter
By Kyle Meinke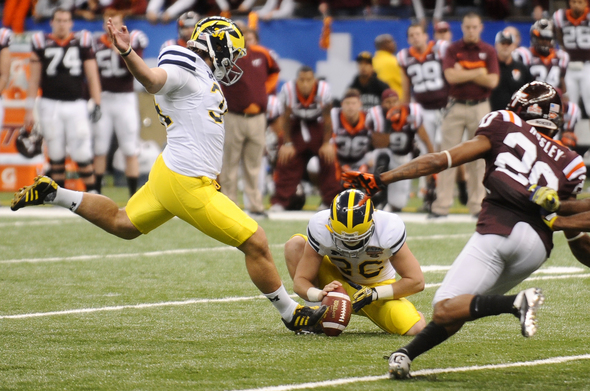 Melanie Maxwell | AnnArbor.com
Perhaps no one on the Michigan football team benefited more from the arrival of Brady Hoke than kicker Brendan Gibbons.
Gibbons was a wreck as a freshman, when he was benched after missing three of his first four field-goal attempts, watched former coach Rich Rodriguez hold student-body tryouts for his position, then was reinserted for one kick in the bowl game -- which he missed.
But Hoke saw something in him early last year, and stuck with that choice throughout the season. Gibbons rewarded that confidence with a solid sophomore year, making 13 of 17 attempts. He also went 3-for-3 in the Sugar Bowl, including the game-winner in overtime.
And he made it cool to think about brunettes in moments of crisis.
When asked after the Sugar Bowl what he was thinking about as he lined up the overtime kick in the Sugar Bowl, Gibbons responded: "Every time we were struggling in kicking, Coach tells me to think about girls on a beach or brunette girls. So that's what (I) did. Made the kick."
Hoke is best known for his tough, physical approach to the game, but his soft touch with Gibbons has really paid off.
With the kicking game steadied, the special teams focus now turns to kick return and punter.
What they lose

Michigan really missed Darryl Stonum in the kick return game last year, when the senior was forced to take a redshirt after a second drunken driving arrest. Without him, the Wolverines averaged 18.4 yards per return, 11th in the Big Ten. Their longest return all season was 33 yards.
Now, that loss is permanent, after Stonum was kicked off the team in January following an arrest for driving with a revoked license.
The Wolverines also lose Stonum's primary replacement, Martavious Odoms, who averaged a team-best 21.2 yards per return last year. Kelvin Grady, who was second at 19.0 yards per return, also graduated.

What they have back

Placekicker is settled with Gibbons, and Matt Wile returns for his sophomore season on kickoffs. Those are non-issues. Where there is an issue, though, is punter.
Will Hagerup was tremendous two seasons ago as a freshman, when he averaged 43.6 yards per punt, the second-best clip in school history (minimum 30 attempts). However, he never regained that form last year after sitting out the first four games due to a suspension. His average dropped by 7.6 yards, and the Wolverines finished last in the Big Ten in punting.
Wile, meantime, was much more effective in his four-game stint replacing Hagerup to open the season. He eventually replaced Hagerup in the Sugar Bowl, when he averaged 43.7 yards per attempt. He finished at a 41.6-yards-per-punt clip on the season.
On punt return, Jeremy Gallon is back after showing great improvement last year. He averaged 10.1 yards per return, more than double his 2010 clip of 4.3 yards.

Spring mission

Find a punter and kick returner.
Hoke was patient with Hagerup last year, allowing him time to sort out his issues, but that patience wore thin down the stretch. That was clear when Hoke said the punt job was up for grabs at his opening news conference in New Orleans -- he rarely singles out a starter for being in danger of losing his job -- and again in the Sugar Bowl, when Wile finally replaced Hagerup.
As for kick returner, there are several candidates. Gallon is one logical option, since he has more experience than anyone. He averaged 21.8 yards on 27 attempts in 2010, then 15.3 yards on three attempts last year. Other options include tailback Vincent Smith, receivers Terrence Robinson and Drew Dileo, and cornerback Blake Countess.
A strong candidate already mentioned by the staff is incoming freshman Dennis Norfleet, who was the last recruit to commit to the 2012 class. However, he won't arrive on campus until the summer.
Kyle Meinke covers Michigan football for AnnArbor.com. He can be reached at 734-623-2588, by email at kylemeinke@annarbor.com and followed on Twitter @kmeinke.