Posted on
Sun, Dec 30, 2012 : 5:59 a.m.
Ann Arbor office vacancy falls to lowest levels since 2003
By Lizzy Alfs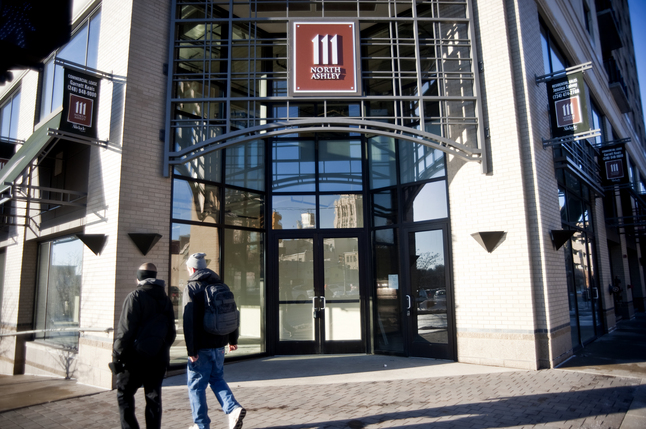 Joseph Tobianski | AnnArbor.com
The
Ann Arbor
region closed 2012 with the lowest office vacancy rates since 2003, according to a local report, indicating that the area's economy is continuing to improve.
Swisher Commercial's annual vacancy survey — which provides detailed data on the local office market — shows that 11.8 percent of the region's nearly 12 million square feet of office space is vacant. It's a steady improvement over 2011's 13.2 percent vacancy rate and 2010's 15.04 percent vacancy rate, and an indicator of job growth.
"Ann Arbor is very fortunate," said Swisher's vice president Bart Wise. "I think it's a combination of the university and some large corporations, but probably just as much or even more the unique, innovative, entrepreneurial companies. ... They have a huge impact on our economy."
In its 20th year, the Swisher vacancy report surveys 315 buildings of 5,000 square feet or larger. The 2012 report shows vacancy rates decreased in five of eight submarkets. Some highlights:
The north office market — primarily the Plymouth Road corridor east to Domino's Farms — had the largest vacancy decrease as four large office buildings had lease deals. The area has a 4.82 percent vacancy rate, which is the first single-digit vacancy in the area since 2005.
The east office market was hit the hardest in 2012 as several tenants moved to buildings in other Ann Arbor areas.
The region saw an 18 percent increase in the number of lender-owned and distressed building sales in 2012.
Other factors at play in 2012, the report shows, is the tightening of inventory as companies bought buildings to occupy and removed them from the leasing market. The declining vacancy also shows companies are hiring, which is reflective of the region's 4.9 percent unemployment rate.
"A lot of companies with Ann Arbor offices are growing from within," Wise said.
Mike Giraud of Swisher added: "I think, generally, it seems to me that companies have a growing feeling of confidence that the economy is turning around and they are starting to make some investments in brick-and-mortar."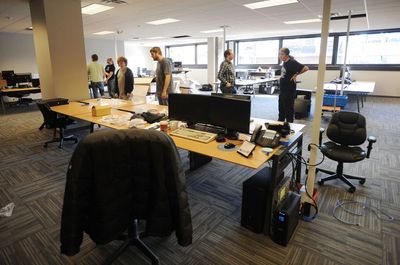 Melanie Maxwell | AnnArbor.com
Brokers describe the north end of Ann Arbor and the downtown market as extremely tight as more companies look to move or expand in those areas.
Neal Warling of Jones Lang LaSalle said it's difficult to find any available space over the 10,000-square-foot range in those markets. Downtown, some of the only remaining space of that size is the first-floor of 111 North Ashley and space in the One North Main building. On the north end, expansions by companies like Cole Taylor Mortgage and Domino's Pizza this year tightened inventory.
The south side of town, Warling said, has the most opportunity for people looking for space.
"I think (in 2013), it's going to be very difficult to place people who need space," he said. "On the south side of town, there are some good buildings and good value down there, so if somebody is willing to go to the Briarwood market, there are opportunities."
The vacancy rate on the south end of Ann Arbor, which is typically the most challenged submarket, increased from 14.12 percent in 2011 to 15.13 percent in 2012. Software company Infor moved to the north end of Ann Arbor this year, leaving 40,000 square feet vacant.

Data by Swisher Commercial
Wise said building owners are starting to recover from the recession, and rents are stabilizing and could start increasing in tight submarkets. If vacancy rates continue to drop and rental rates increase, the next step could be new office construction, although that's not likely for several years.
"New construction has to compete with existing buildings, and if those existing buildings are still renting 15 to 20 percent below normal, it won't happen," Wise said.
Giraud noted that five city-owned sites could be developed in coming years and eventually bring new office space to the downtown market. But, he said, new construction is still "cost prohibitive" for developers — especially downtown where property is more expensive.
Signs of new office construction have slowly emerged in during the last year, as developers broke ground on an office building on Eisenhower Parkway that was stalled for years. Developers Jeff Helminski and Scott Marcus also announced plans to convert a warehouse on North Main Street into offices, although they are looking to secure tenants before moving forward with construction. Other developers have incorporated office space into mixed-use projects like Arbor Hills Crossing on Washtenaw, and proposed developments on Detroit Street and Plymouth Road.
To be sure, Ann Arbor commercial real estate activity improved in 2012, but companies and landlords are still cautious. Wise said leasing activity was up this year, but it's still "not booming."
"There's still concern that events outside the local area, or even outside the country, could put us back into a very negative situation from an economic standpoint," Giraud said.
Still, brokers are confident commercial real estate activity in 2013 will remain strong. Wise said the area could also experience less distressed building sales as leasing activity strengthens.
"Word is getting out that Ann Arbor is an attractive place to recruit new talent," Warling said. "It has a real vibrancy going on with Google and companies like MyBuys, Menlo and others. I think that word is going to continue and demand is going to increase."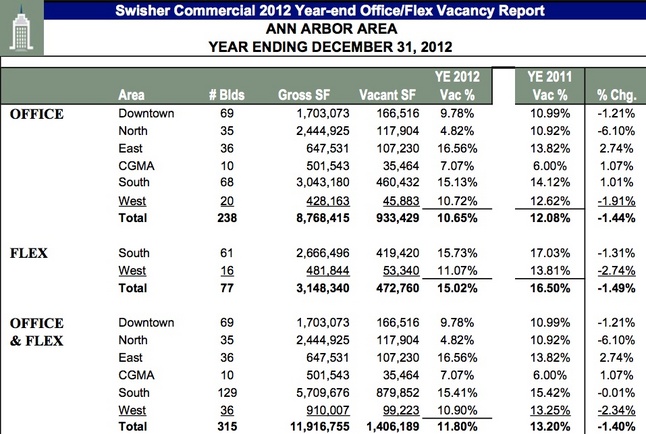 Data by Swisher Commercial
Lizzy Alfs is a business reporter for AnnArbor.com. Reach her at 734-623-2584 or email her at lizzyalfs@annarbor.com. Follow her on Twitter at http://twitter.com/lizzyalfs.