Posted on
Mon, Nov 5, 2012 : 6:29 p.m.
Ann Arbor SPARK hands out Fast Track awards for economic development
By Ben Freed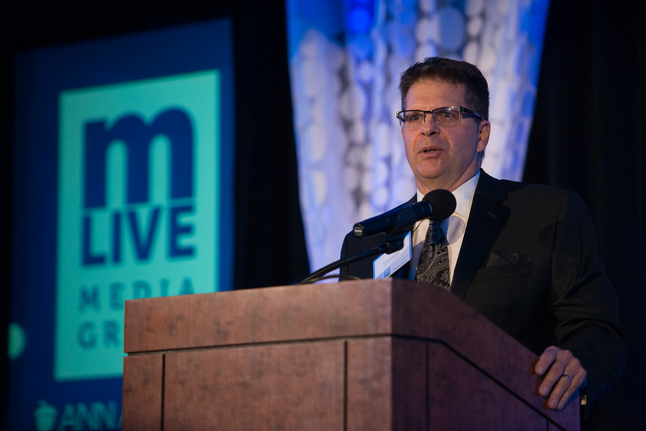 Courtney Sacco | AnnArbor.com
The winners of
Ann Arbor SPARK
's 2012
Fast Track award
winners were announced at the AnnArbor.com Deals of the Year event Friday night.
Eleven area companies met the standards for the award, which includes sustained growth of at least 20 percent throughout the three years directly preceding the award, with consumer satisfaction firm ForeSee winning for the sixth year in a row.
To qualify for a FastTrack award in 2012, companies had to show $100,000 gross revenue in 2008 and then consistent improvement until this year. Three companies won the award for the first time on Friday, online marketing firm The Whole Brain Group, mobile development firm Arbormoon Software, and the advertising imaging company Estrakon.
Beal Inc. won the award for the second year, while Beal Properties was given its third FastTrack Award.
"The broad range of markets and businesses honored with FastTrack awards are proof that the Ann Arbor region can support businesses across a spectrum of industries," Ann Arbor SPARK president and CEO Paul Krutko said in a statement.
"To grow year over year, consistently, in a tough economy is truly noteworthy and these companies deserve recognition for this considerable achievement."
Some of the most impressive awards were the ones that went to companies that have been growing at that same 20 percent rate for the past seven or eight years.
Computer-aided engineering company Caelynx was named as a FastTrack winner for the fourth year, as was medical education management firm MedHub, which bought an old grain mill in Dexter in 2011 for increased office space.
Fifth-year award winners were software designer SRT Solutions, data storage center Online Tech, and supply chain software design firm LLamasoft, who also took home the Deals of the Year award in the technology sector.
Companies can apply for Fast Track awards every year in the fall, applications can be found on the Ann Arbor SPARK website. AnnArbor.com's executive vice president Laurel Champion serves on the board of Ann Arbor SPARK.
Ben Freed covers business for AnnArbor.com. You can sign up here to receive Business Review updates every week. Reach out to Ben at 734-623-2528 or email him at benfreed@annarbor.com. Follow him on twitter @BFreedinA2