Posted on
Fri, Nov 2, 2012 : 11:30 p.m.
LLamasoft receives technology award after raising revenue, capital and employment
By Ben Freed
Related story: AnnArbor.com unveils winners of 2012 Deals of the Year awards at annual ceremony
Ann Arbor-based LLamasoft, a developer of supply chain design software, has proven over the past year that you don't need a Silicon Valley address to make big money and a big impact in the technology sector.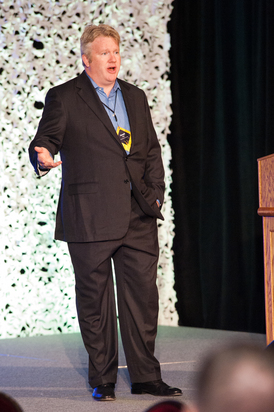 Photo Courtesy LLamasoft
Over the
past two and a half years
, the company has shown impressive growth in
revenue and employment
, continued to add to its already distinguished list of clients, and found new ways to collaborate with the Fortune 100 companies that rely on LLamasoft's software to manage how their products reach storefronts across the world.
While the software that LLamasoft develops is its core product and value, developing a new client paradigm may be just as important to the company's future success.
"They're not just a customer anymore," executive vice president Toby Brzoznowski said of one client, Nike, which recently became a strategic partner as part of a multimillion-dollar Series A round of funding.
"We've engaged in a year-plus project where we work directly with the supply chain leadership team to build out their supply chain sustainability and analytics capability using our platforms."
A team will work at Nike's headquarters in Oregon for another few months or so to help the apparel company's new supply chain center figure out better, cheaper and greener ways to source materials and move products.
While LLamasoft has employees in Oregon at the moment and is building out new regional offices in Latin America, the United Kingdom, South Africa, and China, it has also been expanding its footprint in downtown Ann Arbor.
AnnArbor.com's 2012 Deals of the Year award winners
Deals of the Year award winners were unveiled at annual ceremony on Friday
For these successes, and its expanding presence in the Ann Arbor technology community, LLamasoft was named AnnArbor.com's 2012 Deals of the Year winner in the Technology category Friday night.
Also nominated in the category were kidney treatment startup CytoPherx and the book-publishing merger of Edwards Brothers and Malloy.
In its first 13 years, LLamasoft grew from just two to about 25 people, but then things kicked into high gear. Over the past two years, the company has outgrown its operating space multiple times, forcing it to make aggressive real estate deals on East Liberty Street and North Main Street in the heart of downtown.
After running out of room on the third and fourth floors of the historic First National building, the company signed a lease early in 2012 to rent about 2,800 square feet of second-floor office space in the building that housed Cafe Japon. Six months later, the company was able to sign a lease to take over an additional floor in First National thanks to Pure Visibility's move to Kerrytown.
Having secured the company's first round of venture capital, Brzoznowski is projecting further growth for the company moving into 2013 and beyond.
"We are going to continue to expand," he said.
"We're launching three more products in the next 12 months and two will be out by the end of this year. Also by the end of the year we will have over 150 people in the company; we're pretty close to that right now."
Enabling these expansions — and making them necessary — has been LLamasoft's continued revenue growth. Annual revenue increased by 70 percent for the third year in a row this year. As of March, the company had already recorded over $10 million in revenues.
Ben Freed covers business for AnnArbor.com. You can sign up here to receive Business Review updates every week. Reach out to Ben at 734-623-2528 or email him at benfreed@annarbor.com. Follow him on twitter @BFreedinA2