Posted on
Tue, Jun 15, 2010 : 10 a.m.
Ann Arbor's Grand River Interactive, NanoBio plan to add 80 jobs
By Nathan Bomey
Ann Arbor-based website development firm Grand River Interactive plans to add 48 jobs over the next five years, marking the latest sign that the region's online retail commerce sector is gaining momentum.
Grand River Interactive is expected to receive tax incentives from the Michigan Economic Development Corp. today to invest more than $1.1 million to expand its local presence. University of Michigan spinoff NanoBio is also expected to receive tax credits to support its ongoing laboratory expansion initiative with plans to hire 32 workers.

"NanoBio and Grand River reflect the broad array of technical acumen in our region's continuously growing business base," Michael Finney, CEO of economic development firm Ann Arbor SPARK, said in a statement. "From pharmaceutical research to creative Web design, Ann Arbor offers the talent, infrastructure and other assets that can help growing businesses thrive."

Entrepreneurs Scott Robertson and Steve Thallman launched Grand River Interactive in 2008 to take advantage of the Ann Arbor area's wealth of Web development talent.
The firm is riding a wave of investment in Web retail technology that's also benefiting local companies like ForeSee Results, Enlighten and Fry Inc., a subsidiary of Micros Systems.
"We've just been very fortunate to work with some excellent clients, and the end result of the work we've done has helped their business grow," Robertson said. "They're having much higher conversion rates, much higher average order size and their revenue has grown."
Grand River has 14 employees and plans to continue adding office space at its headquarters on Victors Way, Robertson said. The company started with 1,200 square feet in January 2008, now has 4,500 and expects to have between 12,000 and 15,000 by the time its expansion is complete.
Robertson said the talented Web development community in the Ann Arbor region, high quality of life and the presence of the University of Michigan were significant factors in the company's decision to continue operating here. He said the company is hiring Web system architects and developers and others comfortable in open source website development.

The growth in demand for "transactional website" expertise is fueling Grand River.

"That's I think where their growth is coming from," said Elizabeth Parkinson, SPARK's vice president of marketing and public relations.

Retail companies are aggressively seeking a competitive edge as online retail sales growth has slowed during the economic crisis. Annual sales growth in Web retail topped 20 percent each year from 2001 through 2006 until slowing to 18.42 percent in 2007, 4.9 percent in 2008 and 1.88 percent in 2009, according to InternetRetailer.com.

That means in many cases, retailers need to steal market share away from their competitors instead of relying on overall growth to drive sales.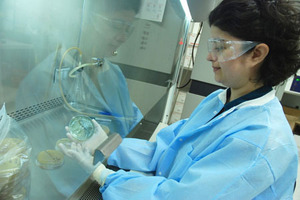 MEDC's Michigan Economic Growth Authority (MEGA) board is expected to approve tax credits this morning for Grand River Interactive and NanoBio. The tax credits - worth $434,378 for NanoBio and $361,376 for Grand River Interactive - are distributed after companies prove they have added jobs.

NanoBio plans to 32 jobs over the next five years to accelerate its vaccine research, part of an expansion AnnArbor.com reported in April. The company considered relocating to the Washington D.C. area, according to the MEDC.
"Even though with the Pfizer closure there is a lot of pharmaceutical talent in the area, there's not really much related to vaccines," said David Peralta, chief financial officer and chief operating officer of NanoBio. "So as we've accelerated our recruiting of vaccine talent we've had to go to D.C. and Boston and San Diego and San Francisco to find talent, and it's a challenge bringing them in. I think the state really recognized that and was providing incentives to help us."
The tax incentives are the latest financial boost for NanoBio, which last year secured $22 million in venture capital and struck a licensing deal with GlaxoSmithKline that could be worth up to $40 million. The company is expanding its existing lab space on Green Road and will have about 11,000 square feet when its expansion is finished.

Peralta said NanoBio opted to speed its growth plan due to promising clinical results in its nanoemulsion-based vaccine technology.

"We feel very compelled to start to purse several other vaccines that are either novel and don't have vaccines on the market today or the vaccines on the market are not that robust," he said.

Contact AnnArbor.com's Nathan Bomey at (734) 623-2587 or nathanbomey@annarbor.com. You can also follow him on Twitter or subscribe to AnnArbor.com's newsletters.