Posted on
Tue, Jun 8, 2010 : 4:40 p.m.
Apple CEO Steve Jobs gives Ann Arbor software firm's app high praise
By Nathan Bomey
Apple CEO Steve Jobs briefly highlighted Ann Arbor mobile software firm Mobiata's FlightTrack application during a high-profile presentation Monday in San Francisco.
Jobs, discussing the early success of the iPad, included Mobiata's FlightTrack app in a visual presentation of a few apps developed specifically to run on the tablet computer.
"There's some wonderful stuff that's coming out," Jobs said at Apple's Worldwide Developers Conference in San Francisco, where he also introduced the iPhone 4.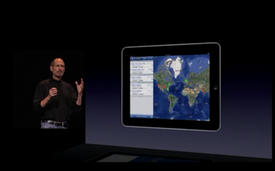 Photo courtesy of Apple
(Watch Steve Jobs refer to the FlightTrack application at the 6:23 mark in this video.)

Mobiata's FlightTrack application gives frequent travelers the ability to monitor their flight itineraries and keep track of changes and delays. The app was originally developed for the iPhone and iPod Touch, but Mobiata designed an improved version specifically for the iPad.
Mobiata's sales in 2009 topped $1 million, making the firm one of the most successful mobile app sellers in the Ann Arbor region. 
A range of startup companies, established firms and private developers have created apps for the iPhone, iPod and iPad, not to mention other devices such as the BlackBerry and Google's Android operating system

Through Apple's App Store, developers get 70 percent of the revenue from their app sales, and Apple keeps 30 percent.

Mobiata founder Ben Kazez, a former Apple intern, relocated his company from Minnesota to Ann Arbor in early 2009 to take advantage of software talent in the vicinity of the University of Michigan. The company's applications previously have been featured prominently in Apple TV and print advertisements. The firm has about 10 employees.

Contact AnnArbor.com's Nathan Bomey at (734) 623-2587 or nathanbomey@annarbor.com. You can also follow him on Twitter or subscribe to AnnArbor.com's newsletters.