Posted on
Tue, Jun 12, 2012 : 5:58 a.m.
Ann Arbor task force: Don't give money directly to downtown's panhandlers
By Lizzy Alfs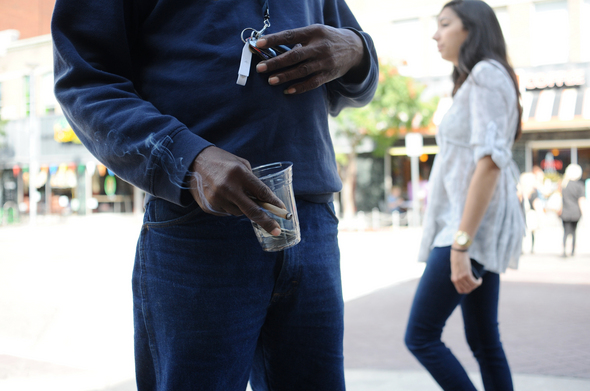 Melanie Maxwell | AnnArbor.com
You don't want your money to support a drug or alcohol habit.
That's the message at the center of an awareness campaign that kicked off in Ann Arbor this week to discourage people from giving money directly to panhandlers.
It also provides education on Washtenaw County's services for homeless individuals and people with addictions.
The campaign is an outcome of the Mayor's Street Outreach Task Force, which reconvened in late 2010 to look at aggressive panhandling and other issues facing the downtown area.
In a 42-page report that was presented to Ann Arbor City Council last March, the task force recommended the Mayor's Downtown Marketing Task Force undertake an expanded role to work with residents, merchants, service providers and the city to provide a safe and clean downtown.
One of the results: This educational marketing campaign to provide people with information on free services available to those in need.
"The goal is very positive: embrace the generosity of our community and encourage people to direct money to the agencies that are in need of support and in need of assistance," explained Susan Pollay, executive director of the Downtown Development Authority and member of the outreach task force.
Posters and small informational cards were created with money donated from downtown merchant associations. The materials are being distributed at downtown area businesses this month with the associations' representatives and Interim Police Chief John Seto.
The campaign was originally set to kick off in June 2011, but Pollay said there was a time lapse because the Downtown Marketing Task Force wasn't regularly meeting when the 42-page report was presented. The marketing task force began meeting again late last summer.
The poster, which was designed by Dawn Farm, reads: "Want to really help? You don't want your $$ to support a drug or alcohol habit! Ann Arbor has services for homeless individuals and people with addictions. Make sure your money works toward a solution!"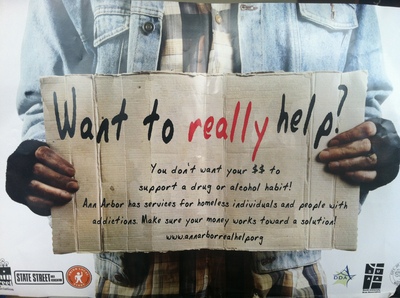 Lizzy Alfs | AnnArbor.com
The card adds: "Ann Arbor is a generous community, and strives to provide options for all — especially those in need. Our community supports a broad range of free services to those who are homeless, addicted or experiencing economic hardship. There are better — more complete — options for panhandlers, that are provided free at several agencies throughout the community."
The card has a list of agencies and phone numbers that provide shelter, sobriety assistance and places where free meals are available.
The list includes: Housing Access for Washtenaw County, Delonis Center, Salvation Army Staples Center, Ozone House, Safehouse Center, Veterans with a Housing Crisis, Dawn Farm Street Outreach, Home of New Vision, Project Outreach, The Engagement Center, St. Andrew's breakfast, and Food Gatherer's Community Kitchen at the Delonis Center.
The task force also launched a website — annarborrealhelp.org — as a portal to local nonprofit human service agencies.
Pollay said the campaign attempts to discourage people from giving money directly to panhandlers because it's not likely the money will be used for rent or helpful services.
"We brought panhandlers to the task force and asked what they were doing…we pretty overwhelmingly heard, 'We're doing it to get high, we're doing it to get drunk, we're doing it to get a bottle," she said.
"As a community, we're not helping people to get that bottle. We're helping them more to ensure they have a safe place to sleep at night…medical attention…a meal. Making sure the dollars go to the services to help that person," she continued.
She said panhandling has periodically been an issue in Ann Arbor — just like every other downtown area. The difference in Ann Arbor, she said, is the response to the problem.
"We're Ann Arborites so our response to this is different. We heard there were some communities that drafted legislation to make it illegal to panhandle; that would never be the Ann Arbor way. We're a very generous community," she said.
Mayor John Hieftje said downtown Ann Arbor's problems with aggressive panhandling seemed to spike in summer 2010 when an event known as Punk Week brought a number of transient types to town and things got "a little out of control" for a while.
At the time, former Police Chief Barnett Jones told Ann Arbor City Council that aggressive panhandling was the No. 1 crime that occurred in the community during the summer.
Aggressive panhandlers also were out on the streets last summer, when several business owners blamed panhandling for hurting sales at their stores.
Hieftje said the problem is "much better now."
"We heard some expression of support from the State Street Area Association at the last (Downtown Marketing Task Force) meeting and other associations seem to be saying the same thing — that they're appreciative of the new police officers we're seeing in the downtown area, the new emphasis (on downtown police patrols)," he said. "I think we've really gone a long ways to head off any kind of a surge in aggressive panhandling and things just seem to be really settled down."
Lizzy Alfs is a business reporter for AnnArbor.com. Reach her at 734-623-2584 or email her at lizzyalfs@annarbor.com. Follow her on Twitter at http://twitter.com/lizzyalfs.