Posted on
Fri, Nov 4, 2011 : 10:15 p.m.
C.S. Mott Children's Hospital wins construction and development award
By Lizzy Alfs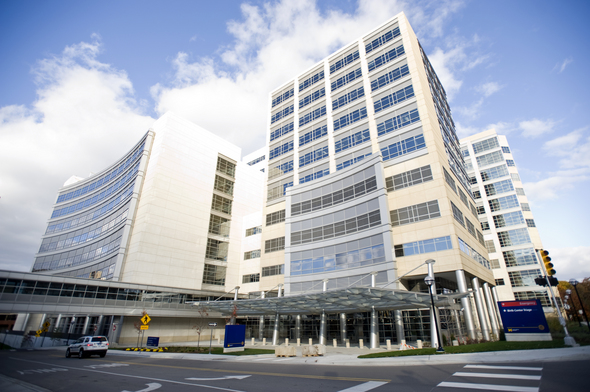 Joseph Tobianski | AnnArbor.com
See also: AnnArbor.com's Business Review reveals winners of 2011 Deals of the Year awards
After five years of construction, the new $754 million, 1.1 million-square-foot C.S. Mott Children's Hospital and Von Voigtlander Women's Hospital is set to open Dec. 4.
The opening marks the conclusion of what is believed to be the most expensive construction project in the history of the state, and it makes Mott the largest of Michigan's three children hospitals.
The new hospital, located at East Medical Center Drive where an old surface parking lot used to be, spans the length of two football fields. It increases bed capacity from the current level of 200 to 348.
It includes a nine-story outpatient wing, a 12-story inpatient wing, 16 operating rooms and two radiology rooms.
U-M President Mary Sue Coleman even pointed to the hospital as the "largest and most sophisticated project in campus history."
And although it's a massive, five-year construction project, every aspect of the hospital was designed with patients and families in mind, said Mott hospital director Pat Warner. For these reasons, the hospital was honored as the Construction and Development winner at AnnArbor.com Business Review's 2011 Deals of the Year ceremony Friday night.
With breathtaking views of Ann Arbor and ornate architectural details, the hospital also boasts state-of-the-art technology, such as an operating room MRI that will allow surgeons to monitor MRI images of a patient during surgery.
More space and increased privacy will also improve the patient experience.
While most rooms in the old facility are double occupancy and cramped, the new hospital will provide every hospitalized child with his or her own room.
The private patient rooms are large enough to accommodate a child's family, and it also makes it possible for all types of medical equipment to be brought into individual rooms.
The private rooms will also ensure that germs are not being spread between patients.
Marie Lozon, a doctor in the pediatric emergency department, told AnnArbor.com the new hospital will never get too crowded to accommodate patients.
"We've created the space to try to accommodate all the patients we would possibly see," she said.
And architecturally, the hospital goes above and beyond to make it a warm, inviting environment for patients and families.
Miniature butterflies made from recycled cans grace the walls of the hospital's lobby, with rainbow colored lights shining from the ceiling and even a hidden "fairy door" tucked away for children to discover.
There's a football-themed indoor playground, a giant statue of Big Bird, a fish tank, colored lights, brightly colored bathrooms and animal-themed artwork.
The five-year construction process also provided jobs for more than 1,200 workers even as the Michigan economy contracted.
In addition, the hospital plans to hire 500 new staff for the hospital, and they will all help during the 12-hour transition period planned for Dec. 4. Approximately 200 patients will be transferred down an 800-foot indoor hallway that links the old hospital to the new one.
"It will be a momentous milestone," Warner said.
Lizzy Alfs is a business reporter for AnnArbor.com. Reach her at 734-623-2584 or email her at lizzyalfs@annarbor.com. Follow her on Twitter at http://twitter.com/lizzyalfs.