Posted on
Thu, Jul 15, 2010 : 6 a.m.
Federal government eyes opportunities to replicate University of Michigan's student entrepreneurial activity
By Nathan Bomey
Students can create jobs.
That philosophy underpinned the University of Michigan's efforts to create an environment in which student-led companies could flourish - and now Washington is taking notice.
The U.S. government plans to consider how to replicate U-M's student entrepreneurial initiatives on a broader scale.
The role of college student entrepreneurs in creating jobs and generating economic activity should be acknowledged and leveraged at other universities, U.S. Secretary of Commerce Gary Locke said Tuesday after speaking at a forum in Ann Arbor.
Student-led companies cultivated at U-M's TechArb incubator underscore the university's leadership role in encouraging entrepreneurialism on campus. About a dozen companies are headquartered at the TechArb, and a few of the first companies to locate there have landed clients and are hiring new employees.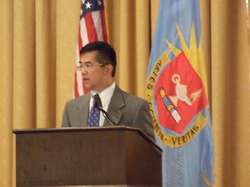 Nathan Bomey | AnnArbor.com
"This is a really exciting program that you have here and one that we should think about trying to replicate all across the country," Locke said Tuesday. "Economic development has changed so much from what it was 50 years ago, when all the economic development was really started by existing major corporations and new lines of business and new products.
"Nowadays, it's the creative genius of any person at any stage in life, any age, and the challenge is to get those ideas identified and commercialized and provide the capital and assistance to get that product benefiting society and creating jobs."
U-M President Mary Sue Coleman, who will co-chair the new National Advisory Council on Innovation and Entrepreneurship for the Commerce Department, said entrepreneurial energy among students is meaningful. Some 10 percent of U-M's students have started a business by the time they enroll as freshmen.
"I was thrilled the secretary was here so he could hear in a more visceral way what the potential is," Coleman told AnnArbor.com. "They seem to be very excited about it. Since I'm co-chairing this innovation committee for the secretary, then there may be an opportunity for us to mount something nationally, and I would love it."
Coleman said she knew of no existing federal funding opportunities for the student entrepreneurial activities the university is pursuing.
"This is the excitement, this is the future," she said. "We need to get out of the way and provide these young people a little bit of money and they will take it and run."
The U-M College of Engineering's Center for Entrepreneurship launched the TechArb incubator in summer 2009 in cooperation with real estate firm McKinley Inc. and Ann Arbor investment firm RPM Ventures.
The summer-long experiment quickly spawned several legitimate businesses. In the fall, the university signed a long-term lease for space in the McKinley Towne Centre, down the hall from Google and Ann Arbor SPARK.
"The great thing about student and young entrepreneurs is that they are not afraid to fail, take risks and attempt what many may believe is impossible," said Doug Neal, U-M's Center for Entrepreneurship director, in an e-mail. "Their energy, enthusiasm and creativity is incredible and will have a long term economic impact to our state."
Among the early TechArb successes:
--Mobile app firm Mobiata grew its operation out of the TechArb offices and reaped $1 million in sales in 2009. The company recently signed a lease for an office on the second floor of the Nickels Arcade shopping corridor and plans to have up to 18 employees by the end of the year.
--Mobile software startup Mobil33t (pronounced Mobile-EET) created a free iPhone app called DoGood and sold it to media firm Tonic.com.
--MyBandStock.com, which helps music fans to earn special access to online content created by their favorite bands, landed seed funding and signed a major artist, After Midnight Project.
"I think we've underestimated the exuberance and the ability of this younger generation," Coleman said.
Contact AnnArbor.com's Nathan Bomey at (734) 623-2587 or nathanbomey@annarbor.com. You can also follow him on Twitter or subscribe to AnnArbor.com's newsletters.