Posted on
Thu, Apr 15, 2010 : 4:15 p.m.
Software firm started by University of MIchigan students sells DoGood app to Tonic
By Nathan Bomey
Ann Arbor-based startup Mobil33t has sold its top mobile application to national digital media firm Tonic.com in a deal struck eight months after three University of Michigan students launched the software company.

Tonic acquired the rights to DoGood, an application that's been downloaded 70,000 times for use on Apple's iPhone, iPad and iPod Touch, Mobil33t co-founder Jason Bornhorst said this afternoon.

Users who download the DoGood application receive a daily suggestion for a good deed they should consider doing. Altogether, people who downloaded the application have completed more than 430,000 good deeds.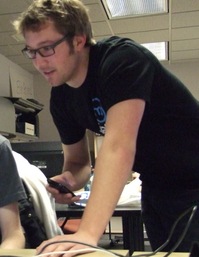 Nathan Bomey | AnnArbor.com
Bornhorst, now an engineer for Ann Arbor-based mobile software firm Mobiata, said Mobil33t plans to discuss the acquisition this afternoon at an event celebrating the first year of the university's TechArb incubator for student-led companies.
Tonic plans to leverage the DoGood brand to "make it a massive worldwide movement," including possibly making it available on other mobile devices, Bornhorst said.
"They're able to take their big resources, as well as big readership, to basically bring DoGood to the masses," he said. "Tonic is a large media company focused on being a purveyor of all things good - whether that be good news, good events, celebrities doing good things, things like that."
The sale of DoGood, which is free to download, serves as a reminder of the sheer speed with which mobile software companies can find a wide audience.

Bornhorst and recent U-M grads Kunal Jham and Mayank Garg developed DoGood in summer 2009 when Mobil33t (pronounced mobile-EET) was housed in the TechArb incubator while it was temporarily located on East Washington Street. Jham now works for Amazon.com, and Garg is a photographer for the Associated Press in Dubai.

"It's not the normal case that you can start something and, eight months later, sell it," Bornhorst said.
Bornhorst and other student entrepreneurs played an instrumental role in hatching the idea for TechArb, which has also boosted other student companies like MyBandStock.com, Shepherd Intelligent Systems and CrowdClarity.

The university has since signed a permanent deal with Ann Arbor-based real estate firm McKinley Inc. to create a permanent incubator for student-led companies at McKinley Towne Centre, which also houses a Google AdWords operation and the headquarters of Ann Arbor SPARK.
Bornhorst said the university's influence was instrumental in the success of Mobil33t, which will effectively become part of Tonic. He said the idea for DoGood was hatched in the mobile computing class of Professor Elliot Soloway and said the formation of TechArb was critical to the company's success.
"DoGood would have never happened had we not had" those resources, he said.
Contact AnnArbor.com's Nathan Bomey at (734) 623-2587 or nathanbomey@annarbor.com or follow him on Twitter. You can also subscribe to AnnArbor.com Business Review's weekly e-newsletter or the upcoming breaking business news e-newsletter.