Posted on
Mon, Dec 5, 2011 : 5:58 a.m.
Following regulatory battle, Ypsilanti tea company introduces beer and takes off
By Tom Perkins
A year ago, a regulatory struggle nearly killed Ypsilanti's Unity Vibration Living Kombucha Tea company.
The husband and wife team that run it waited for months as the federal and state government figured out how to classify the tea, which holds small amounts of alcohol, while imposing a temporary ban on the drink.
But a year later, the nightmare might prove beneficial to Unity Vibration. Kombucha tea was eventually classified as a "beer," and the company's owners, Tarek and Rachel Kanaan, figured they might as well produce an actual beer if their products were going to be labeled as such and they were technically a microbrewery.
Rachel started researching how to make kombucha beer, which is sour and similar in many ways to a Belgian lambic. After months of trial and error, Unity Vibration unveiled their raspberry and ginger kombucha beers at the Michigan Brewers Guild Summer Beerfest in Riverside Park.
"They were a smash hit," Tarek said.
He estimates sales have jumped at least 500 percent since introducing kombucha beer and the new products caught the attention of a distributor in California who ordered 1,900 cases.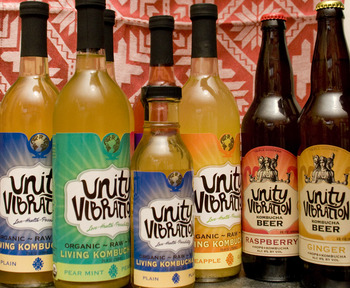 Tom Perkins | For AnnArbor.com
That's far more than the 120 cases a month the Kanaans currently produce and far more than they can make in their current facility, but Rachel said the distributor is willing to grow with Unity Vibration and there is excitement over the new partnership.
"It's a great problem to have and we're very excited. We're using it to our maximum benefit," Tarek said.
Kombucha tea is a fermented raw health drink that has seen its popularity increase significantly in recent years, and Unity Vibration is the first company to put out the tea as a "beer."
The organic tea is made from a living yeast and bacteria culture placed in water with sugar and different types of tea. The yeast produces the alcoholic content on which the bacteria feed. Unity Vibration then adds fresh fruit juice from local farms.
After a fermentation period of 22 days, the process yields a unique, tart tea not too unlike sparkling apple cider. Most kombucha teas have an alcohol percentage between 0.5-2, and less caffeine than decaffeinated coffee.
That was enough alcohol to catch the attention of the Michigan Liquor Control Commission and the Food and Drug Administration, which were concurrently banning malt liquor energy drinks like 4Loko that contain high levels of alcohol, caffeine and taurine. The process was slowed because kombucha tea is so new and many officials didn't understand that it's actually a health drink.
Once the government classified kombucha as a beer in January, the Kanaans signed on with Imperial Beverage, a distributor known for working with craft beer.
Sales were steady, but Tarek said business wasn't growing at the rate for which they were hoping. During that time, a man who read a previous AnnArbor.com article about Unity Vibration contacted the company and inquired about investing. That partnership formed quickly, and the man now owns 15 percent of the company.
The financial boost he provided was enough to help the Kanaans redesign their labels and packaging with the Flow Design graphic design firm in Northville. The Kanaans said they heard from distributors a new product like kombucha tea and beer is heavily reliant on its packaging to move off the shelf, and selling it there is a different game from the farmers' markets where they previously sold.
"Selling in stores, you have no chance to talk to meet your potential customers, so you have to catch their eye," he said, adding that the new packaging has accomplished that and already won awards.
And the beer is proving to be the big seller. Rachel liked lambic beer and brewing kombucha beer requires some of the same microorganisms as the tea, so she bought a book and taught herself to brew. Kombucha beer doesn't use malt, and like all Unity Vibration products, it's gluten free and organic.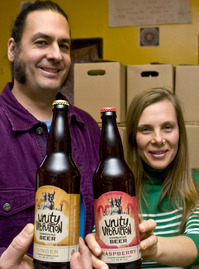 Tom Perkins | For AnnArbor.com
Unity Vibration currently offers two flavors — raspberry and ginger — which are 8 percent alcohol. They come in either in a four pack of 12-ounce bottles or a 22-ounce bottle, and range in price depending on which of the 65-plus Michigan stores are selling it.
After the Michigan BeerFest, the Kanaan's sold at the Detroit Fall Beer Festival in October, and the kombucha beers were again a hit.
"We had a bunch of people say that our products were the highlight of the festival and there was a line out of the tent for most of it," Tarek said. "For some reason, people were just really enamored with it. It's exciting."
Aside from the distributor in California, the Kanaans are exploring possible distribution in New York City and several other markets. Unity Vibration currently produces their drinks in their Michigan Department of Agriculture approved home kitchen, but the space is too small handle the new interest. They are considering a new space in Ann Arbor, and are excited for what the future holds for their company.
"This could be everywhere," Tarek said. "People like healthy things, it's the first kombucha beer that's been released as a beer and the craft beer industry is a good industry to be in. This could be as big as we want it to be."