Posted on
Fri, Nov 5, 2010 : 11:07 p.m.
Jeff Williams: From frugal startup to blockbuster tech deal
By Nathan Bomey
The health care system is better off because Jeff Williams helped HandyLab develop its technology to the point where it was ready to disrupt the market for infection detection devices.
Williams, who became CEO of HandyLab in 2004, built the University of Michigan spinoff company to the point where corporate competitors were ready to hand over their life savings to get the company. And that's essentially what happened.
New Jersey-based giant Becton, Dickinson and Co. paid $275 million to acquire HandyLab in late 2009, a deal that local investors, entrepreneurs and economic developers considered a blockbuster success.
It was the Ann Arbor region's second largest acquisition of the last decade, trailing only Esperion Therapeutics' $1.4 billion sale to Pfizer in 2004.
HandyLab's local investors - venture capital firms Ardesta, Ann Arbor-based EDF Ventures, Ann Arbor-based Arboretum Ventures and the U-M student-led Wolverine Venture Fund - reaped huge returns on their investments.
After the deal, Williams quickly became CEO of Scio Township-based medical devices firm Accuri Cytometers, another one of the region's most high-profile startup companies. He proceeded to help Accuri raise $6 million in venture capital just months after joining the company.
Williams, a veteran of Ann Arbor's tech community, was named Executive of the Year on Friday at AnnArbor.com Business Review's 2010 "Deals of the Year" ceremony.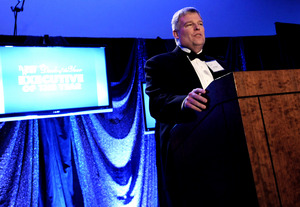 Melanie Maxwell | AnnArbor.com
That BD decided in early October that it did not need HandyLab's Pittsfield Township facility was regrettable. And the decision quickly turned into a political football, because then-gubernatorial candidate Rick Snyder's Ardesta was an early investor in HandyLab and Snyder himself was chairman of the company when it was sold.
But people familiar with similar business transactions say it's unprecedented to force the company that pays for an acquisition to maintain a local office. You have to hope and pray - and try to convince the new company that the local talent pool makes it worth sticking around.
BD is leaving Ann Arbor by July 2011 solely because it ultimately decided it didn't need two separate facilities to manufacture HandyLab's rapid detection-infection device, a corporate spokeswoman said. Some of the 50 employees will be transferred to other BD facilities outside Michigan.
Williams is disappointed, but says HandyLab's legacy will benefit Ann Arbor's tech community.
"They have to do what they think is right for their business. They own the business, they bought it, and they the make the decision that's appropriate for their shareholders. That's part of capitalism," Williams said after BD announced its decision. "I hope that the employees of HandyLab go on to start the next tech company in Ann Arbor. That's how we grow a technology (industry)."
HandyLab's Jaguar device, which reduces the time it takes a hospital to identify infections from more than a day to a matter of an hour or so, will help lower health care costs and improve patient care.
BD still considers the technology, which was first nurtured by HandyLab founders
Kalyan Handique and Sundaresh Brahmasandra, extremely valuable.
It took years, and millions in venture capital, to develop. When Williams joined HandyLab in 2004, four years after it had been founded, the company had raised just $8 million in VC funding. Over the next four years, however, he helped the company raise another $50 million or so.
Williams managed costs efficiently - a frugal startup executive before it was fashionable - and helped HandyLab find the best ways to alter its device and market it. HandyLab added about 30 employees during his five-year tenure with the firm - a talented personnel roster that included electrical engineers, software engineers, financial workers, sales employees and administrators.
In September, Williams, addressing a crowd of business students and entrepreneurs at the University of Michigan Ross School of Business' "Entrepalooza" conference, suggested that HandyLab's blockbuster acquisition was an exception to the rule.
Medical device companies don't usually get sold for $275 million, he acknowledged.
"Those are very few and far between. The vast majority of companies sell for less $100 million and almost all of them sell for less than $150 million," he said.
That's not to say, though, that HandyLab wasn't worth it.
"You're never going to have a great exit," he said, "unless you build a great company first."
Contact AnnArbor.com's Nathan Bomey at (734) 623-2587 or nathanbomey@annarbor.com. You can also follow him on Twitter or subscribe to AnnArbor.com's newsletters.