Posted on
Wed, Oct 24, 2012 : 1:17 p.m.
LLamasoft raises $6 million in venture capital as it expands in downtown Ann Arbor
By Ben Freed
This article has been edited to reflect that LLamasoft had approximately 40 employees two years ago, not 25.
Supply chain software designer LLamasoft closed a $6 million Series A investment round Wednesday, at the same time it secured a strategic investment partner in Nike, and signed a lease for an additional floor of the First National Bank Building in downtown Ann Arbor.
The company also is nominated in the technology sector for AnnArbor.com's upcoming "Deals of the Year," an annual event honoring top business and executives in the region.
LLamasoft's growth over the past 24 months from approximately 40 to 150 employees has come as the company established themselves as an industry leader in supply chain design, attracting clients that include Fortune 100 companies and household names such as Ford, Kellogg, and Target.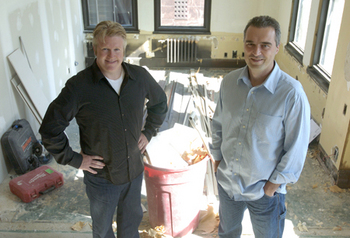 "Because we have this list of customers that includes so many big companies, there are more and more solutions that they're asking for and more technological advancements that they want," executive vice president Toby Brzoznowski said.
"So we are investing heavily in our research and development team to build new products that expand what supply chain analytics and design can do."
Enabling the company to make that investment is a successfully closed Series A venture round that raised $6 million and was led by Chicago-based fund MK Capital. The round also included two Michigan venture capital funds, Augment Ventures and the First Step Fund, a partnership among Invest Detroit, TechTown, Automation Alley, and Ann Arbor SPARK. Brzoznowski said the round constituted a relatively small minority investment in the company.
Nike, the fourth partner in the investment, has been a LLamasoft client for almost two years and is now engaging in a project with the company to help them build its own supply chain design center.
"Our supply chain platform is becoming their analytics platform. They see this as a key competitive advantage," Brzoznowski said.
"With the growth and changes in the markets they operate in they need to be able to continuously design and change their supply chains. They wanted to bring us on board and close to teach them to do that."
As a company with a large global footprint, Nike's supply chain affects not only the company's revenues, but the environment as well.
"Innovation and sustainability are core to Nike Inc.'s operations and this new partnership with LLamasoft represents unique opportunities in both of these areas," Hans Van Alebeek, Nike's vice president of global operations and technology, said in a release.
"Through working with LLamasoft as a customer, we recognized the potential to collaborate on innovative supply chain solutions that offer real time logistics benefits and the potential to positively impact our efforts around carbon reduction."
Brzoznowski said the eventual goal of the project is for Nike to have its own supply chain analysts and directors who can use LLamasoft's products to design and adapt ideal shipping routes, materials sourcing, and other factors for the company.
"We have multiple people full time who will be sitting in Oregon doing this with them, but those are our people," he said.
"The idea is to make them into a world class supply chain organization and then to wean ourselves off."
Once those people come back from Oregon, they will have more room to spread out thanks to the company signing a lease for the fifth floor of the First National Bank building. LLamasoft already controls the fourth floor and half of the third, but with Pure Visibility moving to the space Menlo Innovations vacated in Kerrytown, the opportunity to expand presented itself.
"We want to continue to expand our footprint in downtown Ann Arbor," Brzoznowski said.
"We're projecting close to 70 percent growth this year, and that's in addition to two years of doubling. We have a very aggressive growth plan."
That plan includes the increased investment in R&D that will lead to the release of two new products before the end of 2012 and another new product within the next 12 months. Brzoznowski said other investments will include an increased sales and marketing team to build market share and increase brand visibility.
"We have the leading technology out there, and it's a matter of getting feet on the streets and recognition," he said.
"The plan is to invest heavily, continue to build new products that will lead to additional market share and sales which will lead to continued growth."
Ben Freed covers business for AnnArbor.com. Reach him at 734-623-2528 or email him at benfreed@annarbor.com. Follow him on twitter @BFreedinA2