Posted on
Thu, Nov 18, 2010 : 2:02 p.m.
Expedia acquires Ann Arbor mobile apps firm Mobiata
By Nathan Bomey
(Editor's note: This story has been updated several times with additional information.)
Expedia is acquiring Ann Arbor-based mobile apps firm Mobiata, and the travel website said it plans to maintain the startup's Ann Arbor headquarters, officials announced this afternoon.
Details of the transaction were not released.
Expedia described the acquisition as its "most significant investment to date in addressing the mobile travel market."
Mobiata created the popular FlightTrack application for multiple digital devices and also develops mobile apps for travel companies.
The company, which recently opened an office in the second floor of Ann Arbor shopping corridor Nickels Arcade after moving to Ann Arbor from Minnesota in early 2009, is reportedly approaching $2 million in revenue for 2010.
Mobiata, founded by former Apple Inc. intern Ben Kazez, has enjoyed runaway success for its travel applications for Apple's iPad, iPhone and iPod Touch and phones powered by Google's Android operating system.

Kazez, in an e-mailed statement, said Mobiata would continue to grow in Ann Arbor.
"Staying in Ann Arbor isn't just important to me personally -- it's part of the strategy," he said. "There is some value in being geographically separate, and Expedia sees this. Being here means we'll keep our amazing pace of innovation going and stay nimble, while never losing our razor-sharp focus on designing for mobile first."

The company's FlightTrack application -- which New York Times columnist David Pogue called "incredible" today -- gives frequent travelers the ability to keep tabs on their itineraries, gate changes and flight details.
But Mobiata has also diversified its revenue base by striking partnerships with other travel companies like FareCompare.com and HomeAway.com. The firm has benefited from free advertising in Apple's TV commercials and print advertisements -- and Apple CEO Steve Jobs even praised Mobiata's FlightTrack application in a recent appearance.
Bellevue, Wash.-based Expedia indicated that it believes Mobiata can help it navigate the dynamic mobile sales market emerging in the travel industry.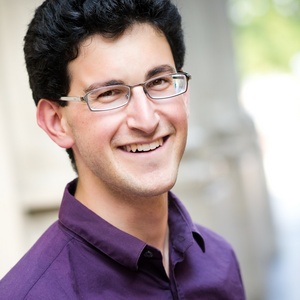 Photo courtesy of Mobiata
Expedia (NASDAQ: EXPE) has some 7,960 employees and $3.24 billion in annual revenue, according to Yahoo! Finance.
The firm operates travel sales site Expedia.com, review site TripAdvisor.com, booking site Hotels.com and other operations.
"With the pace at which mobile traffic to Expedia sites is exploding, we wanted the right team to help us address the sizable opportunity swiftly and successfully," said Dara Khosrowshahi, CEO of Expedia, in a statement. "There's simply no better company out there doing mobile travel apps with the same level of design sensibility and utility as Mobiata."
Mobiata has about a dozen employees, though some are located at sites elsewhere in the country, including Austin, Texas and Silicon Valley.
Kazez moved the company to Ann Arbor specifically to take advantage of the software talent in the area and the quality of life. He has said previously, though, that he would consider moving the company again if the right opportunity presents itself.
Mobiata has several apps, including itinerary manager TripDeck and booking app HotelPal. The firm also recently introduced an app called FlightBoard, which allows travelers to instantly view the flight boards at 4,000 airports and 1,400 airlines throughout the world.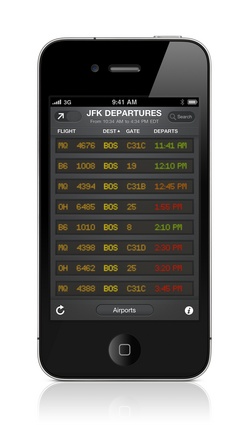 Photo courtesy of Mobiata
Expedia said that 4 percent of its traffic comes from mobile sites and that bookings made from mobile devices are up five-fold over 2009.
"We are thrilled to be joining the biggest and best online travel company while maintaining the creative passion for mobile travel apps that makes Mobiata unique," Kazez said in a statement. "Together with Expedia, we believe we can continue to revolutionize the way people plan, book, and manage travel - from anywhere on any device."
Mobiata has grown without venture capital investment but with the help of local economic development efforts. The firm had brief stays in the University of Michigan's student-led business incubator TechArb and the TechBrewery, an incubator for entrepreneurs on Jones Drive.
Expedia's acquisition of Mobiata also comes as a battle is brewing over access to travel data after Google announced its intent to acquire ITA Software, which provides data on airfares.
Expedia is part of a group called FairSearch.org, which also includes Kayak.com and Travelocity, that is asking the federal government to block the ITA Software acquisition.
Mobiata has said that it does not use data from ITA Software.
Contact AnnArbor.com's Nathan Bomey at (734) 623-2587 or nathanbomey@annarbor.com. You can also follow him on Twitter or subscribe to AnnArbor.com's newsletters.