Posted on
Sat, Jul 27, 2013 : 5:59 a.m.
Ann Arbor shops and restaurants hiring at steady pace but not getting summer tourism bump
By Ben Freed
Hiring is up across the board as Ann Arbor continues to build on its highest employment levels ever.
According to the most recent job numbers from the Michigan Department of Technology, Management and the Budget, Washtenaw County has 3,700 more jobs than in May 2012 and the only two sectors to experience slight declines in employment were "manufacturing" and "other services" which lost a combined 400 jobs.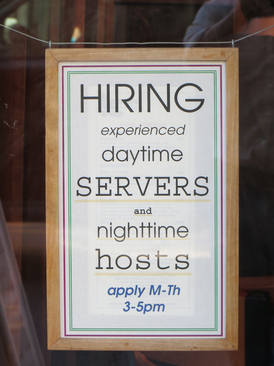 Ben Freed | AnnArbor.com
For restaurants across Michigan, summer is often seen as a time to hire more staff to meet increased demand from tourists. In Ann Arbor, restaurants function on an opposite schedule.
"Whenever school is in session we have a maximum level of employment, and then when the students leave during the summer we drop down a bit," Red Hawk Bar and Grill co-owner Roger Hewitt said.
Washtenaw County's unemployment rate actually grew from 5.1 percent in April to 5.9 percent in May. The increase is seasonal, and mirrors a similar increase in the county last year.
Hewitt also co-owns the revive + replenish stores beneath Zaragon Place on East University Avenue. He said staffing levels at revive double from about 12 to 25 when students return to campus.
While an improving economy has increased sales at his restaurant and store, Hewitt said it has also made finding quality new employees somewhat more difficult. Both Hewitt and Vinology general manager Vincent Jonna said that for skilled positions such as waiters, bartenders or cooks, they are looking to hire new employees with at least 2-3 years of experience.
"For a while there were a lot of college graduates who maybe weren't able to find the jobs they were looking for right away so they'd work for us and they were great employees," Hewitt said.
"Now with the job market bouncing back they're having a little more luck getting employment in their fields so they aren't available as an option for us to hire."
The turnover created by employees finding new opportunities has also affected the local retail job market. Morgan and York co-owner Tom York said he has hired three new full-time employees at his store within the last couple of weeks.
Melanie Maxwell | AnnArbor.com
"It's really hiring thanks to natural turnover and people moving onto bigger and better things," York said. One of his employees was accepted to a graduate program in Sweden, and another left to become a manager at
Plum Market
.
"You want them to stay because they're so great, but because they're so great other people want them as well. In the end it usually works out that the next batch is equally good as the previous."
In the monthly report prepared by the Michigan Department of Technology, Management and the Budget, retail jobs are part of the larger "trade, transportation and utilities" category, which added 500 jobs in May and has grown by 900 jobs, or 3.6 percent, in the past year.
In other parts of the state, the restaurant and retail sector hiring trends are even more dramatic, with some counties seeing big drops in their unemployment rates during the summer months.Michigan Restaurant Association vice president of marketing and communications Andrienne De Ceuninck said that tourist season hiring has been boosting numbers across the state. According to industry surveys conducted by the association, Michigan restaurants hired 14,000 more people in May 2013 than in May 2012.
"In general, the food industry is exploding," De Ceuninck said.
"The foodies love to eat out and they're taking pictures on their phone and posting them to Facebook and that's spreading excitement about restaurants and eating out."
The summer restaurant and retail spike can be seen most dramatically in Mackinac County. The area, which often has unemployment in excess of 20 percent during the winter months, had a jobless rate of just 6.1 percent in the most recent monthly report prepared by the Michigan Department of Technology, Management and the Budget.
University of Michigan economist Donald Grimes said that while restaurant and retail hiring should not be used as a barometer of overall economic health, it often acts as a "coincidental indicator."
Grimes, who co-authors an annual economic forecast for Washtenaw County, said that he and George Fulton projected an increase of about 1.8 percent for retail jobs in 2013 and a 2.0 percent increase in employment at restaurants.
"That's probably about what we're going to get, but it might be a little slower if the slowdown due to the payroll tax increase continues," he said.
"The economy so far has held up better than everyone feared with the [2 percent payroll] tax increase Jan. 1, the sequester (a series of federal budget cuts) and everything happening overseas. We had this lingering fear that something bad could happen and it doesn't seem to have come true."
Some of the job gains have come from the opening of new retail locations throughout the area. Briarwood Mall director of marketing Denise Murray said five new stores have opened since the beginning of 2013, resulting in at least 50 new jobs at the shopping center.
"We'll be ramping up hiring during back-to-school time," Murray said, suggesting people looking to be hired in the fall should hit up retailers in early August.
The National Retail Federation reported Friday that the industry added 28,000 jobs in June. The group's chief economist, Jack Kleinhenz, said in a statement that the strong jobs report may signal positive and accelerated momentum for the second half of 2013.
More significant retail and restaurant job growth is expected to come in the fall to the Ann Arbor area with the opening of the new Arbor Hills shopping center on Washtenaw, which will include at least 15 new restaurants and retail locations.
A new Knight's restaurant and a Slurping Turtle will also be hiring when they open in the former Borders space in downtown Ann Arbor later this year. A new Buffalo Wild Wings in the former Damon's location on Boardwalk Drive will hire about 100 people in the late fall.
Ben Freed covers business for AnnArbor.com. You can sign up here to receive Business Review updates every week. Get in touch with Ben at 734-623-2528 or email him at benfreed@annarbor.com. Follow him on twitter @BFreedinA2