Posted on
Sun, Jul 15, 2012 : 5:59 a.m.
Borders closure leaves mark on downtown retail environment one year after bankruptcy
By Lizzy Alfs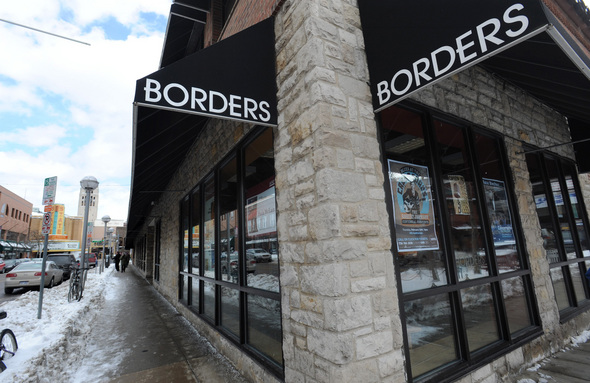 Melanie Maxwell | AnnArbor.com
Rocky Mountain Chocolate Factory
owner
Angela Eddins
uses one word to describe business at her East Liberty Street store on Christmas Eve nights: insane.
Customers stroll inside in droves, forming "nonstop lines" to buy candy, drinks and other gifts.
But Eddins said something about 2011 was different — very different.
"It used to be insane because people would always go to Borders (bookstore) and then come over to us," she said. "Everyone would come to our store with a Borders bag in hand. This year, with Borders not being there, it was much less crowded."
The Ann Arbor-based bookstore announced its plans to liquidate on July 18, 2011. When the news broke — almost one year ago — Ann Arbor lamented the impending closure of the bookstores.
By the time the company shuttered its 399 remaining stores — including the 40,000-square-foot flagship store on East Liberty Street that closed on Sept. 12 — it meant 10,700 jobs lost in the U.S., including 400 in Ann Arbor.
Some people argue the loss of the downtown store, which was a staple in Ann Arbor since it first opened at 211 S. State St. in 1971, fed into a decline of East Liberty Street over the past year.
Yet as the anniversary of the bankruptcy approaches, there also are signs that the building once occupied by Borders merchandise and staff downtown soon will revive the corridor.
In the past year, many retailers neighboring the former flagship Borders closed their doors and panhandling issues were thrust into the spotlight as people took up residence outside the large vacant storefront.
Eddins said foot traffic on East Liberty has decreased significantly since Borders closed, resulting in declining sales and fewer customers in her store.
"There have been times I walked out of my store (in the last year) and I thought, 'What town am I in?' Eddins said. "I'll never forget one night there were hardly any cars and (panhandlers) were outside Borders' entrance. It was like a ghost town…it gave me chills."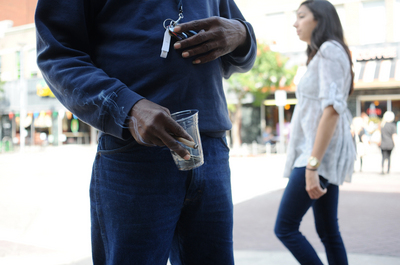 Melanie Maxwell | AnnArbor.com
In the past year, many East Liberty Street businesses neighboring the former Borders store have been a revolving door. Among the changes:
Farther down East Liberty Street, Organic Bliss and Sole Sisters both closed.
Susan Pollay, executive director of Ann Arbor's Downtown Development Authority, said losing Borders was "so sad it was like losing a family member."
She said the closure had a "huge impact" on the downtown area — from bringing fewer people to the neighborhood to the loss of a popular community gathering spot.
"Thousands more people were on our sidewalks when Borders was open," she said. "It also brought a greater diversity of foot traffic: young and old, campus related and not, townies and visitors."
She added: "It was an anchor for the neighborhood in that it had book readings and book signings and events of all kinds. Its concerts were absolutely beloved."
Abraham Hejazi, owner of the former Allure boutique at 615 E. Liberty St., estimated he lost 20 customers a day when Borders closed across the street from his store.
The decrease in sales was too much for him to keep operating Allure, and he shuttered his doors in April.
"I used to have so many customers in the morning, especially moms and kids who had just gone to Borders," he told AnnArbor.com in February. "We don't have this anymore."
Andrea Graef, owner of former This & That candy store, and Wendy Batiste-Johnson, owner of former Poshh boutique, both cited similar concerns before closing their stores in 2011.
To be sure, retailers don't point to Borders' closure as the sole issue facing East Liberty Street: people have also mentioned the economy, rental rates, landlord issues, panhandling and parking.
"I don't think we can say it's all Borders," Eddins said, "but it definitely has a big impact, guaranteed."
Jim Chaconas, a local commercial real estate broker and longtime Ann Arborite, said when the flagship store closed, it hit already struggling retailers the hardest.
"People went to Borders a lot, but we didn't see the same devastating effect as when Jacobson's closed," he said. "Grand Traverse Pie Co. is performing well, 7-Eleven is breaking records, Sava's restaurant is cranking."
Leif Elias, owner of the 26-year-old Orchid Lane clothing store at 419 E. Liberty St., said she hasn't noticed a big impact on sales at her store since Borders closed, but said the panhandlers have become more of a problem downtown.
"We have been in Ann Arbor since 1986 so we kind of have our own pull of customers," she said. "We are also a block down (from the former Borders) and at a crosswalk by the parking structure."
Other business owners saw opportunity on East Liberty Street, even after Borders closed.
Said Namari and Fayez Khalil took over La Pita Fresh at 529 E. Liberty St. in April, despite the previous owner's concerns about sales decreases and loss in foot traffic.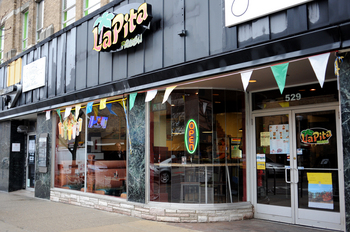 Melanie Maxwell | AnnArbor.com
"Even though Borders closed, (Namari) saw a good prospect here," Khalil said. "Of course, we always look forward to having Borders — or any other vacant building — fill up, but we've held our own in the slow months."
Chaconas said retail changes in Ann Arbor are cyclical: "Jacobson's closed. Borders closed. More stores will close. That's how I look at it: How many more years do we really have for bookstores? Five? 10?"
The real question, he said: "How do we keep what's here and get it growing again?"
And although Borders' closure was felt by neighboring retailers — and resulted in 400 jobs lost in the Ann Arbor area — it hasn't taken long for former Borders retail sites to be snatched up by new tenants.
According to real estate brokerage Colliers International, a recent survey of 205 closed Borders stores showed that two-thirds have new leases, although many are at lower rental rates than what Borders paid.
In Washtenaw County, Borders' three retail sites have seen activity:
Beauty superstore Ulta and five below, a discount retailer that targets teens and pre-teens, recently leased the former Borders site in Ann Arbor's Arborland.
Ron Hughes, a southeast Michigan real estate investor, signed a long-term lease for the downtown store — which was entangled in a complicated web of ownership before Malcolm Properties LLC, a family trust managed by John Fingerle of Fingerle Lumber, took sole ownership.
Hughes plans to redevelop the building, although he hasn't yet revealed the details of his plans.
At the same time, the rear portion of the downtown building, which was once used as Borders headquarters before the company moved to Phoenix Drive, will soon transform into a technology hub when network security firm Barracuda Networks moves its Ann Arbor office there.
The company signed a lease for 45,000 square feet of office space, which is located on Maynard Street partly underneath the public parking garage, and plans to immediately bring 180 employees to the space with plans to hire hundreds more.
Business owners agree: the prospect of having hundreds of permanent employees in the downtown building could be extremely beneficial for the retail environment.
"I think this is very exciting," Eddins said. "This is 100 percent what our area needs: permanent employees that are down there. We need employees here who will walk out, get the cup of coffee, piece of chocolate or cup of yogurt."
Paul Krutko, CEO of Ann Arbor SPARK, told AnnArbor.com last month that the Barracuda deal could act as a catalyst for creating more retail opportunities along East Liberty Street.
"For somebody interested in opening retail, to have a growing workforce here is an attraction," he said.
Pollay of the DDA, who said downtown Ann Arbor is analogous to a forest, agreed: "These are young, technology savvy and smart people that are very much going to be involved in the area."
She said losing Borders was like losing a Sequoia tree, but a new forest is already taking shape in its place.
"Just like forests, a downtown thrives because of diversity," she said. "Trees are dying and being born at the same time. Downtown, we need the big, we need the national, and we need the local. That is what's happening here: a regeneration."
Lizzy Alfs is a business reporter for AnnArbor.com. Reach her at 734-623-2584 or email her at lizzyalfs@annarbor.com. Follow her on Twitter at http://twitter.com/lizzyalfs.