Posted on
Thu, Oct 6, 2011 : 11:28 a.m.
Top 5 Ann Arbor area companies that changed because of Steve Jobs
By Nathan Bomey
Photo by The Associated Press
(See related story:
'Steve made us who we are': How Steve Jobs' advice shaped Ann Arbor software company
)
Apple visionary Steve Jobs, who died Wednesday, didn't just change technology. He didn't just change industry or culture.
He changed the economy.
Even in Ann Arbor, Jobs' influence is obvious. It's impossible to walk through downtown Ann Arbor without seeing somebody talking on an iPhone, listening to an iPod or lugging a Mac laptop.
But introducing tech gadgets into our lives was just a part of Jobs' influence. He also changed business models, creating economic opportunities for some Ann Arbor companies and challenges for others.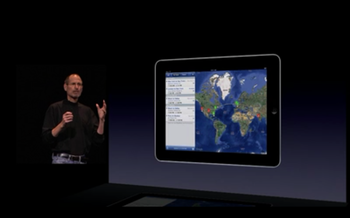 Photo courtesy of Apple
Here are five local companies that have been directly affected by Steve Jobs and Apple:
1. Mobiata. The Ann Arbor-based mobile software firm exists because of Apple. Plain and simple. The company, founded in Minnesota by entrepreneur Ben Kazez and moved to Ann Arbor in early 2009, has created several successful applications for Apple devices — including the popular FlightTrack application.
Mobiata benefited from a tight relationship with Apple's marketing team — which frequently featured FlightTrack in Apple advertisements and commercials, for free.
Steve Jobs himself even featured FlightTrack on stage at one of his famous product press conferences in 2010.
The company's revenue topped $1 million in 2009 and doubled in 2010. In November, global travel website Expedia.com acquired Mobiata, saying the software firm would lead the development of its mobile presence. Now, Mobiata has quadrupled its office space on the second floor of the Nickels Arcade shopping corridor and is actively hiring software developers.
Mobiata, in fact, is just one of many different local application developers that have modeled their entire business on Apple's products. Because Jobs gave software developers 70 percent of the revenue from the sales of their apps, local companies have been able to leverage Apple's platform as a source of revenue.
"Steve made us who we are," Kazez said in an email.
2. Hand-e-holder Products. The Scio Township firm, a sister company of Burns Computer Services, has sold thousands of accessories that strap to the back of Apple's iPad, making it easier for consumers to hold the tablet computer.
Hand-e-holder President Mike Burns came up with the idea for the device when he was at a conference for Burns Computer Services and was having a hard time holding his iPad.
Now, local workers are assembling the device at Hand-e-holder's West Liberty Road headquarters. The device's straps are made in Hillsdale, its locking mechanism is produced in Plymouth, its plate components are made in Saline and other components are made in Ann Arbor.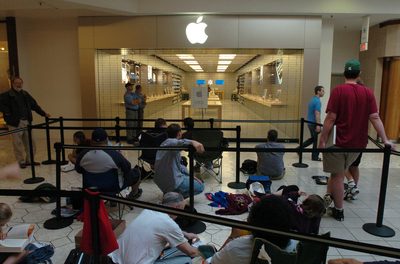 File photo | AnnArbor.com
3. Logic Solutions. The Ann Arbor-based consultancy manages software development products for a wide range of clients — and its mobile application development has been taking off. Although many of the company's developers are based in Asia, project managers are headquartered at the company's office on Plymouth Road.
"I am so sorry to see that he is gone, but I think the best thing is for every technologist to do his or her part in carrying on Steve Jobs' spirit of uncompromising innovation," Logic Solutions CEO Jimmy Hsiao wrote in a blog post today.
4. Briarwood Mall. The Simon Property Group mall — the largest taxpayer in the city of Ann Arbor — successfully attracted Apple to open up one of its legendary stores in 2007. The store is a retail destination, attracting shoppers from beyond Washtenaw County and generating buzz and foot traffic every time a new Apple product is introduced.
The personalized approach employed by Apple store "genius bar" workers has forced other retailers to adapt their strategies. National department store chain JCPenney, which has a a store at Briarwood, recently recruited Apple Store guru Ron Johnson to become its new CEO.
"Apple has made a tremendous impact on the shopping center," mall spokeswoman Denise Murray said in an email. "With each new innovation, retail excitement is created in a way that any retailer could envy."
5. Borders. A conversation about Apple's impact on the economy wouldn't be complete without an acknowledgment of the companies that didn't adapt. Ann Arbor-based Borders, which completed the liquidation of all of its stores last month, met its demise for many different reasons. But some analysts have argued that an unexpectedly swift surge in sales of electronic books — accelerated in part by Apple's iPad — was the final straw for Borders.
What other local companies have been directly affected by Steve Jobs?
Contact AnnArbor.com's Nathan Bomey at (734) 623-2587 or nathanbomey@annarbor.com. You can also follow him on Twitter or subscribe to AnnArbor.com's newsletters.