Posted on
Tue, Feb 22, 2011 : 4:17 p.m.
Top 5: Chain restaurants that we'd like to see open next in Ann Arbor area
By Paula Gardner
New retail construction is entering the pipeline in Ann Arbor, where developers seek to build Arbor Hills Crossing on Washtenaw Avenue, and two campus-area high-rises are under construction.
At the same time, more retail opportunities exist along the entire Washtenaw corridor, thanks to the pending Borders vacancy at Arborland and the planned closing of Ypsi-Arbor Lanes.
Real estate experts say chain restaurants are likely candidates to enter the Washtenaw County market thanks to these new availabilities — and the improving economy, which can make existing vacant sites viable again. (The success of places such as Five Guys Burgers on South State also resonates across real estate circles.)
Not everyone in Washtenaw County values a chain restaurant. We're seeing some new independent openings in the area — Satchel's BBQ for one — and Arbor Hills Crossing developers expressly say they want independents in the center.
But amid the conversation about potential chains that could open here comes some hope that certain favorites are on the list.
Here are our leading contenders for the names we'd like to see as part of the next wave of local chain restaurant openings: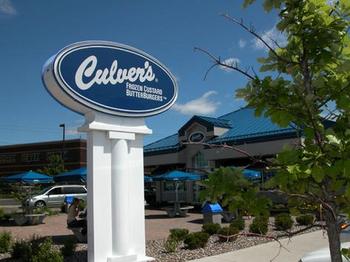 photos.igougo.com
1.
Culver's:
The home of endless frozen custard varieties and the "Butter Burger" bookends Washtenaw County, with locations near Jackson and Belleville. And the chain has sought to open a restaurant near Ann Arbor for some time, with the most-mentioned location an outlot in front of the Lowes in Scio Township. No movement toward building that store has happened, at least according to recent responses from township officials. But we can still hope.
2. SONIC Drive-In: The last rumor to reach our ears circulated last September, when Sonic employees in another market started talking about a local location opening soon. We never nailed down whether that was Ann Arbor or Ypsilanti — a leading contender in the rumor mill was an outlot at Glencoe Crossing in Pittsfield Township. Sonic said at the time that the franchisee didn't have "new information to share." And the company has stopped responding to requests for information, so there's nothing new to report.
gusto.com
3.
PF Chang's:
Yes, they've wanted to open near Ann Arbor for several years. Yes, the
former Bennigan's
near
Briarwood
would have been a good location. No, the
former La-Z-Boy store
near Briarwood wasn't a contender. Beyond that, we've got little information on this chain's plans (while Red Robin and Kapnick Insurance, respectively, took those buildings off the market). When the project called
Shops at Arlington
was active near Huron Village,
Pei Wei
was in line to open — and most developers believe that an Asian chain could be successful on Washtenaw. Now that Arbor Hills Crossing is taking shape, that could still be true. PF Chang's is our pick for the most likely brand.
4. Cheesecake Factory: This chain offers more than the namesake (and delicious) dessert. From breakfasts (goat cheese omelet is an option) to made-from-scratch dinners (so the Web site touts), plus a full bar, the chain is a favorite due to the experience it creates for diners. It doesn't operate in Michigan yet, but we keep hearing that it would be a good fit for Ann Arbor, which seems to make the most of its discretionary dining dollars.
5. Any of our favorites from trips to Florida: These chains aren't only located in the Sunshine State, but Washtenaw County's many snowbirds get a chance to try all of them during winter months — and they've all got fans here. Chick-fil-A, Waffle House, Miller's Alehouse, Chevy's Fresh Mex, Texas Roadhouse — bring 'em on. We think they'd compete well with the area's existing chain lineup.
Take a look at our poll to let us know which you'd pick, and comment below if you'd like to share your thoughts.