Posted on
Wed, Oct 17, 2012 : 5:57 a.m.
U-M Tech Transfer office reports record number of new inventions
By Ben Freed
University of Michigan's Office of Tech Transfer reported this week that 368 new inventions were reported in the fiscal year 2012, which ended in June, comfortably eclipsing last year's then-record total of 332.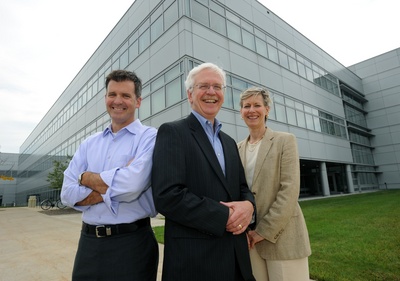 AnnArbor.com file photo
The Tech Transfer office helps scientists take their inventions to market through a variety of programs and also handles the licensing agreements that allow technologies and inventions to spin off into for-profit companies while still benefiting the university.
"We're proud of these results that reflect on the high caliber of our research and researchers and the work of our business and venture partners," executive director of Tech Transfer Ken Nisbet said in a statement. "These results, and our investments in capabilities, demonstrate our university's commitment to the economic progress for our region and state."
U-M's income from those licensing agreements was about $13.4 million in FY 2012, down from nearly $16 million in FY11 and $39.8 million in FY10. According to the Chronicle of Higher Education, Michigan ranked 14th in the country in licensing revenue in FY10 and fell to 22nd in FY11. Information was unavailable as to why the revenue dropped off sharply after 2010.
While revenue from licenses has declined, spending on research grew by about $100 million between FY10 and FY11, the last year with available data.
Spinning inventions off into companies has been a point of emphasis for the university for the past decade, with 98 new startup companies using technologies that were first developed in an academic setting.
The Tech Transfer office was honored with the AnnArbor.com Research Deal of the Year award last year for opening the Venture Accelerator in the North Campus Research Complex. The accelerator houses companies such as Life Magnetics that are founded by U-M faculty.
This year, the Center for Entrepreneurship in the engineering school has been nominated for the same award for running the Innovation Corps program that pairs scientists and innovators with business mentors to help them bring their products to market as spinoff companies.
The university will honor some of its spinoff companies with its annual Celebrate Invention event Thursday from 3 to 6 p.m. at the Michigan League. The event is free, but guests must register ahead of time. The event will include eight kiosks featuring hands-on demonstrations of some of the new technologies and startups that have emerged in the past year.
Ben Freed covers business for AnnArbor.com. Reach him at 734-623-2528 or email him at benfreed@annarbor.com. Follow him on twitter @BFreedinA2