Posted on
Fri, Jul 20, 2012 : 8:26 p.m.
Five things to check out Saturday at the Ann Arbor Art Fair: Kristen and Rebekah's $1 art, Tragic Snowglobes and more
By Jenn McKee
Previous article: Five things to check out Friday at the Ann Arbor Art Fair
Previous article: Five things to check out Thursday at the Ann Arbor Art Fair
Previous article: Five things to check out Wednesday at the Ann Arbor Art Fair
Find a roundup of all Ann Arbor Art Fair coverage here.
The Ann Arbor Art Fair offers countless fascinating sights—as well as sounds, tastes, smells and experiences.
Here are a few suggestions for things you might want to check out today—and add your own in a comment at the end of this post: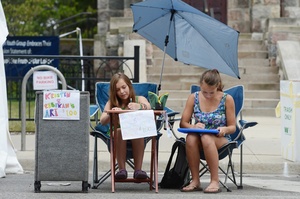 Kristen and Rebekah's $1 art
Are you one of those people who complain every year that the works on display at the Ann Arbor Art Fair aren't affordable?
Obviously, you haven't visited Kristen (age 13) and Rebekah (age 11) Rizzo's unlisted "booth"—an open space on William Street near State Street, and across the way from their father Dave Rizzo's sculpture booth.
Seated in collapsible canvas chairs, the two young, Canadian entrepreneurs sell each original piece for $1. Drawings that often play off jokes and punchlines (i.e., a duck telling someone to "Put it on my bill!") are stacked on a rolling stand, and Rebekah was drawing a pegasus midday Friday.
"This is our first time doing puppets," said Rebekah. Made of cardboard tubes from toilet paper and paper towel rolls, string, popsicle sticks, and paint, the marionettes are decorated as different animals. (A monkey, a zebra and a bird puppet have already been sold.)
Rebekah and Kristen regularly set up shop where their father is showing his work. And while sales have been decent in Ann Arbor this year, the girls, when asked if they're interested in making a career of art, are ambivalent, answering with "kind of" (Kristen) and "maybe" (Rebekah). So think of each piece as a limited edition original.
The Art Activity Zone
Saturday is a big day for families to venture out to the Art Fair together, so parents should consider taking their kiddos to the Street Art Fair's Art Activity Zone, located on Ingalls Mall (off Washington, between Thayer and Fletcher).
Kids (and adults) can get henna tattoos and fantasy face painting, but they can also make a mixed-media project from recycled/found objects provided on site; make a beaded bubble wand; or take a seat at a potter's wheel and try your hand at sculpting clay (I've wanted to try this ever since I was a kid).
So take a break from browsing for a bit and let the kids explore. They'll have a blast.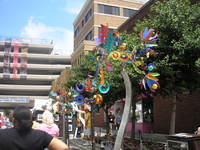 Andrew Carson's wind-embracing whirligigs
One Art Fair spot that earns can't-miss status every year is Andrew Carson's colorful, kinetic sculpture at the corner of Maynard and William.
Though passersby always flock to the pieces, the crowds are noticeably denser when the wind is up, and the different pieces of each sculpture are rotating at full tilt.
On his website, Carson explains that as a boy, the 100 mph winds of his hometown (Boulder, Colorado) captured his imagination and sparked his interest in the Rockwell wind energy test site, which he studied. Inspired by these functional windmills, and his work repairing bicycle frames as a teenager, Carson built the first "whirligigs" that would eventually become his signature.
Chris Roberts-Antieau's tragic snowglobes
Manchester-based artist Chris Roberts-Antieau has fiber art with a lot of humor and personality, which you'll notice the minute you visit her booth on Ingalls Mall.
Among the framed original works on display are "Monkey Pioneers of Outer Space"; "Feeling Sorry for Pluto"; "Killed by their own Creation"; and "Awkward Social Encounters" (which include "excessive door holding" and "inappropriate back rubbing").
But my favorite pieces were Roberts-Antieau's Tragic Snowglobes, which turned the typical, idealized snowglobe fare on its head by featuring things like an ambulance crash and—in "Disinterested Bystanders"—an in-progress stabbing that no one in the surrounding area seems to notice.
Roberts-Antieau wasn't at her booth on Friday, unfortunately, due to food poisoning—grist for the Tragic Snowglobe mill, perhaps?
The Michigan Theater
The Michigan Theater, right in the heart of the action at 603 E. Liberty St., is a great place to take a break from the Art Fair. The theater keeps its lobby open as a place to cool off, and a concession tent outside offers the perfect Art Fair snack—beer and bratwurst.
In addition, a free organ concert takes place at 1:30 p.m. each day of the fair in the main auditorium, including Saturday.
And if you really need to get off your feet for a couple hours, why not see a movie? Saturday's schedule includes screenings of "To Rome With Love" and "Headhunters."