Posted on
Fri, May 31, 2013 : 5:57 a.m.
Zeroing in on Ann Arbor's best burger as the search gets underway
By Jessica Webster
Jessica Webster | AnnArbor.com
The
best burger
I ever ate came from a luncheonette attached to the general store in the tiny town of Orrville, Ontario. It was a simple burger; just a third of a pound of ground beef, seasoned with a little salt, cooked to medium-rare and topped with a slice of unspecified orange cheese and some ketchup.
I was probably 9 or 10 years old when I ate that burger, and the nostalgia surrounding this food memory has driven my quest for a comparably memorable burger experience ever since.
This week we asked the readers of AnnArbor.com to tell us where they've enjoyed their favorite local burgers, and we've gotten more than 200 responses between the website and our Facebook page. Clearly I am not the only one with a passion for burgers.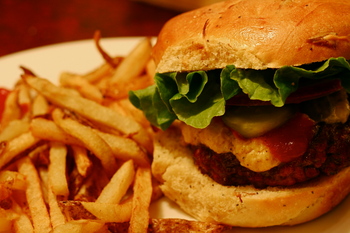 Jessica Webster | AnnArbor.com
It's also clear that each of us has our own criteria for rating our favorite burgers. For some, it's the creative toppings. Raves about the Southerner at Wurst Bar have me salivating. Pimento cheese, fried green tomato and bacon on a pretzel bun? It's like they looked deep into my soul, found all of my favorite things, and put them all on one plate. I'll be heading there to try it before the week is out.
But for others, the key is simplicity. You judge a pizza by its crust, and a burger by its patty, right? Restaurants that source their ground beef from Knight's have an edge with many of our readers, and the grass-fed burgers from Zingerman's Roadhouse, Jolly Pumpkin and Grange get some love, too.
A few years ago, I wrote a column about my quest for the best burger in Ann Arbor. Back then, @Burger was just opening (it has since closed) and we were on the verge of getting our first Five Guys Burger & Fries. Today we've got a second Five Guys, we're looking forward to two new small-chain burger concepts opening soon (Elevation Burger and BurgerFi) and Blimpy Burger's future looks uncertain. But other than that, most of my favorites still hold true.
I still love the Kosmo burger at Kosmo deli in Kerrytown. I'd still gladly trade a week's worth of workouts for a poutine burger from Grange Kitchen & Bar. I'm still magnetically attracted to Krazy Jim's Blimpy Burger, and my car practically drives itself to the Roadhouse on Monday nights for their burger specials. I'll still happily wash a cambazola-topped grass-fed burger from Jolly Pumpkin down with an Oro De Calabaza, and I still believe that you can't lose with a burger and a beer at Casey's Tavern.
We're accepting nominations for your favorite local burger through this afternoon. Then make sure to check back for your chance to vote in our poll, which opens at 3 p.m. today and runs through June 5 at 3 p.m. Then once we've determined our local favorite burger joint, MLive's John Gonzalez will be joining us for a taste test as he continues on his quest for Michigan's best burger.
Jessica Webster leads the Food & Grocery section for AnnArbor.com, a part of the MLive Media Group. Reach her at JessicaWebster@annarbor.com. You also can follow her on Twitter or subscribe to AnnArbor.com's email newsletters.