Posted on
Tue, Dec 1, 2009 : 11:54 a.m.
Orpheum Bell's "Pearls" a true gem
By Bob Needham
The concept of a present-day band using strictly acoustic instruments to achieve an old-timey sound isn't exactly common, but it's not unique, either. Yet Ann Arbor-based Orpheum Bell achieves something unique on "Pearls," the band's new album: reaching deep into the past yet sounding completely fresh. It's a terrific, fascinating work, and reaffirms the band's reputation as a local treasure — and one that deserves a much wider audience.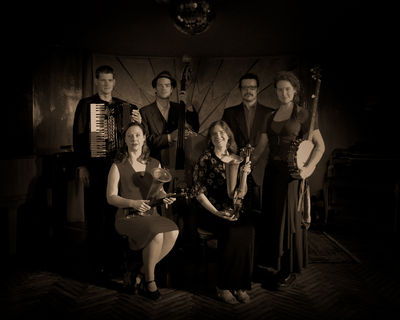 The band, which plans a CD release show at
The Ark
on Friday (details below), combines old sounds with modern sensibilities. Working with acoustic instrumentation, the six core members create a sonic world that's rooted in the past while still feeling current. There are echoes of 1920s jazz and Gypsy melodies worked in; the band describes its music as "country and Eastern" — and as well as being a great hook, that's pretty accurate.
Orpheum Bell consists of Aaron Klein, vocals, banjo, ukuleles, tenor and regulation guitars (he's also the primary songwriter); Annie Crawford, vocals and violin; Laurel Premo, vocals, banjo, dobro, cittern and violin; Merrill Hodnefield, vocals, violin, autoharp and saw; Michael Billmire, accordion, trumpet, soprano trombone, shepherd harp, mandolin and suitcase pump organ; and Serge van der Voo, double bass, foot percussion. Several top-notch guests show up as well, including local luminary Jim Roll, at whose Backseat Productions studio the new album was recorded.
The unusual instruments on that list (plus the near-total absence of drums, which aren't missed at all) start to explain the original sound of Orpheum Bell, but they're just a part of it. The lyrics —Â evocative yet mysterious, plainspoken yet cryptic —Â are another part. But mostly, it can't be explained; this is music you need to hear.
"Pearls" — Orpheum Bell's second album ("Pretty as You" came out in 2007) — consists of 11 tracks, three of which are instrumentals. A note from van der Voo describes them as "original songs about money, responsibility and home," and adds, "Some of the material draws from the ledger of Michigan's difficult times."
So there's a sadness running through a lot of the music here, and the centerpiece of the album is the three-song "Hard Money Suite." But an underlying sense of hope, sometimes arising from an upbeat melody, balances out the melancholy.
That dichotomy carries through the singing, too — the darkness of Klein's gravelly growl set against the sweet harmonies of the band's three women.
All the songs are strong, but among my favorites are "What If No Sparrow Fell," which opens the album and sets the tone, with a sprightly melody propelling odd, intriguing lyrics. "Goodbye Is the Sweetest Word" is gorgeous, full of bittersweet yearning. And the two more substantial instrumentals, "Sins and Flowers" and "Luna Pier," are rich in feeling and very well played. Listen to Orpheum Bell "Goodbye Is the Sweetest Word" (MP3).
Ah, yes, well played. Can't forget that. These folks are excellent musicians, skilled and soulful. And throughout the album they work as an ensemble so well it seems they were meant to do this together.

Finally, even the packaging concept of this album deserves some attention, too. Fully folded out, the cover derives from an old check. The cover was letterpressed with copper plates on recycled paper using a hand-fed cylinder letterpress. And the whole thing only enhances the overall themes and feel of the album.
Ann Arbor has a ridiculous number of very talented performers working somewhere among the blurry genre lines of folk/alt-country/Americana. It can be hard to keep up with them all.
Yet this album still stands out. Orpheum Bell is a remarkable band, and "Pearls" is an amazing album.
Orpheum Bell's "Pearls" is on sale at Encore Recordings and Herb David Guitar Studio — both located on Liberty Street — and will be available at the CD release show on Friday. It will soon be offered online at CDBaby and the iTunes store.
Orpheum Bell CD release show at The Ark, 316 South Main Street, at 8 p.m. on Friday, December 4. Tickets are $15.
Orpheum Bell perform "Luna Pier" live in Livonia last month:
Bob Needham is director of entertainment content for AnnArbor.com. Reach him at bobneedham@annarbor.com or 734-623-2541, and follow him on Twitter @bobneedham.