Posted on
Tue, Dec 29, 2009 : 5:24 a.m.
Washtenaw County's year in, and on, film
By Jenn McKee
Thanks to the state's aggressive film incentive legislation — which offers filmmakers tax rebates up to 42 percent — Washtenaw County became the backdrop for several feature films in 2009.
This year started with big local buzz about a Hilary Swank vehicle titled "Betty Anne Waters," based on a true story about a working single mother in Massachusetts whose brother was sentenced to death. Convinced of his innocence, Waters put herself through college and law school in order to work on an appeal for his release, and thanks to DNA evidence, she did just that. Minnie Driver, Sam Rockwell and Peter Gallagher co-starred with two-time Oscar winner Swank.
In late January, more than 1,000 locals stood out in the cold in Chelsea to apply for spots as extras in "Waters," and the film's team, Innocence Productions, used offices in the Ann Arbor Professional Building on Washington Street as a home base.
Though filming on "Waters" was originally slated to start in January, things finally got rolling in mid-February, with the cast and crew using locations like Mr. Mike's Lounge and Sidetrack Bar and Grill in Ypsilanti; Dexter High School, and St. Joseph's Catholic Church in Dexter; Garfield's St. in Chelsea; and U-M's Angell Hall and Pierpont Commons. Filming for "Waters" wrapped in April, and thus far, there's been no sign of a trailer or a firm release date.
In May, the Robert DeNiro film "Stone" began shooting in the area (as well as in Detroit and Pittsburgh). Directed by John Curran ("The Painted Veil"), the psychological thriller tells the story of a correctional officer (DeNiro) who's seduced by the wife (Milla Jovovich) of a convicted arsonist (Ed Norton) up for parole.
"Stone"'s team shot the film for two days at Ypsilanti's Emmanuel Lutheran Church, as well as the Southern Michigan Correctional Facility near Jackson, and downtown Ypsilanti, just as the Crossroads Festival was scheduled to start, forcing that outdoor event's first night to happen indoors at Club Divine. (To make amends, the "Stone" team purchased $500 in gift certificates from downtown retailers to offer as door prizes for the event.) Shooting also happened in Dexter, and the film team rented office space in Saline.
Though a racy "Stone" trailer that included nudity and adult language briefly surfaced online in September, it was quickly yanked, with no replacement, and the Internet Movie Database (IMDB) claims a May 7, 2010 release date for the film.
Meanwhile, director Rob Reiner's "Flipped" was filming locally at about the same time. Based on Wendelin Van Draanen's novel, "Flipped" tells the story of a girl growing up in the late 1950s/early 60s, and her friendship with a boy who is her polar opposite. The film stars Penelope Ann Miller, Morgan Lily, Rebecca De Mornay, Aidan Quinn, Anthony Edwards, and John Mahoney.
Much of "Flipped"'s filming took place in June around Thurston Elementary, where the film crew built a house set near Thurston Pond. Additional filming also happened in Thurston classrooms, as well as the gym, parking lot and classrooms in nearby Clague Middle School. In July, the "Flipped" team worked in Virginia Park, as well as on Briarcliff Street and Prairie Street in Ann Arbor, Concordia University's campus, and downtown Manchester.
IMDB lists September 17, 2010 as a tentative release date for "Flipped."
In August, native Ann Arbor brothers Chris (director/screenwriter) and Mike (producer) Farah
shot their first feature film
,
"Trivial Pursuits,"
in
various locations
around town (
Zingerman
's, 8 Ball Saloon,
Ashley's
, and
Espresso Royale
, to name a few) as well as on the University of Michigan campus. ("Pursuits" is the first fictional film to ever get permission to use the school's name.)
The film tells the story of an insulated U-M grad student, the son of a legendary professor (played by Ralph Williams), who's confronting his dreaded graduation when he becomes involved in the world of pub trivia competitions. The film stars Chris Gorham ("Ugly Betty" and "Harper's Island") and wrapped on the day of the first U-M football game of the season, which provided the last bit of footage for the Farah brothers.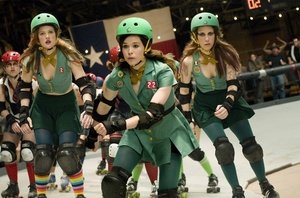 On October 2, Drew Barrymore's directorial debut
"Whip It,"
which was shot in the Detroit area as well as in Ypsilanti in 2008, had its national release in theaters; but the coming-of-age roller derby pic, starring Oscar nominee Ellen Page and Oscar winner Marcia Gay Harden,
disappointed at the box office
, landing in sixth place on its crucial opening weekend.
And Rob Schneider's "American Virgin" (previously titled "The Virgin of Bourbon Street" when filming in Detroit and on U-M's central campus in 2008) went straight to DVD, released in November. (But judging by the awful preview, this was likely a blessing.)
Finally, in November, crews for "Trust" and "Cedar Rapids" hit town with plans to wrap before Christmas.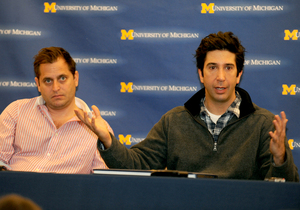 "Trust," directed by David Schwimmer and starring Clive Owen and Catherine Keener, tells the story of a young girl who falls prey to an online predator, and the struggle her family faces after the girl's raped.
Schwimmer and his team have seemingly filmed all over this area, including different locations in Plymouth; Dexter High School; and Frank's Restaurant in Ann Arbor. But several different sets for the film (including an airport security station, an FBI office, and a therapist's office) were built within the 30-building former Pfizer campus, which was recently purchased by U-M. ("Trust" doesn't yet have domestic distribution, so it will likely show up at festivals before a wider release, and a stage version of the story will be directed by Schwimmer at the Lookingglass Theatre in Chicago in March.)
Similarly, "Cedar Rapids" built sets and spent much of its shoot at Ann Arbor's Clarion Inn, but the film also shot in Pacific Rim restaurant, Planet Rock Climbing Gym, and the Rentschler Farm Museum in Saline.
The film stars Ed Helms, Anne Heche, Sigourney Weaver, Kurtwood Smith, John C. Reilly, Stephen Root, Alia Shawkat and Isiah Whitlock Jr. Helms plays a small-town Wisconsin insurance salesman who's never traveled far beyond his hometown. When his boss sends him to a convention in the "big city" of Cedar Rapids, Iowa, he's paired with Heche for a goofy scavenger hunt and has all sorts of new experiences.
Producers for the film include Jim Burke ("Election"), Alexander Payne (director of "About Schmidt," "Sideways" and "Election"), and Jim Taylor ("Sideways" screenwriter); the film's directed by Miguel Arteta (who also helmed
"Youth in Revolt,"
which was partly filmed in Ann Arbor in 2008 and opens in theaters January 8, 2010); and Fox Searchlight will handle the film's distribution.
Perhaps Helms, who struck sleeper gold this past summer with "The Hangover," will put Ann Arbor, via "Cedar Rapids," even more prominently on the film world's map.
Jenn McKee is the entertainment digital journalist for AnnArbor.com. Reach her at jennmckee@annarbor.com or 734-623-2546, and follow her on Twitter @jennmckee.