Posted on
Mon, Apr 25, 2011 : 1:41 p.m.
Protesters gear up, encourage grads to turn their backs on Rick Snyder during University of Michigan commencement
By Nathan Bomey
When Rick Snyder first visited the University of Michigan as a high school senior about 35 years ago, an academic counselor wanted him to enroll so badly that the counselor found a way to get Snyder into the university a semester early — a rare move at the time.
Now, as Snyder prepares to deliver U-M's spring commencement address Saturday morning before a crowd of about 40,000 people at Michigan Stadium, the reception by the university community is shaping up to be far less welcoming.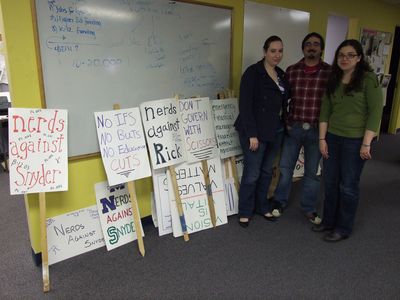 Nathan Bomey | AnnArbor.com
Students, professors, teachers, union activists and others are gearing up to greet Snyder with a barrage of protests.
The significance of the commencement stage — it's about 10 times larger than any live crowd Snyder has ever spoken to — and the controversy surrounding his proposed budget and other policies are adding a sense of urgency for the protesters.
The rally that is likely to draw the largest crowd is dubbed "Stand Against Snyder: Rally for Working Families & Education." Its supporters include the Ann Arbor Education Association, the U-M College Democrats, lecturers and graduate student instructor unions, and members of the American Federation of State, County and Municipal Employees.
Organizers are planning a 1-hour rally at 8 a.m. Saturday at Pioneer High School's football stadium. Afterward, the attendees plan to lead a crowd of protesters across the street to stand outside Michigan Stadium.
Rob Gillezeau, outgoing president of the Graduate Employees Organization, said the organizers are projecting a crowd in the "low thousands."
The organizers are also encouraging graduates to turn their backs on Snyder while he's speaking.
"The movement against Gov. Snyder or his policies, in particular, is pretty broad-based," Gillezeau said. "We've had to go up to Lansing to have our voices heard until now. This is a chance to say, 'People across the state and in your hometown of Ann Arbor disapprove of your budget and your emergency financial manager bill. We're going to let you know that we're unhappy with your policies.'"
Amanda Caldwell, chairwoman of the U-M College Democrats, said students should turn their backs on Snyder to "send a message to him."
The protesters are angry at several of Snyder's proposals, including a 4 percent cut to public school funding, a 15 percent to 22 percent cut to higher education, a $1.7 billion business tax cut, $300 million in new taxes for senior citizens, and a new law that gives additional powers to emergency financial managers.
A spokeswoman for Snyder could not be reached for comment this afternoon.
The protests are likely to be dominated by teachers, union members and students, but "all are welcome," said Samantha Montgomery, incoming president of the Graduate Employees Organization.
"This is the best opportunity for us to make our voices heard," she said.
For President Barack Obama's U-M commencement address last year, a few hundred people gathered for protests, but they were barely noticeable among the crowd of more than 80,000. And there were no notable disruptions during the president's speech.
On Saturday, U-M and Ann Arbor police will focus primarily on maintaining the safety of attendees, keeping traffic flowing, and ensuring that people can make their way into the stadium without any problems at the gates.
"It's a celebratory event, and so we are there to ensure that a celebration of several thousand students completing their degree is in place," U-M police spokeswoman Diane Brown said.
Protesters will be allowed to gather on public property — namely sidewalks — near the stadium to express their views.
Brown said that the list of items that are prohibited at U-M football games will be similarly prohibited at commencement. That includes signs.
Contact AnnArbor.com's Nathan Bomey at (734) 623-2587 or nathanbomey@annarbor.com. You can also follow him on Twitter or subscribe to AnnArbor.com's newsletters.