Posted on
Tue, Feb 26, 2013 : 8:18 p.m.
2 inches of snow fall on Ann Arbor area, 1 taken to hospital after crash
By Kyle Feldscher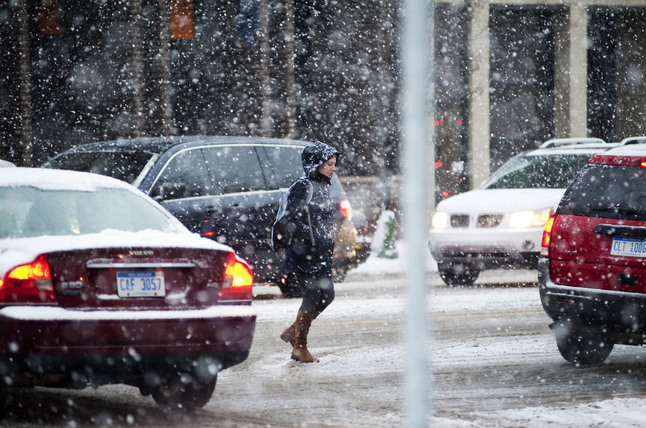 Daniel J. Brenner | AnnArbor.com
Despite predictions that little snow would accumulate before 7 p.m. Tuesday, a winter storm had dumped 2 inches of heavy white stuff on Ann Arbor by 7:45 p.m., according to meteorologists at the National Weather Service.
About 2 more inches were expected before the storm moves out of the area, forecasters said.
The snow arrived about 4 p.m., contributing to many crashes on area roads and freeways and knocking out power for some residents.
Winter storm coverage
Forecasts from Tuesday afternoon showed Washtenaw County could expect between 3 and 4 inches of snow, and Sara Schultz, meteorologist at the National Weather Service in White Lake, said that's still the case.
"It'll be tapering off at 7 a.m. tomorrow," Schultz said Tuesday evening. "We're still going to see some snow showers throughout the day."
In a pattern that's played out many times during this winter season, the winter storm hit just as rush hour came in the Ann Arbor area.
The commute home became a stop-and-go affair for many drivers and, at one point at 5:25 p.m., dispatchers reported 13 crashes on area roadways. Huron Valley Ambulance spokeswoman Joyce Williams reported it took her an hour and a half to get home to Ypsilanti from the HVA offices in Ann Arbor.
Very few roads in the Ann Arbor area were spared traffic back-ups Tuesday. Crashes were reported on M-14, Interstate 94, US-23 and many major surface streets in the area.
Luckily, most of these crashes resulted in no one being injured. Williams said one person was taken to University of Michigan Hospital in unstable condition.
HVA responded at 4:05 p.m. to Interstate 94 and Pearce Road in Sylvan Township for a report of a car off the road and in nearby trees. The nature of the person's injuries was unknown Tuesday evening.
Other than that crash, most of the accidents on area roadways involved vehicles sliding around but no one getting injured.
"We're out and about, but we're not transporting anybody," Williams said.
When reached at 7:45 p.m. Tuesday, Washtenaw County dispatchers said there were no major crashes blocking area roadways. Many of the crashes were fender benders and were minor, according to dispatchers.
DTE Energy reported that 851 residents in Ann Arbor Township — just north of the Huron River and east of US-23 — were without power, as well as a few in the city of Ann Arbor. DTE said it expected power to be back on for most of those people between 9 and 11 p.m.
Snow was still coming down forcefully just before 8 p.m. in downtown Ann Arbor.
According to NWS forecasts, more snow could fall Wednesday night, leaving another inch on top of the 3 to 4 expected from the storm. Cloudy days are expected for the rest of the week as February refuses to leave without a fight.
Kyle Feldscher covers cops and courts for AnnArbor.com. He can be reached at kylefeldscher@annarbor.com or you can follow him on Twitter.