Posted on
Wed, Feb 27, 2013 : 11:30 a.m.
Dense snowfall leaves 26,000 without power and a messy cleanup across Washtenaw County
By John Counts
Update: 23,000 still without power in Washtenaw County after winter storm blasts area
Jason Williams started plowing around midnight.
At 8:30 a.m. Wednesday, he was still at it, zipping around the nearly cleared parking lot of a Scio Township shopping plaza in a Bobcat snow remover, performing some finishing touches. Williams estimated he'd plowed about a dozen lots -- from banks to grocery stores -- all over the Ann Arbor area after 4 to 7 inches of the white stuff fell overnight.
Williams, who works for Saline-based construction company, said he was going to hit two more before taking a much-needed break.
"I'm going to take a nap," Williams said with a tired laugh.
After a quick respite, however, Williams said he will continue plowing throughout the day.
numerous car accidents
. Many area
schools also were closed
.
About 4-6 inches fell overnight and while the official weather advisory was canceled just before 10 a.m., snow showers were expected the rest of Wednesday, according to an alert issued by Washtenaw County.
Williams said it wasn't an easy snow to deal with. He had to adjust the plow on his Bobcat to accommodate the dense snow.
"I can't push it because it's so heavy," he said.
The weight of the snow is the reason many wires and trees were downed, said Len Singer, spokesman for DTE Energy. At 10 a.m., about 26,000 DTE Energy customers were without power in Washtenaw County. Though most of the outages are in outlying areas in the county, about 1,000 customers within the city of Ann Arbor were without power as well, Singer said.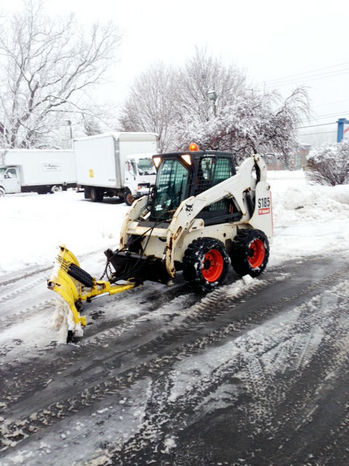 John Counts | AnnArbor.com
DTE Energy is working to assess the extent of the damage and come up with an estimated time of restoration.
At noon on Wednesday, DTE spokesman Alejandro Bodipo-Memba said they were working to get power restored by midnight to its customers. The "vast majority" of outages in southeastern Michigan were reported in Washtenaw County, Bodipo-Memba said.
Melissa Manning and Lauren Cipponeri are neighbors on Beechwood Boulevard in Lima Township. They both lost power around 3 a.m. Wednesday. Power had not been restored as the two women shoveled out their driveways around 8 a.m.
"You don't realize how much you depend on electricity until it goes out," said Cipponeri as she cleared her driveway so she could get to work. "I don't care what time I get there."
Manning has two young children and said she was planning on heading over to her parents' house in Ann Arbor because they still had power.
"I'm hoping I can just get out of my driveway," she said.
The roads were sloppy, but not too much of a problem, according to authorities and commuters.
Sgt. Geoff Fox with the Washtenaw County Sheriff's Office said deputies were dealing with the usual road run-offs, but there hadn't been any serious accidents reported.
"It's not too bad this morning," he said. "There are some crashed here and there."
Amy Schalk was pumping gas at a Marathon station on Jackson Avenue just west of Wagner in Scio Township around 9 a.m. She'd just driven to the area from Huron River Drive and said the roads were "messy, but not too bad."
"I was more worried about branches falling on me," she said.
At 9 a.m., the Washtenaw County Road Commission was continuing to deal with trees and limbs down on roads, said spokesman Jim Harmon.
Like Williams, county road commission drivers were putting in extra hours. Drivers reported at 4 a.m. and were on the roads within 15 minutes, Harmon said. Several employees also worked throughout the night.
Harmon said they are making steady progress on the roads and that drivers are working on the ramps to the major highways. The commission intended to get to secondary roads Wednesday afternoon. Secondary roads include 770 miles of unpaved roads and 356 miles of subdivision streets, he said.
"We're going to try to get to as much of that as we can," he said. "We're asking that residents not park on the streets in the subdivisions. Don't put garbage receptacles out in the street."
AnnArbor.com reporter Amy Biolchini and managing producer Cindy Heflin contributed to this report.
John Counts covers cops and courts for AnnArbor.com. He can be reached at johncounts@annarbor.com or you can follow him on Twitter.