Posted on
Wed, Feb 27, 2013 : 8:50 a.m.
Crashes reported as snow creates challenging commute in Ann Arbor area
By Cindy Heflin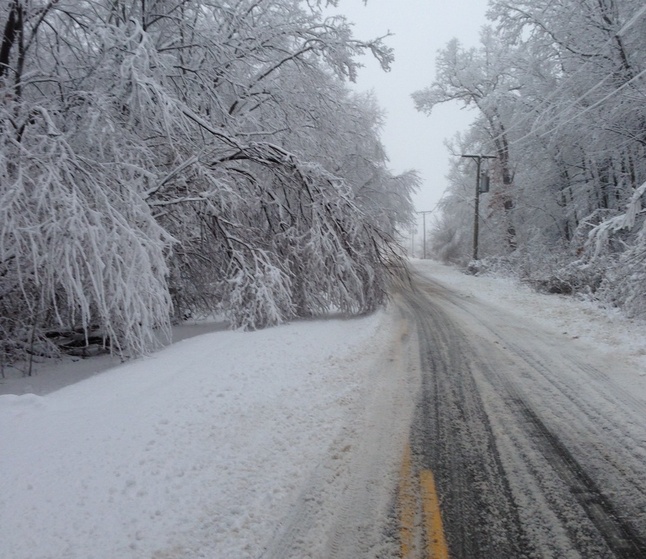 John Counts | AnnArbor.com
The mix of snow and freezing rain from an overnight snowstorm proved challenging for Washtenaw County motorists Wednesday morning.
Just after 8:30 a.m., emergency crews were dealing with crashes on southbound U.S. 23 near North Territorial Road north of Ann Arbor and eastbound Interstate 94 and Huron Street in Ypsilanti.
Winter storm coverage
Those were the only crashes reported at that time on Ann Arbor-area freeways, but a dispatcher with the Washtenaw County Sheriff's Office said crashes continued to be reported on secondary roads, as they had been all morning.
Also, many trees and limbs had come down under the weight of heavy snow and freezing rain. Some of those had blocked or partially blocked roads.
The Washtenaw County Road Commission's full fleet of drivers reported at 4 a.m. and by 9 a.m., most freeways were in good shape, though there were still some slick spots where snow and ice bonded to the pavement, said director of operations Jim Harmon. Drivers were applying salt to those areas.
The National Weather Service said reports of the snowfall total varied throughout the area, with some areas around Ann Arbor reporting 7 inches. In Saline, only 3.6 inches were reported, said Matt Mosteiko, a meteorologist with the National Weather Service in White Lake. Other areas reported 4 to 5 inches.