Posted on
Tue, Jun 18, 2013 : 1:53 p.m.
Eastern Michigan University board approves 3.75% tuition hike and $296.4M budget
By Kellie Woodhouse
Eastern Michigan University's governing board on Tuesday unanimously approved a 3.75 percent tuition increase, which will bring in-state tuition at the Ypsilanti college to $9,364 per year.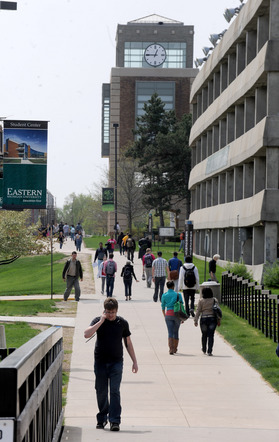 AnnArbor.com file photo
The increase hits the cap imposed by the Michigan Legislature, which tied tuition increases to state appropriations in its fiscal 2014 higher education budget.
"We do not take any increase lightly," EMU's Chief Financial Officer John Lumm said. Full-time EMU students will pay $338 more per year.
The eight-member approved the uptick during a 1:30 p.m. public meeting Tuesday.
In an interview before the vote, EMU Board of Regents chair Francine Parker called the increase responsible and said it was necessary for the school to fund building improvements and new academic programs.
"I like that we've been able to maintain the modest increases that we have," Parker said. "We're still down at the bottom of the pack, but I think it's responsible."
The increase is coupled with a $296.4 million general fund budget, which funds the university's personnel costs, administrative expenses, academic enterprise and some of its athletic costs, and a $44.4 million auxiliary budget, which includes housing, parking and dining costs. The auxiliary budget is self-funding.
The athletic department will adopt a $10.73 million budget, with $9.24 million funded using the school's general fund.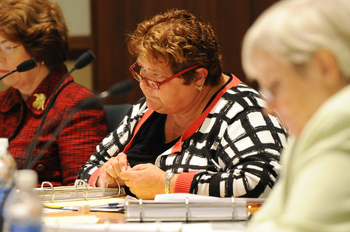 Melanie Maxwell I AnnArbor.com
This year's hike follows a 3.95 percent increase last year, a 3.65 percent increase in 2011-12, a tuition freeze in 2010-11 and a 3.8 percent increase in 2009-10. The five-year average for tuition increases at EMU is roughly 3 percent.
"It beats all the other public universities here in the state, so that in itself is a testimony of Eastern Michigan's commitment to holding the rates and fees and tuition increases down and making it affordable," said recently appointed EMU regent Mary Treder Lang, an accountant.
During the past decade, tuition rates have been raised a total of 66.4 percent for in-state tuition in-total.
Past EMU in-state tuition rates:
2013-14: $9,364
2012-13: $9,026
2011-12: $8,683
2010-11: $8,377
2009-10: $8,377
2008-09: $8,069
2007-08: $7,490
2006-07: $6,935
2005-06: $6,541
2004-05: $5,762
2003-04: $5,627
Parker said the board would have liked to increase tuition more substantially, but could not because it would have lost state funding made going above the 3.75 tuition restraint cap imposed by the legislature.
"When you see what other universities have done, they're now doing some of their cuts. But we have been steadily cutting," Parker said. "So it's almost like because you did it early, you're not able to make up some of the ground with the [state-imposed cap]."
EMU will receive $66.5 million in state funding this year. The tuition increase, coupled with a 1 percent projected enrollment increase, is expected to bring $6.2 million in new revenues to the university. Officials are anticipating $218.4 million in tuition and fee revenue next year.
Lumm said officials expect that students will enroll in 534,000 credit hours next year.
About $198 million of EMU's anticipated $296.4 million general fund budget will go toward financing personnel costs.
The general fund budget also allots for an 11 percent increase in centrally awarded student aid. Financial aid levels will rise $3.8 million, to $39.2 million. Six years ago the university awarded $21.4 million in aid. Aid includes scholarships for athletes, which are anticipated to cost EMU more than $7 million.
"It's making coming to Eastern affordable and more attractive for the students and parents, depending on their financial restraints," Treder Lang said.
Fiscal 2014 begins July 1 and ends June 30, 2014.
In the fall, classes at Western Michigan University will cost $327 per credit and $370 per credit at Central Michigan University. The cost at EMU will be $266 per credit.
Kellie Woodhouse covers higher education for AnnArbor.com. Reach her at kelliewoodhouse@annarbor.com or 734-623-4602 and follow her on twitter.