Posted on
Mon, Jun 17, 2013 : 12:47 p.m.
U-M and EMU to set tuition rates this week: What will the increases look like?
By Kellie Woodhouse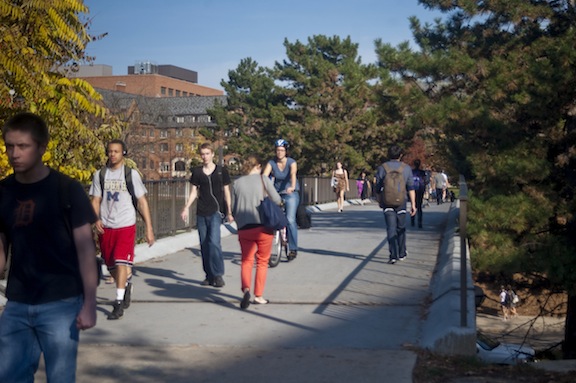 Joseph Tobianski | AnnArbor.com
It's time of year again: Tuition increase season.
In the midst of a national college affordability debate as Congress discusses federal student loan rates — which are scheduled to double in two weeks — local university leaders are deliberating on the affordability of the institutions they lead.
How much should they raise tuition? Is a freeze possible? Should out-of-state students receive more substantial tuition hikes than Michiganders?
The elected leaders of University of Michigan and appointed leaders of Eastern Michigan University are discussing these exact questions this week— and their answers will impact the pocketbooks of tens of thousands of college students and their families.
The eight-member governing boards of Washtenaw County universities will decide on tuition rates and fiscal 2014 budgets during public meetings this week.
Both boards generally are mum about budget and tuition votes before they take place —all eight members of the U-M Board of Regents did not respond to or declined requests for comment — so details on changes are unclear.
One thing is likely: both schools most likely will keep tuition increases at or under 3.75 percent, otherwise their state funding will be affected. For EMU, which heavily relies on state funding, the added revenue of a large tuition hike likely wouldn't be worth a loss in state funds.
The chair of EMU's board also did not respond to requests for comment.
At U-M, the form of a tuition increase —if one happens at all— is likely to be heavily debated by board members.
Melanie Maxwell I AnnArbor.com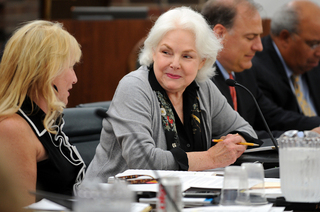 Melanie Maxwell I AnnArbor.com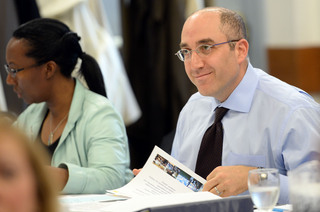 Melanie Maxwell I AnnArbor.com
Last year a 2.8 percent increase passed in a 5 -3 vote during a June meeting. The three regents who voted against the increase —Andrea Fischer Newman, Denise Ilitch and Larry Dietch— remain on the board.
During the June 2012 meeting, Ilitch criticized skyrocketing tuition, a term she borrowed from President Barack Obama, who railed against rising college costs during an affordability speech at the Ann Arbor campus in January 2012.
"I won't ask students to pay more if I think we can do more," she said.
Meanwhile, two of the regents who supported the increase have since retired from the board. They've been replaced by Mark Bernstein and Shauna Ryder Diggs, both Democrats elected in November.
Bernstein, of Ann Arbor, said during the election he would have voted against the 2012 tuition increase. Diggs, in an October interview, did not say whether she would have voted against the increase.
"2.8 percent is not huge but I really think they need hold costs or decrease costs," she said at the time.
Resident tuition at U-M has increased 63 percent in 10 years. In 2003-04, tuition and fees were $7,975 for lower-division residents. Today it is $12,994. In the past decade, the lowest tuition increase was 1.5 percent and the largest was 12.34 percent.
In a March interview Newman said she could envision a tuition freeze but was unsure if the board could agree to one.
"I think it is expensive to go to college, whether you're in state or out of state. You can't price yourself out of the middle class. You just can at do that. That's not what we're about," Newman said. "There are plenty of studies that show people will pay more to come here, but is that what we are about?"
U-M officials have been reluctant to embrace tuition freezes. In 2012 former provost Phil Hanlon, now leader of Dartmouth College, said tuition increases are integral to a balanced budget because "every year our costs are going up."
Yet some question shifting cost increases onto students through tuition hikes.
"I will continue to vote against tuition increases if I believe that the university is not thinking about this in a thoughtful, creative way to control skyrocketing tuition and crushing student debt," Bernstein said prior to being elected regent. "This is a model that is unsustainable and it's going to require everybody taking a stand against it."
Tuition this year was $39,122 for out-of-state undergraduates. In past years tuition increases for out-of-state students have been larger than increases for in-state students. Despite the increase in non-resident tuition, the number of applications from out-of-state continues to grow.
U-M administrators have said net cost for low-income students actually has decreased in recent years because of increases in centrally-awarded financial aid. Last year the school's general fund awarded $144.8 million in scholarships and aid.
EMU's board increased tuition 3.95 percent last year, just under the 4 percent cap imposed by the state legislature that year. Full-time resident undergraduates at EMU pay $9,026 per year in tuition and fees.
EMU's public Board of Regents meeting takes place Tuesday and U-M's takes place Thursday.
Kellie Woodhouse covers higher education for AnnArbor.com. Reach her at kelliewoodhouse@annarbor.com or 734-623-4602 and follow her on twitter.