Posted on
Tue, Feb 26, 2013 : 2 p.m.
$2M in water and sewer rate increases included in Ann Arbor's tentative budget
By Ryan J. Stanton
Ann Arbor residents are likely to see more water and sewer rate increases starting July 1 under a tentative budget plan unveiled Monday night.
Budget projections presented by the city's staff show revenues from "water sales" ticking up roughly $800,000 or 3.8 percent to $21.8 million.
Revenues from "sewer sales" are projected to go up $1 million or 4.7 percent to $22.2 million, while revenues from "stormwater sales" go up roughly $200,000 or 3.4 percent to $6 million.
Ryan J. Stanton | AnnArbor.com
Similar increases are projected in the following year as well, continuing a trend of rate increases to pay for improvements being made to the city's utility systems.
The City Council last year approved nearly $1.8 million worth of increases in water, sewer and stormwater rates.
Mayor John Hieftje suggested the City Council will have little choice but to approve the new increases to pay for projects like the $120 million rebuild happening now on Ann Arbor's Wastewater Treatment Plant, and another project on the horizon to replace a good portion of the city's Water Treatment Plant.
The costs aren't known for the Water Treatment Plant project yet, but city officials acknowledge it's likely to be tens of millions of dollars.
"When you take a look at what's going on, we've got the largest project I believe in the history of the city going out there, replacing a wastewater plant that was built in the 1930s, and I think the city has done an admirable job of keeping it going all these decades," Hieftje said. "And then we're going to have to do pretty much the same thing coming up in water, and that's been planned."
Large operating surpluses are shown in each of the city's major funds outside the general fund. The water fund is projected to operate at a $3.5 million surplus next year, while the sewer fund operates at a $1.7 million surplus, and the stormwater fund operates at a $400,000 surplus.
Craig Hupy, the city's public services administrator, said those annual savings are planned to pay for needed capital improvements to each system.
After subtracting out funds already restricted for specific purposes and minimum balance requirements, the budget sheets Hupy presented to the City Council during Monday's work session show the water fund has an available balance of $12.6 million, the sewer fund has an available balance of $8.7 million, and the stormwater fund has an available balance of $4.5 million.
While that might seem like a comfortable situation, Hupy told council members it's not so comfortable once you look at the capital needs that exist within each of those areas.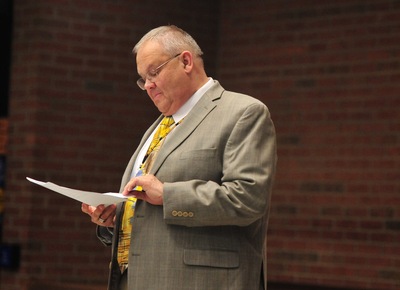 Ryan J. Stanton | AnnArbor.com
About $24.4 million in capital needs are identified in the water fund over the next three fiscal years, and that's before accounting for replacement of Plant 1 at the Water Treatment Plant.
Meanwhile, $26.9 million in capital needs are identified in the sewer fund during the next three years, and $10.4 million in needs are identified in the stormwater fund.
Another $1 million in unfunded and deferred street tree maintenance is identified as a concern in the stormwater fund. Street tree responsibilities were transferred to the fund in 2011-12.
The city's solid waste program, funded by a special millage that is expected to bring in $11.4 million next year, is projected to break even each of the next two years.
After subtracting out funds already restricted for specific purposes and minimum balance requirements, the solid waste fund has an available balance of $8.6 million.
Hupy said millions of dollars could be needed for landfill maintenance in the coming years, while replacement of the city's drop-off station potentially could cost $4.9 million.
He pointed out restoration of fall leaf pickup services would increase annual costs in the solid waste fund by $285,000 and the city would incur a one-time cost of $395,000 to do that. He said restoration of holiday tree collection services would increase annual costs by another $26,000.
Council Member Jane Lumm, an Independent who represents the 2nd Ward, fought unsuccessfully to restore those services in the city's budget last year.
The city's major and local street funds are projected to break even operationally with $8.8 million coming in and going out each of the next two years. That primarily covers filling potholes, doing surface repairs, street sweeping, winter maintenance, pavement marking, traffic engineering, fiber optic installation and maintenance, and traffic sign/signal installation and maintenance.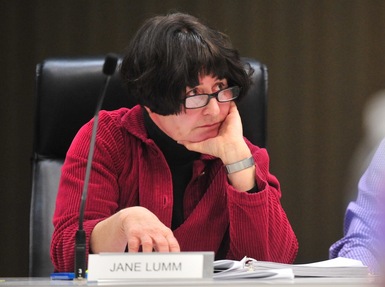 Ryan J. Stanton | AnnArbor.com
The budget report released Monday night indicates the city has unmet right-of-way maintenance needs and the city's staff is working to identify one-time maintenance items to address using excess revenues. The fund has an available balance of $5 million, according to the report.
The city's street millage fund, which is expected to bring in $9.9 million in revenue next year, has been operating at a deficit each of the last two years — a trend expected to continue.
That's because the city deferred some street projects in recent years to ensure it had a backup source of funding in case state and federal dollars didn't come through for the new East Stadium Boulevard bridges. With those funds secured, the city is spending down its own dollars.
The street millage fund had an overall surplus totaling $4 million during 2009-10 and 2010-11, then it ran a $4.2 million deficit in 2011-12.
A $9.9 million deficit is planned for the current fiscal year ending June 30, which the city now expects to follow up with a $4.9 million deficit in 2013-14, and a $1.1 million deficit in 2014-15.
Street millage fund expenditures hit a high of $19.7 million this past year, but that's expected to tick down to $14.8 million in the next fiscal year, and $11.1 million the year after.
Not counting $9 million that's required as a minimum balance, the street millage fund had $14.1 million in cash reserves available to spend as of last June.
The fund is expected to pay for improvements along Pontiac Trail and Stone School Road in the coming year, with improvements along Geddes Avenue and Pauline the following year. Millions more will be spent resurfacing other streets as well.
In addition to the street millage fund, deficits also are projected in the city's parks maintenance and capital improvement millage fund, which already is operating at a $2.7 million deficit this year. Deficits closer to $100,000 are expected each of the next two fiscal years.
Ryan J. Stanton | AnnArbor.com
The budget report warns that the addition of more parks, which the city is considering, will dilute the funding available for maintenance and upkeep of the park system.
Though the city has pots of money outside the general fund with millions of dollars available, Hieftje said the city can't tap dedicated funds with specific purposes to pay for general fund activities.
"We would be in deep trouble — not only financially but legally — if we were to begin to start raiding other fund areas, for instance, to put them into police and fire," he said. "There are very strict guidelines that we are required to follow and there's really nothing we can do about that."
The city is forecasting a $1.12 million (2.3 percent) increase in general fund property tax revenues in the next fiscal year starting July 1 — up from $49.4 million to nearly $50.6 million. That includes a $9.5 million pass-through to the Ann Arbor Transportation Authority.
General fund property tax revenues are projected to grow to $51.4 million in 2014-15, $52.7 million in 2015-16, and $54 million in 2016-17.
The city also is budgeting an 18 percent increase in municipal service charges in the next year, going from $2.97 million to $3.5 million. Those are fees the city's general fund charges to funds like water and sewer and streets for overhead costs provided by finance and human resources.
Council Member Sumi Kailasapathy, D-1st Ward, asked city staff what justifies the 18 percent increase and whether the general fund is providing increased services to other funds.
Tom Crawford, the city's chief financial officer, explained it had been a number of years since the city last conducted an evaluation of what the general fund's true costs were for services provided to outside funds, and a new study revealed the municipal service charges should be higher.
The City Council is expected to vote on a final budget at its May 20 meeting. Between now and then, the schedule includes a March 11 work session, another work session March 25 if needed, release of the city administrator's recommended budget April 15, and public hearings May 6.
Ryan J. Stanton covers government and politics for AnnArbor.com. Reach him at ryanstanton@annarbor.com or 734-623-2529. You also can follow him on Twitter or subscribe to AnnArbor.com's email newsletters.