Posted on
Mon, May 21, 2012 : 5:59 a.m.
Ann Arbor budget changes: Public art, police and fire staffing, fall leaf pickup, recycling and more
By Ryan J. Stanton
More police officers and firefighters? A restoration of fall leaf pickup and holiday tree pickup services? Cuts to public art? The end of recycling rewards in Ann Arbor?
Those are among the proposals on the table as the Ann Arbor City Council prepares to take final action on the 2012-13 city budget tonight.
Council members are planning to bring forward a flurry of amendments at the meeting, which starts at 7 p.m. inside city hall and is sure to last a while.
Here's a sneak preview of what's being proposed.
Six more firefighters
Jane Lumm and Margie Teall both propose increasing the number of full-time employees in the fire department from 82 to 88, which is Fire Chief Chuck Hubbard's magic number.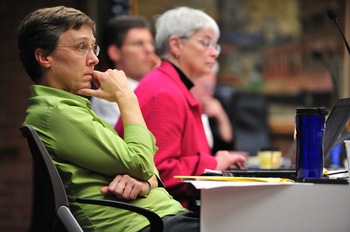 Ryan J. Stanton | AnnArbor.com
Both council members anticipate the city will receive new grant funding to offset at least some of the estimated $477,594 cost of adding six more firefighters.
The City Council cut the number of FTEs in the fire department from 89 to 82 last year and tentatively planned to trim further to 77 this year.
With the city's revenue picture improving, City Administrator Steve Powers proposed a budget in April that would avoid layoffs and hold the line at 82 FTEs in fire.
But Teall and Lumm want to do better and get the department back up to 88, relying in part on additional state and federal fire protection grant money.
Teall's proposal calls for dipping into the general fund's cash reserves to pay whatever costs grant funding doesn't end up covering.
Lumm's proposal anticipates the city will be approved for a federal Staffing for Adequate Fire & Emergency Response (SAFER) grant to cover the cost of three additional firefighters.
She also believes it's realistic that state officials will approve an increase in state fire protection grant funding to cover at least one additional firefighter, and it's possible the increase from the state could be significantly higher and cover three more firefighters.
Lumm noted fire staffing levels have dropped from 126 to 82 FTEs since 2001. She said public safety services are essential and are highly valued by residents and businesses.
If state and federal revenues don't come through as planned, Lumm suggests the city could cut spending for a high-speed rail grant match related to Fuller Road Station.
Separate from Lumm and Teall, Council Member Stephen Kunselman, D-3rd Ward, is bringing forward a proposal to generate extra local funding for fire staffing.
Kunselman wants the Downtown Development Authority to follow an interpretation of city code that would call for the return of $659,771 in tax-increment financing dollars to local taxing jurisdictions in the next year, including $199,360 to the city's general fund.
He wants to use that money to hire at least two more firefighters beyond what the city administrator proposes in his budget.
5 to 10 more police officers
Lumm also wants to amend the city administrator's budget to add more police officer positions — 10 more if grant funds come through and five more if they don't.
Police department staffing levels have fallen from 244 to 164 FTEs since 2001, Lumm points out. The current budget of 164 FTEs includes 118 sworn police officers and Lumm said the chief previously indicated his "magic number" was 150 sworn officers.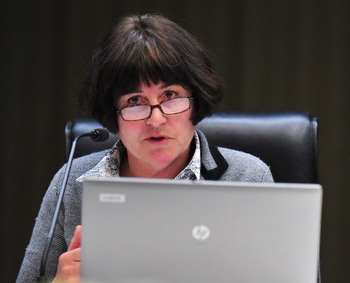 Ryan J. Stanton | AnnArbor.com
While it's not feasible to add 32 officers in one year, Lumm said, it is reasonable to target achieving that level over a three- to five-year period.
The administrator's proposed budget adds just one FTE in police, as well as five part-time officers through a new cadet recruit program.
The city continues to apply for federal funds through the COPS Universal Hire grant program, but has not been awarded any money yet.
If awarded, Lumm said, a $1.4 million grant could fund five full-time positions for three years, based on the cost of an entry-level officer being about $90,000 a year.
Lumm's proposal calls for adding 10 more officers (in addition what's already proposed by the administrator) if the COPS grant is awarded, and five if it's not awarded.
In the most optimistic scenario, that would mean an increase of 11 full-time officer positions by July 1, plus the five part-time officers being added through the recruit program.
Lumm said the city could pay the $450,000 cost of adding five officers using up to $567,200 in recurring savings. She's calling on the administrator to make additional cuts to the budgets for mayor and council, public services, human resources and 15th District Court.
Additionally, she wants to reduce the training budget by $20,000 and amend the contract with the Ann Arbor Transportation Authority so more police costs are shifted to the AATA.
Restoring fall leaf pickup
Lumm is proposing the city restore fall leaf pickup and holiday tree pickup, two services that were eliminated in previous rounds of city budget cuts.
She argues leaf pickup is a basic service that should be provided to residents, particularly given that taxpayers pay more than $11 million a year in a solid waste millage.
Holiday tree pickup may not be a core service, Lumm said, but it offers a significant convenience to residents that can be provided for $25,000.
The city's staff indicated the recurring costs to restore both services would be $300,484, or about 2 percent of the city's $14 million annual solid waste expenses.
That breaks down to $275,280 for leaf pickup and $25,204 for tree pickup.
Lumm said those increases can be funded by reductions in other solid waste operating expenses. She proposes leaving it up to the city's administration to decide where to make those cuts, but recommends elimination of the recycling rewards program, among other changes.
The city's staff indicated that restoring leaf pickup would require the purchase of two street sweepers/pushers at a one-time cost of $383,000.
If that expense is necessary, and the city can't use existing equipment or share equipment with another community, Lumm said there are sufficient funds. She points out the solid waste fund had unrestricted net assets of $8.5 million last June, 60 percent of annual expenses.
Downsizing public art
Kunselman wants to reduce the city's public art budget by $307,299. He proposes eliminating about $185,000 in transfers to the art fund from the water, sewer and stormwater budgets, as well as another $122,500 in expected transfers from the street millage.
He believes the capital dollars going to public art should remain in their original funds and should be used for purposes within those original funds.
It's unlikely Kunselman will win support for his proposal. The council has thoroughly debated the issue of public art funding several times now and only Lumm and Briere joined Kunselman in supporting cuts when the issue came before council in December.
Council travel budget
Council Member Sabra Briere, D-1st Ward, is asking her colleagues to consider an amendment to zero out the mayor and council's $6,500 budget for conferences and travel. The council eliminated the item from the budget in 2010 but it was added back.
The end of RecycleBank
Briere is collaborating with Kunselman and Carsten Hohnke, D-5th Ward, on a proposal to discontinue the RecycleBank recycling rewards program, arguing the program hasn't produced the desired outcome of significantly increasing participation in recycling.
Discontinuing the program effective July 1 would result in no change to the solid waste budget for the coming year, according to their proposal.
That solid waste budget includes a $103,500 expense for the RecycleBank contract, but there's going to be a $107,200 one-time cost associated with eliminating the program.
That includes $90,000 in an equipment purchase settlement, and $17,200 for 60 days of contractual notice.
Human services funding
Lumm has drafted an amendment to dip just shy of $50,000 into the general fund reserves to maintain last year's funding level for human services.
The city last year allocated $1.24 million to nonprofit human services agencies through a coordinated funding process.
District Court secretary
Council Member Christopher Taylor, D-3rd Ward, is proposing to restore a 15th District Court secretary position that was slated to be eliminated.
Taylor noted the recommendation corresponded with a judge vacancy that wasn't sure to be filled, but the judge position was filled when Joe Burke was appointed to the bench.
Taylor proposes restoring $76,193 in general fund expenditures for a secretary position to be funded by a reduction in the planned general fund surplus for next year.
That proposal will be competing with Lumm's proposal to reduce the District Court budget by $94,617 to offset some of the costs of hiring new police officers.
Lumm's policy resolutions
Lumm is planning on bringing forward two other resolutions for consideration, including one to restructure the city's retirement plan to a 401K-style plan.
Her proposal calls on the city administrator to develop a recommendation for a defined contribution retirement plan by Dec. 31, with the intent to place all newly hired nonunion employees in the plan by July 1, 2013.
Lumm's other resolution asks the council to adopt a more strategic budget development process, moving away from across-the-board cuts that she says have resulted in a disproportional reduction in public safety staffing over the years. She says a more strategic approach could result in the city budget better reflecting the community's priorities.
She's asking for a budget process committee to develop a new target-setting approach to be presented to council no later than Oct. 1, with the intent that the new process starting later this year will be used in developing the next two-year budget plan.
Ryan J. Stanton covers government and politics for AnnArbor.com. Reach him at ryanstanton@annarbor.com or 734-623-2529. You also can follow him on Twitter or subscribe to AnnArbor.com's email newsletters.